The Nest Protect 2 smoke alarm is a networked smoke and carbon monoxide detector that ensures security in the smart home via WiFi and mesh network. With the Nest app, the smoke detector can be monitored and controlled on the go on the Android smartphone or iPhone with iOS. I would like to give you information about the Nest Protect 2 smoke detector in this post. Sources include a podcast devoted to the second generation of Nest Protect, information from the manufacturer Nest Labs and questions, answers and reviews on the Amazon product page.
Nest Protect 2 Smoke Alarm: Technical Specifications
The second generation Nest Protect is a carbon monoxide and smoke alarm device for the smart home. Every device used can communicate with the Nest app on a smartphone or tablet via the house's WiFi. The alarm is passed on to each other via a mesh network, which makes the WLAN network obsolete in an emergency. In addition to the elegant design and the multi-colored LEDs for different functions (see below), the Nest Protect 2 smoke detector has these technical data:
Manufacturer: Nest Labs
Model Number: S3000BWDE
Colour: white
Dimensions: 13,5 x 13,5 x 3,85 cm
Weight: 380 grams
Batteries: 6 x AA per device (long-life batteries included)
Detection: fire smoke, smoldering smoke, carbon monoxide
Alarm: beeps, language and colors (LED light ring with 6 LEDs)
Sensors: fire spectrum sensor, carbon monoxide sensor, heat sensor, ambient light sensor, humidity sensor, presence sensor (120 °)
Environment and presence detection: motion sensor, camera, microphone
Loudspeaker for voice warning: 2 watts
Siren: 85 dB at a distance of 3 meters
Functional check: tests itself every day; once a month with alarm and loudspeaker
Another feature: automatic night light
Scope of delivery: Nest Protect 2nd generation smoke detector, batteries, screws, suspension, instructions and manual
Sensor lifespan: 10 years
Buy individually or in a pack of three
At Amazon you can buy the Nest Protect 2 smoke detector as a single device or in a pack of 3. The product is rated quite good; Out of 37 reviews, 25 have the full 5-star rating, and 10 reviews have 4-star ratings. The smoke and carbon monoxide alarm is also the No. 1 best seller among the smart smoke alarms at the worldwide mail order company;)
9,01 EUR
Smart smoke and CO alarm from Nest Labs
Whether it's the smoke of a big fire or smoldering smoke - the Nest Protect smoke detector of the 2nd generation shows you by alarm, voice, colors and messages via app on your smartphone, when danger is imminent, where in the house the fire, smoke or carbon monoxide has been detected and much more. Ideal for the smart home!
More facts about the Nest Protect 2 smoke detector
The smoke detector should be ready for use within a few minutes. Since the six required AA batteries are included in the scope of delivery and material for mounting on the wall or ceiling is also included, I imagine the installation and setup is quick and easy. Numerous test videos on YouTube confirm this.
As part of a smart home or networked security system, the Nest Protect smoke alarms not only alert locally, but throughout the house - thanks to the voice output, you don't even have to look at your smartphone to see where it's burning, where smoke is smoldering or carbon monoxide is spreading. You will be told over the loudspeaker. I call that smart! And perfect for children, because they know exactly which room to avoid or evacuate.
It is also smart that Nest Labs does not only rely on the user WLAN. So if the router stews you through, you will still be alerted everywhere in the house / apartment. You can view the results of the self-test, which takes place several times a day, on your smartphone. Once a month there is an all-round check-up with a sound check, sensor and alarm check, etc. It announces what is currently being tested. In the spirit of the informative Smart Home ...
In addition, the Nest Protect 2 smoke alarm automatically indicates a battery change. All in all, the smart technology also makes maintenance easier. In terms of the regulations of individual federal states, this is a relief for homeowners, property managers, landlords and tenants! Another advantage: the devices are much more attractive than the cheaper (and dumber) models from the hardware store. And they don't tell you in the evening after turning off the light with a green light that everything is ready for the night;)
Easy on the ears: Announcement in front of the alarm system
Before an alarm is triggered, the individual, networked devices report that smoke, carbon monoxide, a fire or the like has been detected in this or that room. For example: "Warning, there is smoke ... in the living room. The alarm could sound. The alarm is loud."- then you have the option of preventing the alarm using the app.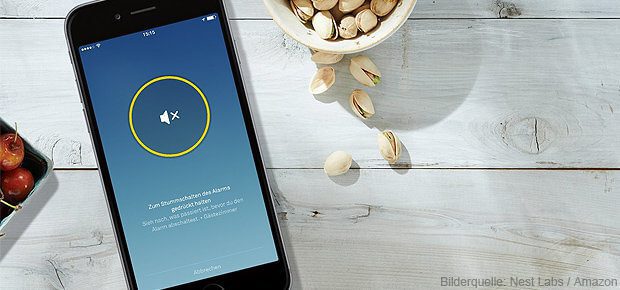 In addition, if you are in "sight" of the smoke detector, you can stop the alarm sound by waving. The detection of the movement works by a motion sensor (which turns on a white LED night light in the dark when you approach) and a built-in camera. Even if the alarm signal is already beeping loudly, a clear wave ensures that the siren is switched off. By the way: the mentioned night light can also be deactivated.
Advantages and disadvantages of smart home products
A smart home - as well as any other reasonably complex technology - has some advantages and disadvantages. I have already mentioned many of the advantages of the Nest Protect 2 smoke detector to you. Therefore, it is time for a major disadvantage: the storage and evaluation of the data you have transmitted. Because the usage data, and thus also the movement data registered by the sensor and camera, end up in the Google cloud.
The reason for the transmission and evaluation of the movement data via Google Cloud is that you can use the app to check whether someone is at home. Unfortunately, you cannot see individual data or a log. So you cannot determine if and when someone was out in the house at a certain time. That would make other Nest Labs products obsolete for resourceful users - such as the Nest Cam indoor camera or the Nest Cam outdoor surveillance camera ...
Possibility for data protectionists: do not integrate into the WLAN
If you are interested in the Nest Protect 2 smoke detector for now, but do not want to transmit your user and movement data, there is a possibility. You can do without integrating the smart home products into the WLAN. Then you do without the control and monitoring via the app as well as when you are on the go. At home you will still be warned, the devices are networked with each other and you can prevent / switch off the warning tone by waving.
Use of the app for iOS and Android
At the top of the technical details about the Nest Protect 2 smoke detector you can already find the download links for Android smartphones and tablets as well as for Apple iPhone and iPad. What is convincing about the app and the device, along with all the other advantages, is that no subscription is required. This is different with the Nest Cam, for example. Similar smart home products are also linked to subscriptions ...
In any case, the app is easy to use, clearly laid out and several "homes" can be managed; So, for example, the home, the holiday home, various apartment buildings, etc. What may be important if you want to use the Nest Protect 2 smoke detector in Germany in premises to be rented is data protection. Since data is sent when it is integrated into the WLAN, a declaration of consent must theoretically be obtained - like WhatsApp.
Another way to use the app: give neighbors, relatives or friends access via the app, so that they either generally know - or can keep an eye on your house or apartment without constantly stopping by. So you can relax on vacation without having to keep an eye on the fire alarms yourself.
2nd Generation Nest Protect - is the price too high?
A device on Amazon currently costs EUR 118,99 (as of July 2017). If you want to buy three pieces at once, then you pay in a pack of 3 329 EUR (as of July 2017). As an expense in itself, that's of course quite a sum at first. However, if you see the service life of (at least) 10 years and the added value that the Smart Home System from Nest Labs offers, then the price is put into perspective.
That means 11,90 euros or 32,90 euros per year. If you consider the technology behind it, the voice output, your own mesh network, the extensive app for remote monitoring, and so on, then it's not that expensive. Besides, you can the smoke and CO alarm want an Amazon voucher for Christmas or a birthday or for the purchase;)
Nest smoke alarm, smart home and home kit - does that fit?
An interesting question is whether the Nest Protect 2 smoke detector might become homekit-compatible in the near future. Currently it is not yet, so you cannot integrate it into your Homekit home. This is not necessarily important for use, as you can control and query it or the network of Nest Proctect detectors via the app. However, you could also set up interesting rules and processes with a homekit-compatible Nest Protect.
The reason I'm hoping that the Nest might soon be compatible with Apple's own smart home standard is because of the easing of the requirements Apple recently introduced with regard to Homekit devices. While all Homekit devices used to have to have a special chip built in, Homekit compatibility can now be upgraded with a license and software update. Rumor has it that Nest plans to take this step to upgrade all of its smart home equipment so that it can be used with Homekit in iOS 11 (source: 9to5.mac).
Use in the bathroom and kitchen
As mentioned above, the Nest Protect 2 smoke detector for your smart home has a humidity sensor. This is ideal if you want to install a real smoke detector in the bathroom or kitchen. This is because there can be false alarms with regular ("stupid") smoke alarms if the sensors perceive water vapor instead of smoke. This cannot happen with this device. That's why you don't need to limit yourself to a heat sensor in the cooking area and in the wet room, but can use a full-fledged fire detector with CO detection.
With LEDs theoretically a smoke detector for pigeons
The warning by LED light in yellow and red as well as the NightlyTrust Functions that show a green light when the light is switched off before going to bed to convey that the fire detector is ready for use are not just smart. You can also support people who do not hear very well or even nothing at all. In connection with the program for smartphone, tablet, iPhone and iPad, the device from Nest Labs is perfectly suitable for deaf smart home friends.
Conclusion on the Nest Protect 2
The Nest Protect smoke detector of the 2nd generation can be used extensively, reliable like no other thanks to its independent function check and ideal for all rooms and a large number of users thanks to numerous features. Even if you don't have a high-tech smart home, these smoke, fire and carbon monoxide alarms are a great help.
Data protection can be a problem in Germany - but the smart ones among you can Simply mask off the camera. In conjunction with the Nest Cam Indoor and Nest Cam Outdoor, you can secure your home all around and even keep an eye on it while on vacation. Due to the 10 year lifespan, the price of 118,99 Euros or with the 3-pack of 329,00 Euros.
What do you think? Already using Nest Labs products? Can you report on a test and share positive or negative experiences with the product? Then please leave a comment on the topic!
After graduating from high school, Johannes completed an apprenticeship as a business assistant specializing in foreign languages. But then he decided to research and write, which resulted in his independence. For several years he has been working for Sir Apfelot, among others. His articles include product introductions, news, manuals, video games, consoles, and more. He follows Apple keynotes live via stream.
The page contains affiliate links / images: Amazon.de