The manufacturer Netatmo is certainly already through most of them WiFi weather station a term. With the Netatmo Welcome camera you've been getting for some time a smart WiFi surveillance camera for the home; this is now with a Indoor siren expanded. In addition, the manufacturer Netatmo has one Bluetooth Smoke Detectors presented, which is presented via Apple HomeKit perfect in your Smart Home fits. In the following I have summarized what you can expect from the devices.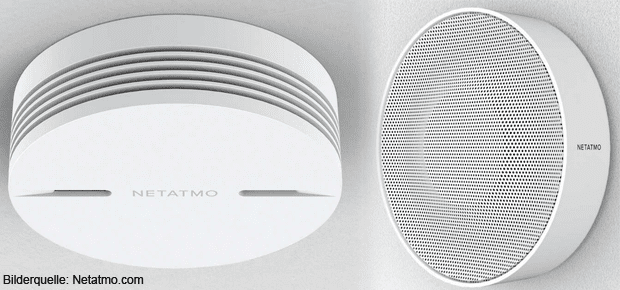 Netatmo indoor siren for the smart home
The Netatmo Welcome camera recognizes faces and, by means of a database provided by the user, can recognize whether the recorded person belongs to family or friends or whether it is a stranger. If it is a stranger who intrudes into the apartment or house, the WiFi camera can send a message to the user - including a picture of the person recorded. With the Netatmo indoor siren Another alarm component is added to deter burglars acoustically.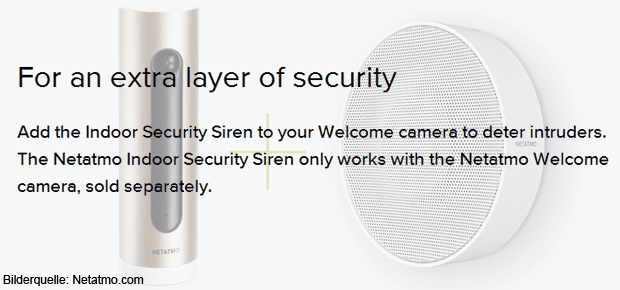 With up to 110 dB the alarm siren from Netatmo brings an acoustic warning and stress element, which can move the intruder (s) to escape. Messages such as "the police have been alerted and are on their way" can also be played. In addition to the alarm and deterring the uninvited guests, the device has even more security components: the user also receives a message on the iPhone if someone tries to tamper with the siren. The integrated motion sensor will notify you if someone tries to silence the device.
More information is available at official product page.
Netatmo smoke detector: smart alarm even when you are on the go
"Warning: smoke detected in the living room", this or something like that could be the push message that the Netatmo smoke detector to the iPhone. With the Bluetooth smoke detector, which also contributes to the security of your home, are also Test runs and deactivation of the alarm via smartphone or tablet possible. So forget the ladder;) You will also get a message when the capacity of the battery is low. So you don't have to worry about sudden beeps in the night or that a fire will burn undetected because the battery is empty.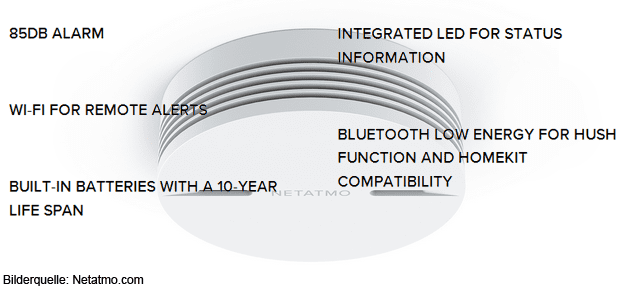 And that's not all: in a well-networked smart home (e.g. with the Apple HomeKit), the smoke detector not only detects smoke and the alarm, but also takes care of them Activation of the lighting in the house or apartment. This means that you don't have to feel stressful for the light switch, but have a good view of your escape route. Incidentally, the volume of the smoke alarm is included 85 dB; the Battery life is specified with 10 years
There's even more information and data on the product website.
Not on the market yet
Both products were recently introduced by Netatmo. But I think that in the course of 2017 you can easily order them via Amazon. There you can also buy some other Netatmo products. In addition to the surveillance camera, an outdoor one Security camera with light and some accessories there is also a weather station, a thermostat and some other smart gadgets.
Netatmo bestsellers on Amazon at a glance
If you are still interested in smart home devices and want to take a look at the best-running devices from Netatmo on Amazon, then I have a small bestseller list for you here. Just click on one of the interesting products and browse through the recommendations on the product page. It's worth it - at least for tech freaks;)
#
Preview
Product
Rating
Price
1
Netatmo Smart Weather Station - WiFi, radio, indoor and outdoor sensors, weather forecast, Amazon Alexa ...

189,99 EUR

151,57 EUR

Buy it at Amazon
2
Netatmo Additional module for weather station, silver - Netatmo, NIM01-WW

79,99 EUR

74,90 EUR

Buy it at Amazon
3
Netatmo smart surveillance camera outside, wifi, integrated lighting, motion detection, ...

319,99 EUR

269,99 EUR

Buy it at Amazon
4
Netatmo Smart surveillance camera for outdoor use with 105 dB siren, WiFi, integrated...

349,99 EUR

276,36 EUR

Buy it at Amazon
5
Netatmo rain gauge radio for the Netatmo weather station, NRG01-WW

4.035 Reviews

79,99 EUR

73,99 EUR

Buy it at Amazon
After graduating from high school, Johannes completed an apprenticeship as a business assistant specializing in foreign languages. But then he decided to research and write, which resulted in his independence. For several years he has been working for Sir Apfelot, among others. His articles include product introductions, news, manuals, video games, consoles, and more. He follows Apple keynotes live via stream.
The page contains affiliate links / images: Amazon.de