With the mobile network provider Netzclub you can secure a completely free SIM card with LTE data volume to connect a smartphone, tablet or other device to the Internet for free. You can check e-mails for free, use messenger apps, stay up to date on news sites and social media and much more. The free SIM gives you 200 MB per month and you can optionally book further conditions (subject to a fee) via the Netzclub app. If you need the SIM card to make phone calls or send text messages, then the tariff will charge 9 cents per unit.
Abbreviation: Order directly here without shipping costs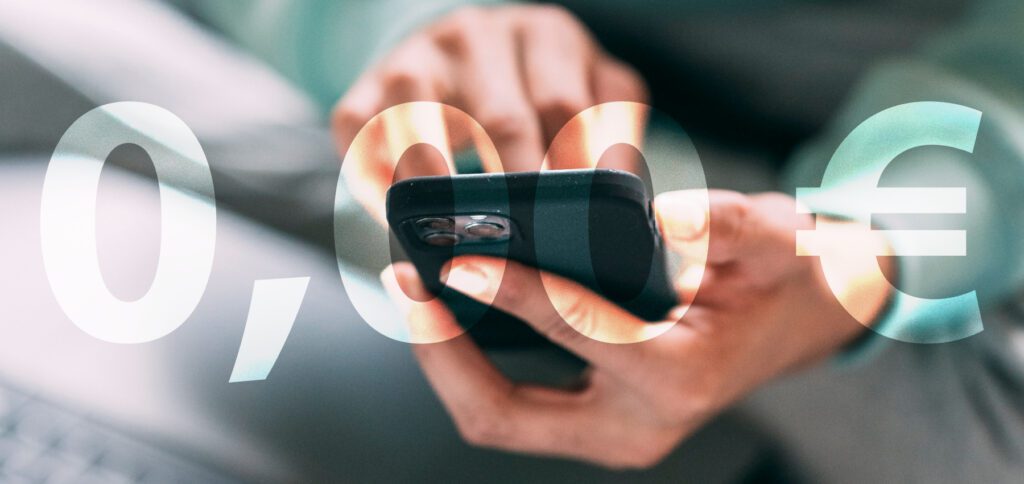 Free SIM card with 200 MB data volume over 4G
The tariff is the Sponsored Surf Basic 2.0 from Netzclub. "Surf Basic" means that it is a basic tariff for Internet use. The SIM card without a basic fee or additional costs can be used throughout the EU with up to 25 MBit/s - of course depending on the respective network coverage.
Incidentally, as a Telefónica brand, Netzclub transmits in the mobile network of O2. If you scroll all the way down on the linked provider page, you will find the "Netzcheck" item in the menu. There you will get an interactive map with which you can check the network coverage in your region. If Telefónica provides you with a good network, you can surf quickly and free of charge with Netzclub.
Free mobile phone tariff with data volume: Financing via advertising
Of course, the offer isn't just a kind-hearted gift to humanity. The issue of the SIM cards and the operation of the network have to be financed somehow. And this is where advertising comes into play. As noted above, this is the name of the tariff Sponsored Surf Basic 2.0. The "Sponsored" indicates that advertising plays a role.
And so it can happen that you receive up to 30 advertising messages per month while using the tariff. To slow down this flow of promotional messages, you should use a different email address for registration than the one you use for day-to-day business. So you can already outsource some things.
Benefits from the free tariff and the prepaid booking of additional content
The free SIM card is ideal if you want to equip a single device with sufficient data volume for messages, messengers, e-mails, navigation and the like. If you rent a device, if you go on vacation, if you want to bridge the change of your main tariff and in many other situations, the whole thing can help - even when saving monthly expenses.
If you need more data volume or want to have inclusive units for telephony and SMS, then you can book them on a prepaid basis. The Netzclub app can help you with this, with which you can also keep an eye on your consumption of the included and booked content. You can also find the app for iOS and Android on the provider's website, where you can also get all other information about the free tariff with a free SIM card.
After graduating from high school, Johannes completed an apprenticeship as a business assistant specializing in foreign languages. But then he decided to research and write, which resulted in his independence. For several years he has been working for Sir Apfelot, among others. His articles include product introductions, news, manuals, video games, consoles, and more. He follows Apple keynotes live via stream.