The German newsletter software Newsletter2Go from the Berlin-based GmbH of the same name is used to create and send newsletter e-mails quickly and easily. In addition to creating and sending newsletters to recipients, the program also has functions for managing addresses, running mailing campaigns and so on. In the Lite package you get up to 1.000 e-mails per month as well as the standard features of the program for free. All the details and a practical price calculator are available on the provider website.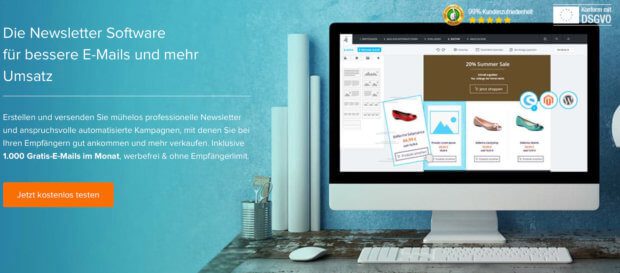 Mail marketing is by no means a relic of the past. Even in the age of social media, Facebook, Twitter, Instagram, XING, LinkedIn and Co., newsletters are a very good way of conveying information, news and promotions to blog readers and shop customers. However, nobody does the job of creating every single customer email by hand and sending it off individually - regardless of whether it is a blog or a large technology company, software like the one from Newsletter2Go pays for itself quickly. And below a certain size, Newsletter2Go is even free of charge.
The new General Data Protection Regulation of the European Union, i.e. the EU-GDPR or, for short, just the GDPR, has ensured that many users have migrated from non-European providers of mailings and switched to local providers. Among other things, MailChimp is a well-known US offer from which some users switch to providers such as Newsletter2Go in order to be on the safe side.
In addition to the secure collection and management of email addresses and compliance with European data protection laws, support and information on the provider's website also play a major role. These are completely available in German - in the Newsletter2Go blog there is this infographic on the current data protection topic along with several text contributions, for example:

Creating and sending newsletters, these are of course the main functions that newsletter software like Newsletter2Go should have. In the following I have compiled a few more information and data for you. So if you're wondering how much a mailing service for digital marketing costs, or what else you can do with it, then take a look.
Subscription packages
Newsletter2Go offers various packages that offer different features and options. In addition, the offers differ in the scope of support, the number of address books, the design templates and the opt-in measures. What you can expect in the three packages, I have summarized for you here:
| | | | |
| --- | --- | --- | --- |
| | LITE | STANDARD | PRO |
| Contains ... | - | All LITE features | All STANDARD features |
| Address books | 1 | 5 | unlimited |
| User | 1 | 5 | unlimited |
| Media library storage | 50 MB | 1 GB | unlimited |
| layouts | 40 simple templates | 30 design templates | everything |
| Campaigns | Standard | Automation, API | White labeling |
| Linking Shopware | ja | yes with 1-click product transfer | ditto |
| Report | Overview of important key figures | Detailed report as PDF and CSV | ditto |
| additionally | - | Voucher pool, email attachments, spam testing, double opt-in import | from 100.000 e-mails also dedicated IPs; Client testing |
Prices
You can test the GDPR-compliant Newsletter2Go newsletter software free of charge and use it permanently for free up to a certain number of newsletters per month and with the basic functions. If you want more, there are of course costs. The prices listed below are per month. If you pay annually, you can get a 10% discount!
Until ... mails / month
LITE
STANDARD
PRO
1.000
0 €
20 €
200 €
2.500
20 €
30 €
210 €
5.000
30 €
50 €
230 €
7.500
40 €
70 €
250 €
10.000
60 €
90 €
270 €
15.000
70 €
110 €
290 €
20.000
90 €
130 €
310 €
between
110 € to 395 €
50.000
180 €
230 €
410 €
between
185 € to 470 €
100.000
245 €
305 €
485 €
between
265 € to 1.565 €
2.900.000
1.255 €
1.365 €
1.625 €
More offers
In addition to the actual mail marketing and the newsletter software, Newsletter2Go GmbH from Berlin offers you further services and information. If you take advantage of this, you will be fully informed in order to be able to offer your blog readers or shop customers the best possible newsletter. Among other things, you can find this data and help content on the website of the German newsletter company:
Selection of offers for e-commerce, agencies, SMEs, large companies, developers and the self-employed
Knowledge and tips for using individual features
Software tips and instructions for using the Newsletter2Go newsletter software
Newsletter tips for different industries and types of businesses
Advice and knowledge for direct marketing, mail marketing and SMS marketing in particular, Outlook services and more
The Newsletter2Go blog with current, informative articles, tips and help articles
Knowledge videos with information in moving images and audio
In this video, the company from Berlin shows very briefly how targeted mailing with Newsletter2Go can have a positive effect on the success of your own company. The video is admittedly 5 years old on Newsletter2Go YouTube Channel you will always find new videos with help, tips and tricks, tutorials / instructions and more. And I have already compiled all the current data on the offer in the previous lines of this article;)
Summary
In summary, it can be said that Newsletter2Go is not only a free newsletter software for small mail marketing, but that it also offers large companies tailor-made solutions for their mailing with appropriate subscriptions. In addition to the software for creating and sending regular news and offers, the girls and boys from Berlin also make the effort to put extensive knowledge on top of it for free - via website, YouTube videos and so on. And the best: Newsletter2Go is GDPR-compliant and therefore particularly recommended for users in the EU.
After graduating from high school, Johannes completed an apprenticeship as a business assistant specializing in foreign languages. But then he decided to research and write, which resulted in his independence. For several years he has been working for Sir Apfelot, among others. His articles include product introductions, news, manuals, video games, consoles, and more. He follows Apple keynotes live via stream.