The two system cameras Nikon Z6 and Nikon Z7 garner plenty of praise in tests from photographers. The image quality, which in the Nikon Z7 is supported not least by the high resolution of 46 megapixels, is rated just as positively as the equipment and the handling of the individual controls. A sticking point with new cameras, however, is always the availability of the lenses, because the manufacturers often take their time to launch them.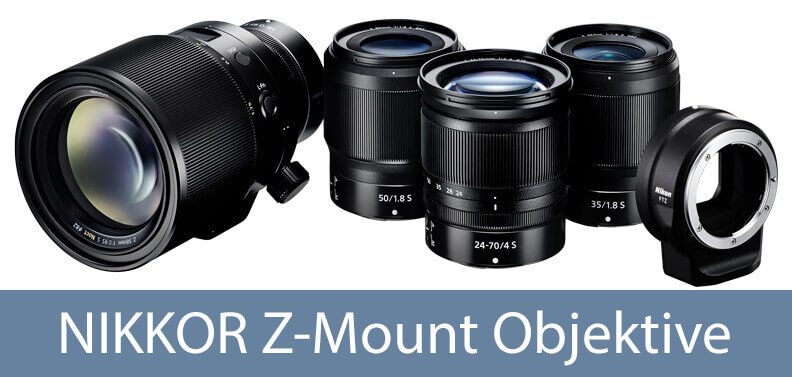 Use old Nikkor lenses with FTZ adapter
The new Z-mount is used with the new Nikon system cameras. So that you can first use lenses from old Nikon models on your Z6 or Z7, the FTZ adapter (Model No. JMA901DA) included with some kits. With this bayonet adapter, Nikkor F-mount lenses can be connected to the new Nikkor Z-mount.
40,00 EUR
Available Nikkor Z S-Line lenses for the Nikon Z6 / Z7
Nikon has one on its side Roadmap published, on which you can see when which lenses are planned. I took the models mentioned there from the graphic and listed them further below with a reference (if already available) to Amazon.

I have divided the Nikkor lenses into fixed focal lengths and zoom lenses. The lenses that are not yet linked are not yet available in stores. Since I don't update the article every day, you can via this link Research all Nikkor Z lenses on Amazon directly.
Prime lenses
Nikkor Z 58 mm f / 0,95 S Noct
Nikkor Z 20 mm F / 1,8 S
Nikkor Z 85 mm f / 1,8 S
Nikkor Z 50 mm f / 1,2 S
Nikkor Z 24 mm F / 1,8 S
Zoom lenses
Nikkor Z 70-200 mm f / 2,8 S
Nikkor Z 14-24 mm f / 2,8 S
If you are looking for a cheap lens with manual focus, you can still do that Meike Optics MK 50mm f1.7 look at.
You can find a YouTube review of the Meike lens here:
There is also a marketing video from Nikon Canada (in English) for the Nikkor Z lenses of the S-Line. These optics are presented individually in the film:
NIKKOR Z 35mm f / 1.8 S
NIKKOR Z 50mm f / 1.8 S
NIKKOR Z 14-30mm f / 4 S
NIKKOR Z 24-70mm f / 4 S
NIKKOR Z 24-70mm f / 2.8 S
Other interesting blog posts:
Jens has been running the blog since 2012. He appears as Sir Apfelot for his readers and helps them with problems of a technical nature. In his free time he drives electric unicycles, takes photos (preferably with his iPhone, of course), climbs around in the Hessian mountains or hikes with the family. His articles deal with Apple products, news from the world of drones or solutions for current bugs.
The page contains affiliate links / images: Amazon.de