The retro console Nintendo Classic Mini SNES you can now - shortly before Christmas 2017 - order again from Amazon. After the quick sell-out, the launch of the Mini Super Nintendo Entertainment System with 21 pre-installed games followed, a long sales stop was announced, from which "used" and resellers in particular benefited. The new Amazon price now plays into their hands again. Because instead of EUR 99, the online retailer sells the Nintendo Classic Mini SNES retro console for EUR 139,90 (as of December 11.12.2017, XNUMX).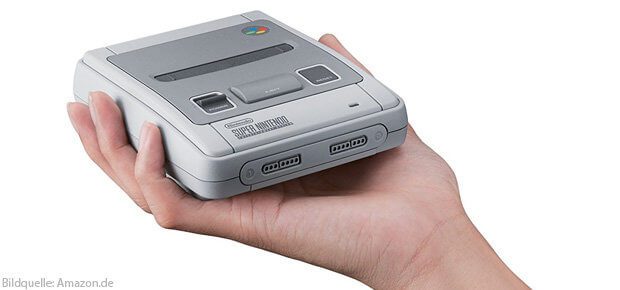 Nintendo Classic Mini SNES available again on Amazon
If you want to have a look at the new and used offers on Amazon, then take a look at this product page:
Nintendo Classic Mini: Super Nintendo Entertainment System
Nintendo Classic Mini with 20 + 1 games for pocket-sized retro fun. Scope of delivery: 1 x Super Nintendo Classic, 2 x Super Nintendo Classic controllers, 1 x HDMI cable, 1 x mini USB cable, 1 x manual. The 21 games are preinstalled directly on the game console and include Super Mario Kart, The Legend of Zelda: A Link to the Past, Donkey Kong Country, EarthBound and other classics.
After graduating from high school, Johannes completed an apprenticeship as a business assistant specializing in foreign languages. But then he decided to research and write, which resulted in his independence. For several years he has been working for Sir Apfelot, among others. His articles include product introductions, news, manuals, video games, consoles, and more. He follows Apple keynotes live via stream.
The page contains affiliate links / images: Amazon.de