Nintendo Labo is the name of the new highlight from the makers of the Nintendo Switch, which will be available soon. Optionally in three versions - design package, multi-set and robo-set - you can buy the Toy-Con extensions for Nintendo's console hit from 27 from April 2018, 2017. Described by some as an "expensive cardboard box", by others as a cool extension of handheld and Joy-Con controllers, there will probably not only be different expectations, but also a wide variety of evaluations after the first test ...
Nintendo Labo: Switch games are becoming haptic
From the end of April 2018 there will be Nintendo Labo and therefore also new games and apps (included in the set as a software card) for the Nintendo Switch in Germany. Among other things, the three set packages can already be bought or pre-ordered from Amazon. Nintendo wants to upgrade the successful hybrid console from last year with the so-called Toy-Con offers. In addition to a system update here and there, the now considerable selection of games and the grandiose Nintendo titles from Mario to Zelda, there will be a hardware expansion for Switch, Joy-Cons, TV-Dock and Co. with Nintendo Labo.
Nintendo's cardboard hardware in detail
I already got the Nintendo Switch in a small one for you in March 2017 Test article presented as well as next to this and that FAQ article as a purchase advice further contributions to the console provided for you. Of course, I can't offer a Nintendo Labo test yet - but I can show you what exactly is hidden behind the name and whether the sets made of cardboard, cords and game cards could be worth their price.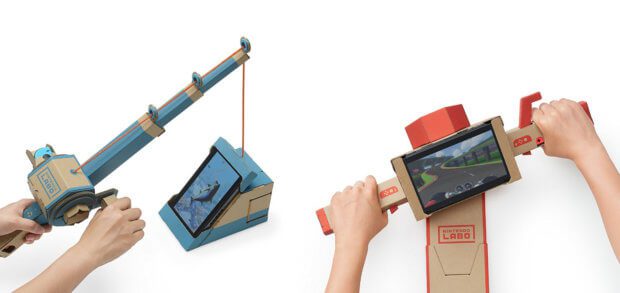 Nintendo Labo is coming to the Nintendo Switch market around a year after Mario Kart 8 Deluxe (April 28, 2017); According to the first news, pictures and videos, the upgrade of the console should be tinkered with but not used with games like The Legend of Zelda or Super Mario Odyssey. Rather, there will be their own mini-games and applications that are specially designed for Nintendo Labo.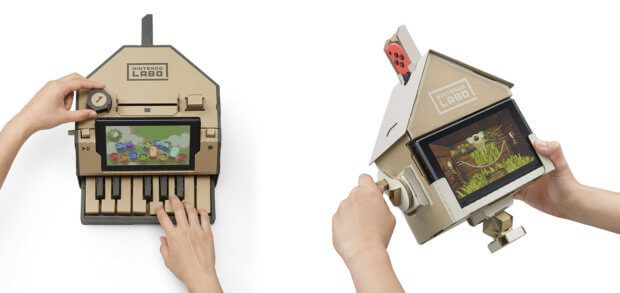 The slogan of the new products for the Nintendo Switch is "Build. Play. Discover. "- and in this sense, children and the young at heart should use the cardboard handicraft sets to assemble a piano, a robot or a handlebar for racing games. Some constructions bring a holder for the handheld and also compartments for the Joy-Con controller. As Toy-Con, they therefore work in real time as controls for the games on the Nintendo Switch display.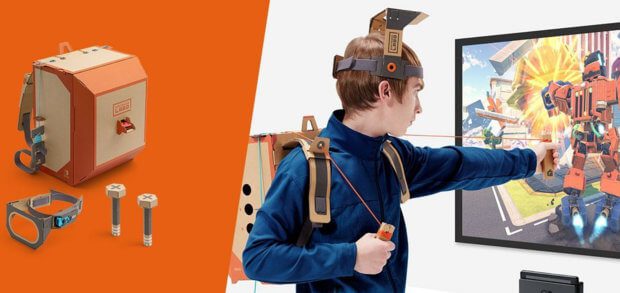 Different set, different application: Depending on whether you opt for a design extension, multi-pack or robo-set, you will receive different pre-cut sheets of cardboard. The scope of delivery also includes a software card for the Switch, on which the appropriate games and apps are included. I think that's very good, because you don't have to spend time with downloads in addition to tinkering. The exact content of each Nintendo Labo version can be found on the Amazon product pages.
Buy / pre-order Nintendo Labo
If you want to have your Nintendo Labo for the Nintendo Switch delivered directly on April 27, 2018, you can pre-order the individual cardboard game combinations now. Here are the individual versions:
9,42 EUR
Design package
The Nintendo Labo design set for Nintendo's Switch hybrid console is inexpensive and contains: 2 x template sheets, 2 x sticker sheets and 2 x roll of adhesive tape. Ideal for children and for testing the Nintendo Labo concept. Software is not included in the scope of delivery.
41,19 EUR
Toy-Con 01 Multi Set
Here the words build, play and discover come fully into play; With the Nintendo Labo Multi-Pack you can build a motorcycle, a fishing rod, a piano, an RC car and a house. The software is included on a game card for Nintendo's Switch. There are also numerous cardboard sheets, cords, ribbons and eyelets as well as instructions for handicrafts.
28,11 EUR
Toy-Con 02 Robo Set
Use the included cardboard sheets, cords and switch controllers to transform yourself into a robot. The right software for the transfer of movements to the virtual character is included in the scope of the set. Details about this Nintendo Labo package can be found on the Amazon product page.
Nintendo Lab videos
Here I have picked out one and the other video about Nintendo Labo for you, so that you can get an impression by means of moving images:
My criticism of the products
In and of itself, I think the idea behind Nintendo Labo is really cool. Children and young people in particular not only have the Nintendo Switch display and controller to play with, but can also play a bit more haptic gaming. In addition, the Robo-Set, for example, is a cool alternative to virtual reality (VR), which can be used with the Nintendo Switch (or) cannot be experienced. Nevertheless: a few negative points come to mind in addition to the positive aspects.
It should be quite obvious that some of the constructions have to be handled with care. Especially with smaller children, an ambitious or careless example could soon lead to the parts of the Nintendo Labo set being kinked, torn or otherwise damaged after a short test. The replica or the repair from the Amazon packaging can be the salvation;)
A second negative point concerns the financial aspect - and with that I don't want to allude to the prices of the individual sets. I find this justified, as the game cards are already included in addition to cardboard boxes and strings. Rather, I wonder how expensive the Nintendo Labo Robo-Set will be in the end if you equip it with all sorts of Joy-Cons. By default, two should be sufficient for a visor and a backpack - but in the extended version you can also see some on the player's feet and hands (see video above). And additional Joy-Con controllers aren't cheap: view at Amazon.
Conclusion on the switch accessories
I am sure that all Nintendo Switch fans will at least note April 2018 to follow tests and news about Nintendo Labo accessories. I'm also curious how the Toy-Con cardboard boxes will be received. The whole thing looks interesting; even the Robo-Set, which can get by with two controllers, but can also be operated with even more. My tip for those interested: Get your Nintendo friends together, buy the package together and install all of your controllers;)
After graduating from high school, Johannes completed an apprenticeship as a business assistant specializing in foreign languages. But then he decided to research and write, which resulted in his independence. For several years he has been working for Sir Apfelot, among others. His articles include product introductions, news, manuals, video games, consoles, and more. He follows Apple keynotes live via stream.
The page contains affiliate links / images: Amazon.de