If you have the Nintendo Switch currently order online and want to have it delivered on time for the release, then unfortunately you cannot rely on Amazon and Co. Out of my own interest in the Switch, I was already at Media Markt to order there. However, even though I was only number 16 on the list, nobody could assure me that I would be able to hold the Nintendo Switch in my hands in time for the release on March 3, 2017. Now I have one through acquaintances Link to OTTO that surprised me positively.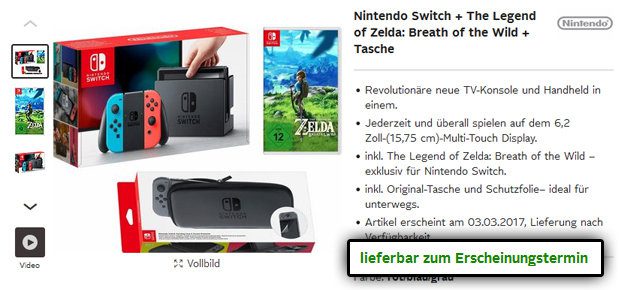 Nintendo Switch, Zelda Breath of the Wild and bag in a bundle
At OTTO.de there is a set from the Nintendo Switch with a red and blue Joy-Con, the game Legend of Zelda - Breath of the Wild and an original switch bag with protective film (for the handheld) from Nintendo. The whole set is not overly expensive, but brings a normal price of 429,99 euros for all three items. If you want 24 months instead of the 36-month warranty, you can get this for an additional charge of 29,99 euros. "With our long-term guarantee you receive a guarantee of 36 months, i.e. a full 3 years. In the event of a complaint, you are always well covered. The surcharge for this long-term guarantee is € 29,99. The additional guarantee does not limit the statutory warranty.", It says at OTTO.
OTTO Bundle: Buy Nintendo Switch with game and bag
If you are interested in the offer and want to order the bundle, then you can do through this link. The good thing about it: currently it says in the most beautiful green "available on the date of publication" on the website. Even Amazon can't even provide this notice for the console alone. The largest mail order company in the world no longer accepts pre-orders; Interested parties are informed with the note "currently not available"Punished. So I'm happy about the offer of the competition: "found at OTTO De Eh"As it is called in the advertising;)
After graduating from high school, Johannes completed an apprenticeship as a business assistant specializing in foreign languages. But then he decided to research and write, which resulted in his independence. For several years he has been working for Sir Apfelot, among others. His articles include product introductions, news, manuals, video games, consoles, and more. He follows Apple keynotes live via stream.