Although the Pages, Numbers and Keynote icons can still be found with a thick yellow "BETA" banderole, at least all [iCloud users->icloud] can now try this web software. This free Office Light version from Apple is supposed to work with the common browsers: Safari, Firefox, Chrome and Internet Explorer (what kind of browser was that again?!?). Now that these iWork stories can also be used online for free, many Mac users are of course wondering whether they will soon be able to use the standaloneApps get it on iOS and Mac for free. If you want a non-binding statement here, you can use the seething [rumor mill->rumor mill]. I'll just stop here and visit Pages in iCloud...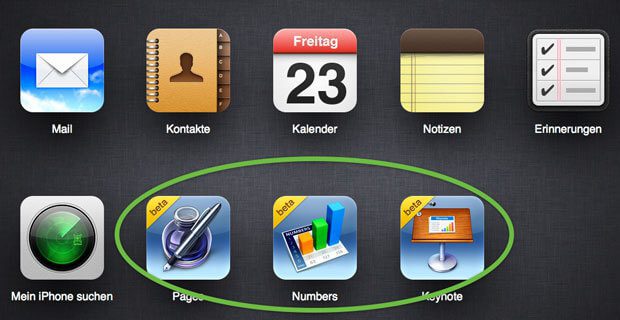 Who is now on Pages falls in the cloud, the first thing that is pointed out is that he can currently only expect control buttons in English. The localization will surely still happen when the whole thing is taken out of beta status. What pops up next after trying to open a Pages template: "You Browser is not fully supported! For the best Safari for iCloud experience, use the latest version of Pages." Huh?! Do you want me to use the latest version of Pages? I just called it up - or is there something newer than the online version? I assume they want to tell me not to use Firefox and prefer Safari instead. I suppose there needs to be a little de-beta on the warnings as well.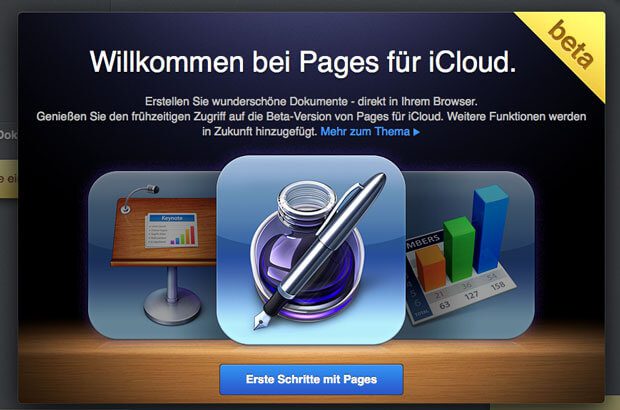 Otherwise I have to say that the whole thing already makes a good impression. I dragged and dropped pictures, changed fonts and did similar things and despite my lame DSL, which I also had to bother with backing up a complete website via [FTP-> ftp], it went very quickly. I am curious how it will be when there is no more beta in front of it!
Jens has been running the blog since 2012. He appears as Sir Apfelot for his readers and helps them with problems of a technical nature. In his free time he drives electric unicycles, takes photos (preferably with his iPhone, of course), climbs around in the Hessian mountains or hikes with the family. His articles deal with Apple products, news from the world of drones or solutions for current bugs.