I had the tool Pop Clip Installed on my Mac years ago - and loved. After some major macOS update and a related cleaning campaign, it somehow seems to have disappeared. In any case, I missed it again today and therefore started looking for the tool.
After it took me a good 30 minutes to find it again without knowing the name, I thought to myself that I would write a contribution to it. I can use it to search for it in my blog at any time - and of course it makes sense to introduce PopClip to you now.
What does Popclip actually do?
The tool is an extension that lives in the menu bar, but actually comes into action when you mark a snippet of text somewhere in the browser, a text editor or any other app on the Mac.
In this case, a pop-up menu opens offering various options. The clever thing about PopClip is that the items in the menu depend on what you have selected. If it is a URL, for example, PopClip shows next to the options "Search", "Cut", "Copy" and "Paste" a chain that you can use to open the link in the browser of your choice - and that works too when the text is not a proper link to click.

PopClip does the same with e-mail addresses, except that an @ symbol is displayed here, with which you can start an e-mail to this address directly in the mail program.

Extremely flexible thanks to hundreds of extensions
The two functions mentioned above alone save you a lot of copy & paste orgies. But PopClip can still be supplemented by expansions in functionality. For this reason, one can find one on the programmer's side quite a long list of "PopClip Extensions", which can be installed free of charge in the Mac tool. All you have to do is load the file and then open it with PopClip. In this context, it is very practical that the list shows a tick instead of the download button if the corresponding extension has already been installed in PopClip.
My favorite PopClip extensions
The extensions include, for example, the following (personal) highlights:
Insert the clipboard as plain text (without formatting).
Insert the clipboard and press ENTER after inserting (useful for terminal commands from tutorials etc.).
Copy web content as markdown.
Replace spaces in text with underscores.
Send the highlighted text to TextSoap for cleaning.
Count the words in the highlighted text.
Count the characters of the highlighted text.
Display the selected text in large font on the monitor (helpful when you can't read things).
Open Google Translate with the highlighted text.
Opens the translation service DeepL with the highlighted text (target language can be selected).
Make a new note with the highlighted text.
Create a new note in Bear with the text.
Send the text to Evernote.
Create a new Todo task in Things.
Use the text to create an entry with Fantastical.
Activate Alfred with the highlighted text.
Create a new mail with the text in the mail program.
Search for the highlighted text with Google, Bing, Yahoo, DuckDuckGo etc.
Search Wikipedia for the text.
Search for the text on Amazon.
There are many other extensions, but I can't possibly include them all here as the list is quite large. There are currently over 180 extensions for PopClip. Of course, it doesn't make sense to install a lot of them, as the pop-up menu will burst at the seams at some point, but the display can cope with a few.
If you want to contribute an extension yourself, you can do so GitHub from PopClip look at.

Deactivate PopClip in certain apps
Now you might not want to have the tool active in some apps because there would interfere with the display of the menu. I'm thinking of my favorite text editor, where you only write new blog posts, but you might think of other apps as well. In this case, there is a black list in the PopClip settings in which these apps can be listed.
Let's talk about money - the price of PopClip
If you guys the tool in the App Store look, please don't fall off your stool. It's not free (although it's on the Developer site gives a free demo), but you don't have to pay a monthly subscription of X euros either. I think the price for the Mac tool is justified (it currently costs 14 euros). It makes my day-to-day work so much easier and for this reason alone - for me - it is worth the money.
If you then look at how many extensions there are for the software, you might understand why maintaining the tool has to be financially rewarded.
I like to pay a decent price for software and I know that it supports the developers. In this way, the software remains compatible with future macOS versions and it can be assumed that the number of extensions will steadily grow.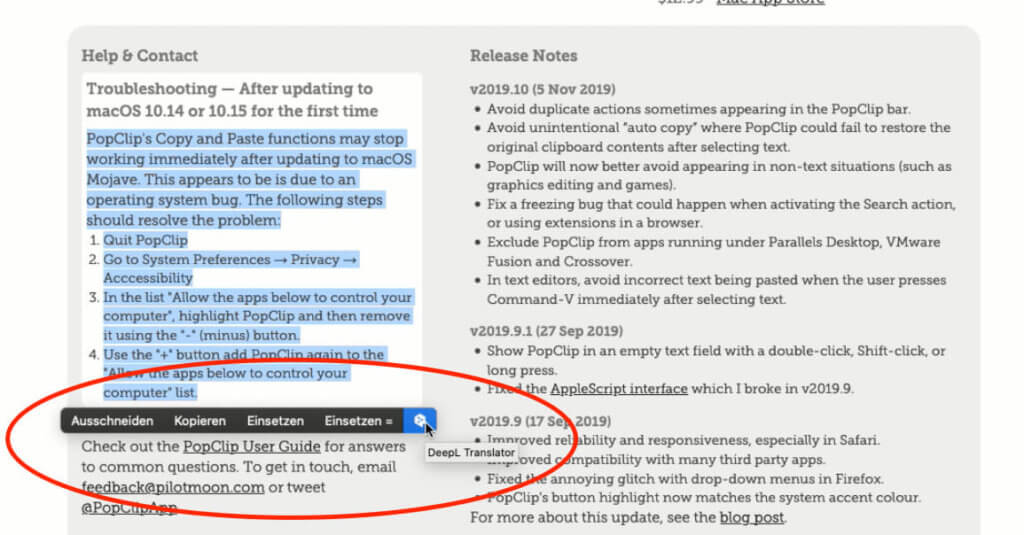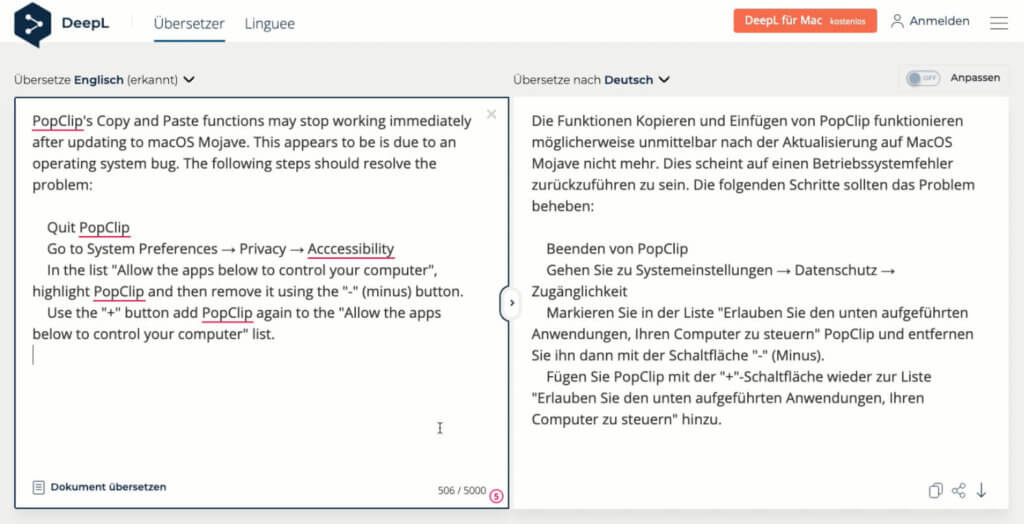 My conclusion on PopClip
Now that I've rediscovered PopClip and installed some extensions, I wonder how I could live without the tool for so long. It makes daily work on the Mac more efficient in so many places. For example, I like to use the DeepL translation tool to translate small sections of specialist English texts. With PopClip this path from the English to the German text is significantly shortened.
But I also use the insertion of text passages as plain text more often and was able to use the tool with it Get PlainText save (which is also very good).
If you have not tried PopClip yet, you should do it as soon as possible, because you usually only notice in everyday life whether you are using a tool or not. The demo version offers a good opportunity to test the software without having to put money on the table first.
Related Links
Which little helpers would you not want to be without on your Mac?
Do you have any tools that make your everyday work with the Mac easier? If so, I would be happy if you could briefly leave a comment and describe which tool you like and how it helps you when working with the Mac. Maybe I'll find another Mac app to which I'll also dedicate a contribution.
Jens has been running the blog since 2012. He appears as Sir Apfelot for his readers and helps them with problems of a technical nature. In his free time he drives electric unicycles, takes photos (preferably with his iPhone, of course), climbs around in the Hessian mountains or hikes with the family. His articles deal with Apple products, news from the world of drones or solutions for current bugs.