Quad Lock, a manufacturer of universally applicable mobile phone cases, is now offering new case models again - for the Apple smartphones iPhone 8, iPhone 8 Plus and iPhone X. The Quad Lock cases can be used in the car or on the bike with the appropriate accessories , attach to the arm and so on. And of course they offer protection from bumps, scratches and falling down even without a mount in your pocket, backpack and everywhere else. Here I have summarized all the important information about the new iPhone 8 and iPhone X cases from Quad Lock.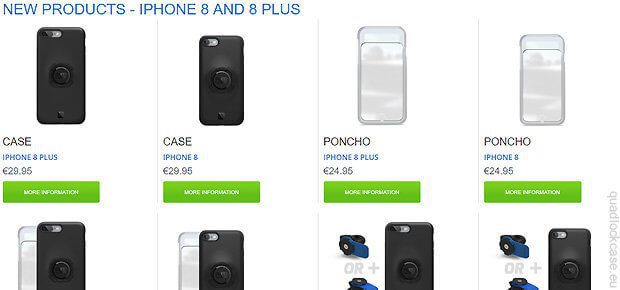 iPhone 8 and iPhone 8 Plus case
In the official Quad Lock shop you can get a comprehensive overview of the new products that you can use with the iPhone 8 or iPhone 8 Plus. Below is the regular one Case, i.e. the standard case with Quad Lock connection point on the back Poncho for iPhone 8/8 Plus (transparent cover for front and back), the Bike kit, Set for motorcycle and scooter, Run kit As well as the Car kit. You can find the overview here . However, the manufacturer wrote in an email about the new products that the iPhone 7 cases and iPhone 7 Plus cases Can also be used for the iPhone 8 models (the dimensions differ slightly):
"Please Note: The iPhone 8 and 8 Plus devices will fit into our iPhone 7 and 7 Plus cases."
New from Quad Lock: iPhone X cases
However, the new Quad Lock cases for the iPhone X are brand new and specially designed for a single Apple smartphone. Here, too, you can choose from a case, poncho, car kit, run kit, bike kit and set for motorcycles or scooters. The overview of the individual products is also available in the official Shop. They are not yet listed on Amazon. If you need a little more information and opinions about the iPhone Quad Lock cases, then I have something for you: a test of the Quad Lock case for the iPhone 7 Plus in this post.
After graduating from high school, Johannes completed an apprenticeship as a business assistant specializing in foreign languages. But then he decided to research and write, which resulted in his independence. For several years he has been working for Sir Apfelot, among others. His articles include product introductions, news, manuals, video games, consoles, and more. He follows Apple keynotes live via stream.