The color RAL 7016 is named anthracite gray and was previously developed as a color for the Wehrmacht. It is listed under the color tones "Gray" or "Gray tones". Today's area of ​​application is of course less in the military area and more in the area of ​​house construction. In order to get a binding impression of the color, one should click on a Color fan with RAL colors To fall back on.
Areas of application of RAL 7016 anthracite gray
Front doors
Window
Room doors
Spray paint for wood elements
Paint for cars and motorcycles (glossy and matt)
Listing in the RAL color table
As mentioned, you can find RAL color 7016 in the shades of gray. In this area you can also find colors of the German Navy and the German Bundeswehr.

Color codes and alternatives to RAL 7016
If you work as a media designer in the print or web sector or as a graphic designer, you may need to convert the RAL color "anthracite gray" into other color systems or alternatives to the RAL 7016 color. I have compiled the relevant information here. All information on the color numbers and alternatives are non-binding suggestions. Changes and slight deviations in the colors are possible.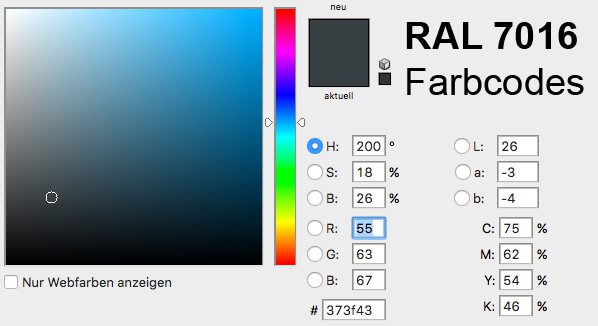 NCS code
The alternative color code of RAL 7016 corresponds to the NCS code S 8000-N.
RGB code
If you translate the color RAL 7016 into an RGB value, this would be 55 - 63 - 67 in decimal format. In hexadecimal format or in hex format for web colors, it would be # 373F43.
CMYK code
The CYMK code for the RAL classic color 7016 would be (in percent) 75 - 62 - 54 - 46. The CMYK code is used in the printing area in programs such as Adobe Indesign, Adobe Photoshop and Adobe Illustrator.
Important: All information on alternatives in other color systems can result in minimal deviations. The display on the computer monitor is also not binding and should not be used as a basis for decision-making when choosing a color. Printed RAL color fans are suitable for this purpose (to be found here) significantly better.
Jens has been running the blog since 2012. He appears as Sir Apfelot for his readers and helps them with problems of a technical nature. In his free time he drives electric unicycles, takes photos (preferably with his iPhone, of course), climbs around in the Hessian mountains or hikes with the family. His articles deal with Apple products, news from the world of drones or solutions for current bugs.