The comes equipped with a wide range of accessories for various possible uses Red Key F10 Cordless vacuum cleaner therefore. In addition to the large brush for the floor, which is equipped with a light for use under the furniture, the scope of delivery also includes two attachments for use as a hand vacuum cleaner. Narrow gaps, room corners and textiles can be cleaned individually. The 2.500 mAh battery provides a runtime of up to one hour. A suction power of up to 23.000 Pa or 140 AW can be used for cleaning (Explanation of the units here). You can view and order the device via this link.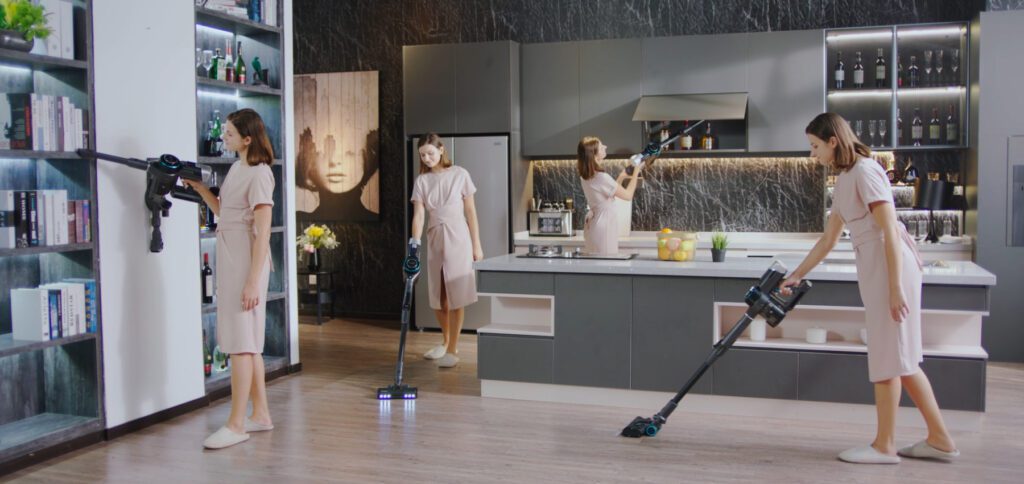 Redkey F10 - Foldable, with filter and wall mount
In addition to the features already mentioned, the Redkey F10 battery-powered vacuum cleaner has a flexible suction tube that can be bent in such a way that it can be vacuumed under furniture without straining, even if there is little space. In addition, a three-layer and three-stage filter system is integrated, which filters dust, animal hair and dirt well. Only clean air should be released from the device. The scope of delivery includes a wall bracket for convenient storage. Here, too, small apartments or little space in the broom closet were considered. Due to the strong suction power, one pass is probably enough (unlike weaker vacuum cleaner robots) to get the apartment clean quickly.
Further offers from the manufacturer
Redkey is not an unknown name here on the blog. For example, in this article you will find a combined wet and dry vacuum cleaner for removing larger dirt: Redkey W12 - Wet and dry vacuum cleaner with battery operation. This combination vacuum cleaner is also a lightweight and flexible device that has many advantages for convenient use. In the article you will find technical data, pictures and other information as well as links to Amazon and the official manufacturer website. If you are more interested in the Redkey F10 presented here, then simply use these links: The Amazon / Manufacturer page.
After graduating from high school, Johannes completed an apprenticeship as a business assistant specializing in foreign languages. But then he decided to research and write, which resulted in his independence. For several years he has been working for Sir Apfelot, among others. His articles include product introductions, news, manuals, video games, consoles, and more. He follows Apple keynotes live via stream.