Incredible, but true: The EasyAcc X100 are next to mine AirPods the first true wireless headphones that I tried. Among other things, this is probably due to the fact that most models are so-called final in-ear headphones that you put into your ear canal. My ears are only suitable for this technique to a limited extent, as it always takes ten to twenty seconds for them to sit properly.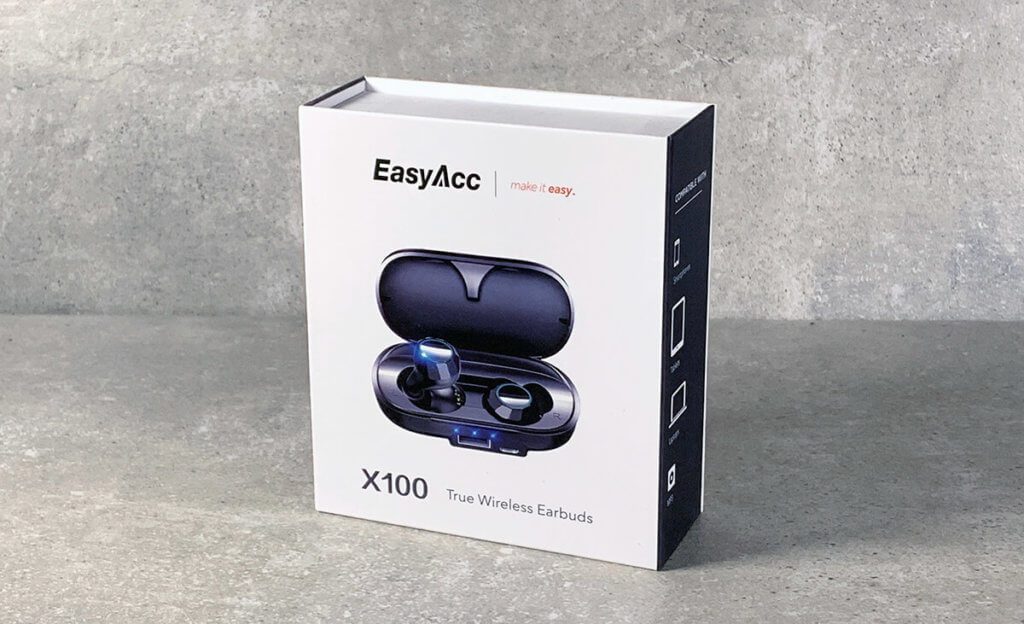 Current deal: 50% discount (final price approx. 20 EUR)
The EasyAcc X100 is still available until December 31.12.2019, 20 at half price (for just under XNUMX EUR!). To get the offer, go via this link und tragt beim Checkout den Code "TWS50FANS" ein.
Technical data of the EasyAcc X100
Product name: EasyAcc X100
Bluetooth Version: V5.0
Range: up to 10 m
Earbud charging time: 1,5 hours
Case charging time: 2,5 hours
Rechargeable batteries in the earphones: lithium battery with 3,7 V and 50 mAh
Battery in the case: lithium battery with 2600 mAh
Playing time (75% volume): approx. 3 hours
Talk time (75% volume): approx. 3 hours
Standby time: approx. 100 h
Bluetooth specifications: HFP 1.7, HSP 1.2, HD Voice, Voice Prompts, A2DP 1.3, AVRCP 1.6, iOS Battery State Monitor, Voice reporting, Multiport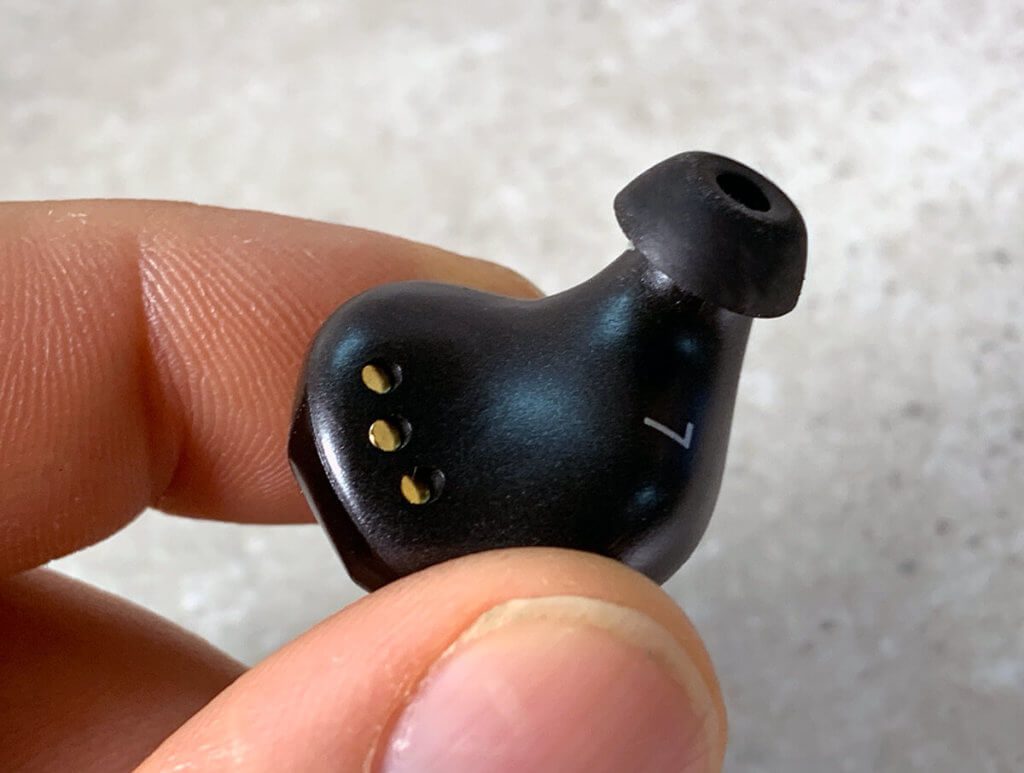 What's in the box
The EasyAcc X100 come in a charging case and a Micro-USB-Charging cable. Also included is a protective case and a collection of six silicone ear tips, with which you can adapt the headphones to different ear anatomies.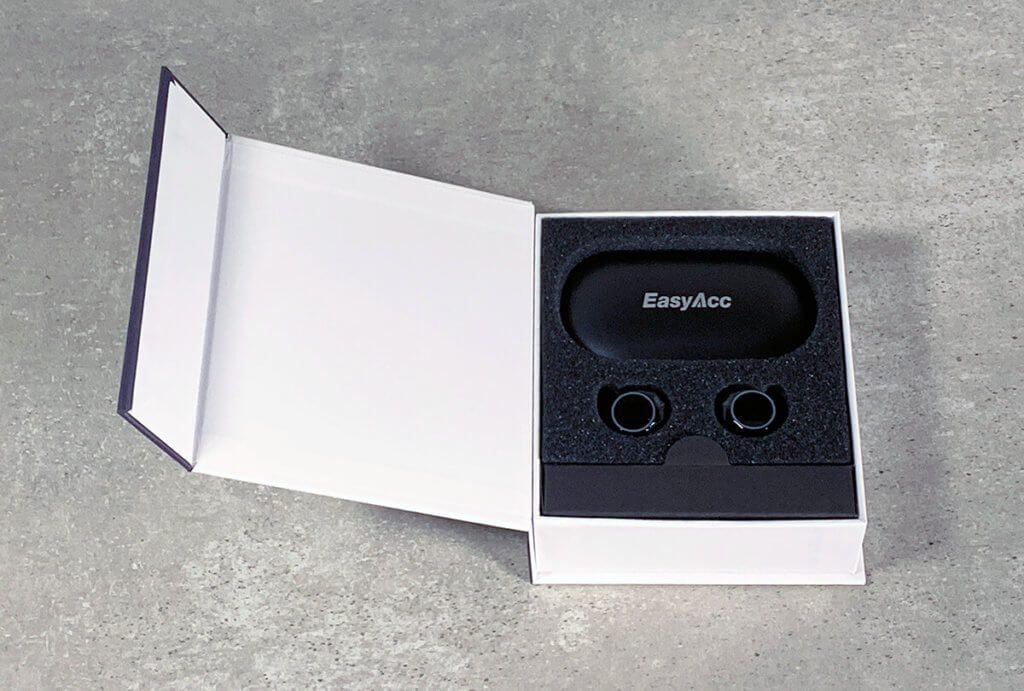 Pairing the EasyAcc X100
Bevor man mit den EasyAcc X100 starten kann, muss man diese mit seinem Audiogerät koppeln. Holt man die Ohrhörer zum ersten Mal aus der Ladeschatulle, gehen sie direkt in den Pairingmodus und man sieht sie zum Beispiel am iPhone in den Bluetooth-Einstellungen. Verbindet man sie nun am iPhone, hört man die Statusmeldungen "pairing right channel" und "pairing left channel". Damit ist das Koppeln schon beendet.
Here's a note: The volume at which the status messages of the earphones are played is very pleasant. I already had other headphones, the audio messages were so loud (regardless of the volume level) that you always wanted to tear the earplugs out of your ears when a message came. This is not the case at all with the EasyAcc X100. Everything is easy to understand and spoken at a normal volume.
If you want to cancel the pairing and pair the devices with another Bluetooth source, press the buttons on both earplugs for 5 seconds until both LED rings flash red.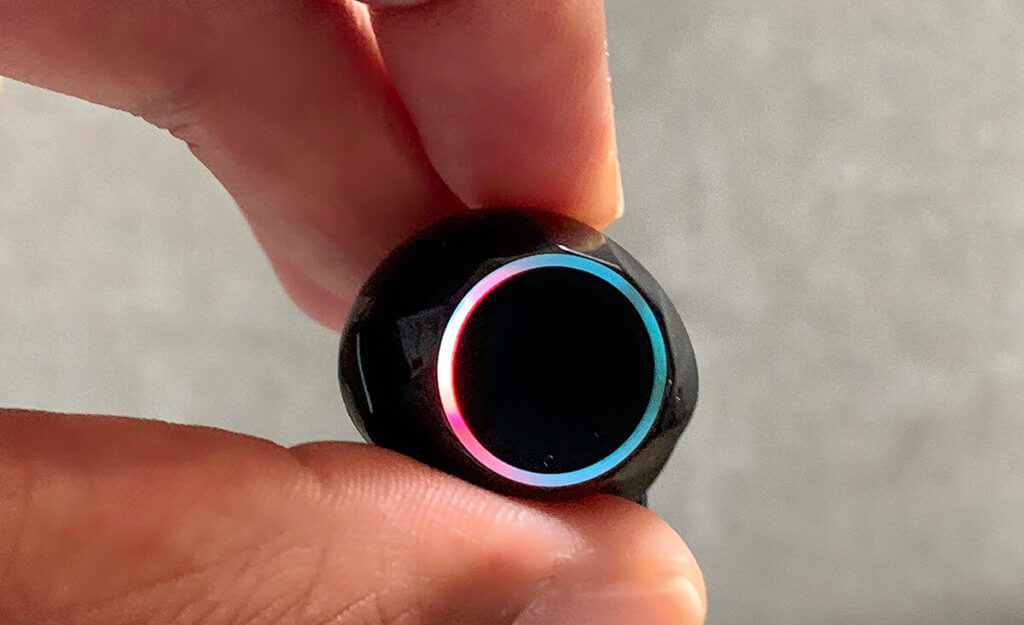 Operation of the earphones - also Siri compatible
Die Bedienung der EasyAcc X100 erfolgt über eine touch-empfindliche Fläche auf der Außenseite der Ohrstöpsel. Tippt man diese Fläche zweimal an – es ist hierbei egal, ob man auf dem linken oder rechten Ohrhörer tippt – aktiviert man Siri. Wie von den AirPods gewohnt, kann man auch bei den EasyAcc X100 Befehle wie "lauter" oder "leiser" sowie "nächstes Lied" oder andere absetzen.
While there are no touch commands for changing the volume, you can control the following things by tapping:
Play / pause: tap once (left or right)
Activate / deactivate Siri: tap twice (left or right)
last song: Press the touch area on the left earbud for 1-2 seconds
next song: Press the touch area on the right earbud for 1-2 seconds
Since the EasyAcc X100 have a built-in microphone, it makes sense to use it for making calls. The following commands apply here:
Accepting calls: tap once (left or right)
Brokering (accepting a second call): tap once (left or right)
Switch between calls: Press for 1 second (left or right)
Hang up: tap once (left or right)
Reject call: Press for 1 second (left or right)
Hold the current call and reject an incoming one: Press for 1 second (left or right)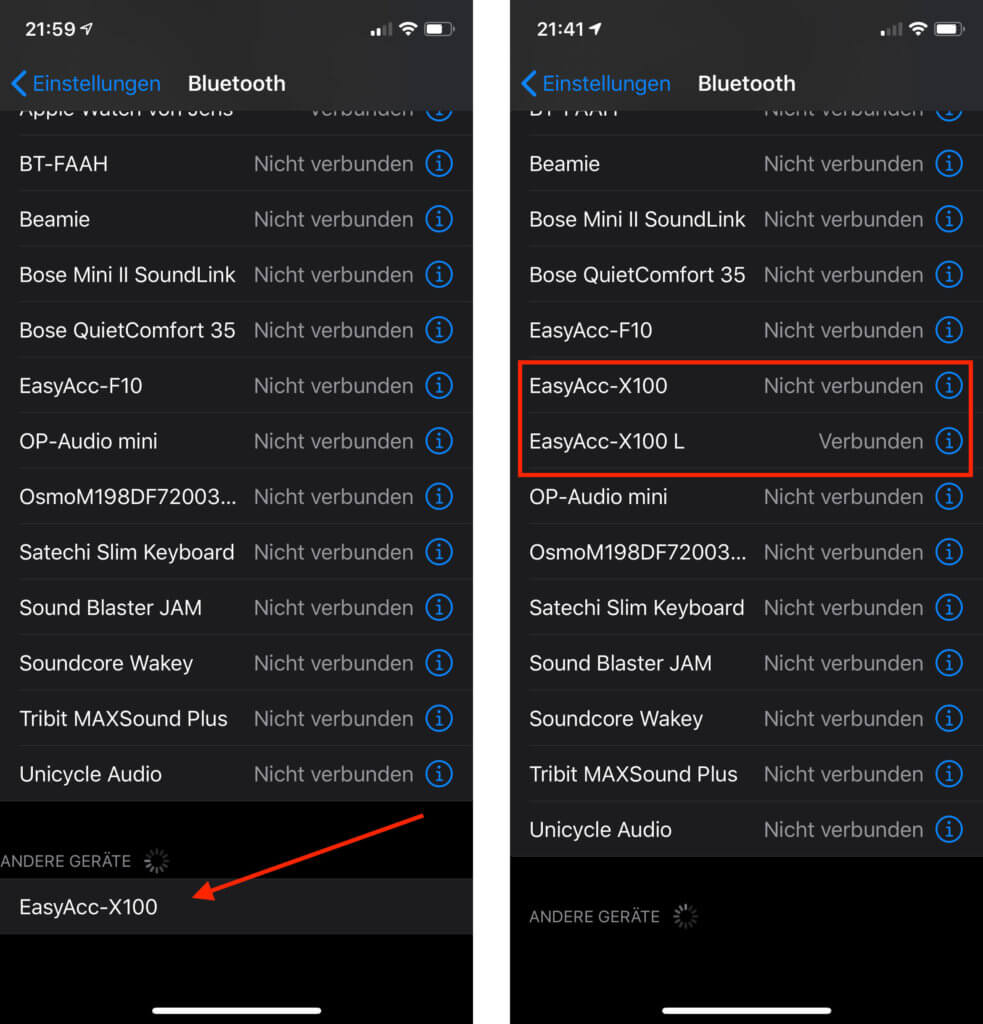 Communication with Siri
Of course, I also tried activating Siri and various commands. When tapping, I had to press a little harder than I was used to with the AirPods. As a result, Siri was not activated as reliably as I would have liked. About every 4th to 5th time Siri wouldn't start for me.
But when the Apple assistant was active, she reliably understood and implemented all commands - at least to the extent that one is used to from Siri. But the EasyAcc True Wireless headphones can do relatively little for that.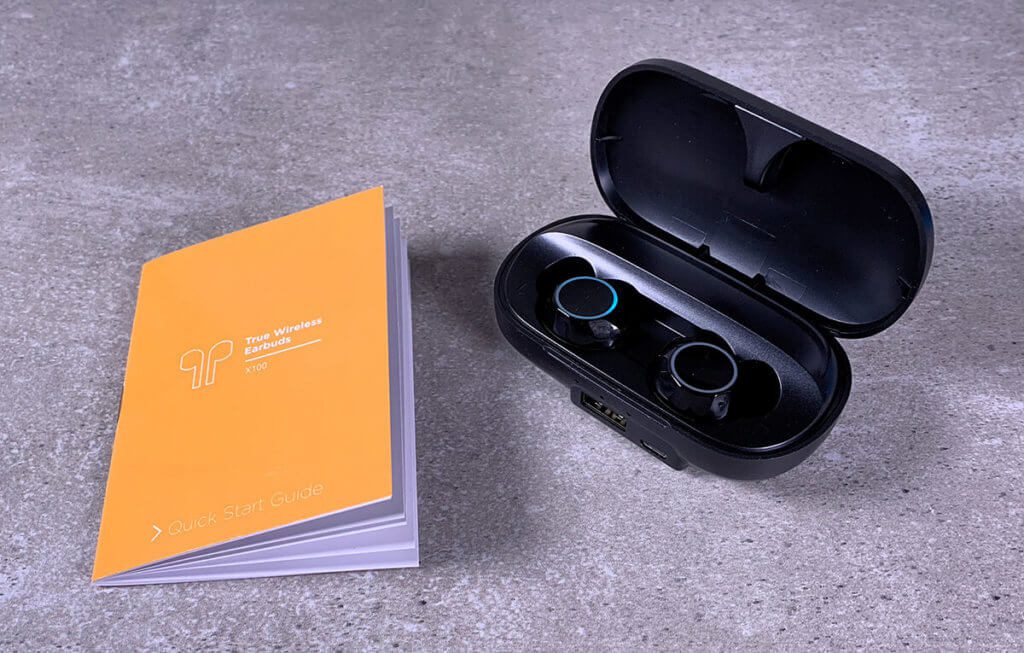 Design and optics
When I saw the brightly colored flashing LED rings on the earplugs, I thought at first that these things would do that all the time. Then you could hardly go out on the street with it. But I can reassure you: They only flash in pairing mode and otherwise only signal subtle inputs that you make via the button - that is, when you have your hand on the earphones anyway.
Otherwise, the True Wireless headphones from EasyAcc look elegant and pleasantly discreet. They have a slight diamond or snail structure on the surface, which makes them look classy up close. From a greater distance, however, they only look like black circles in the auricles and appear - even by my standards - relatively inconspicuous.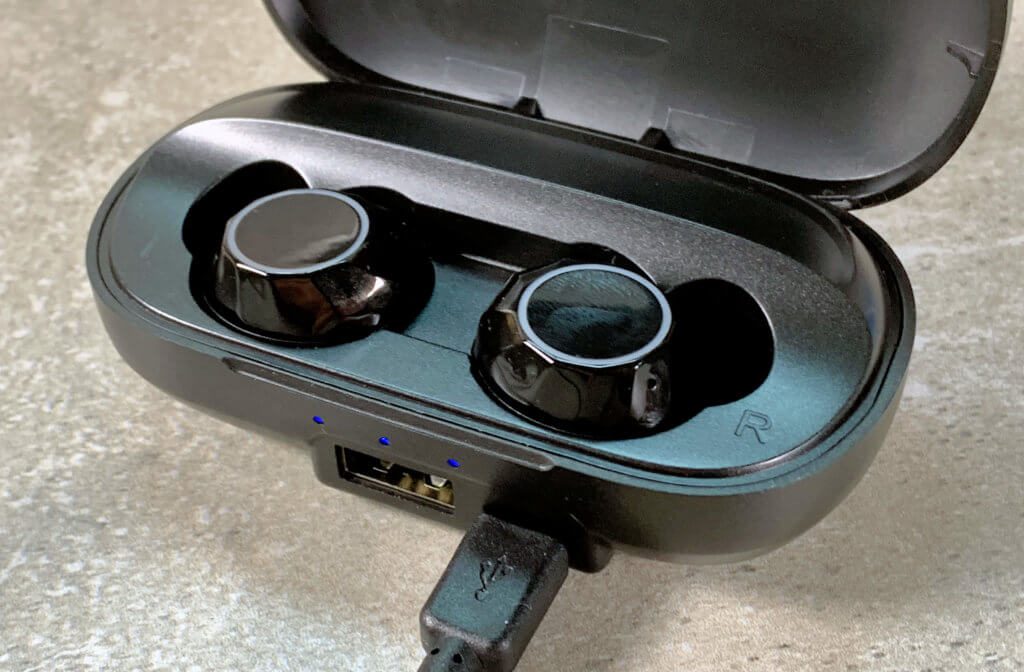 charging Case
The charging case, which is supplied with the EasyAcc X100, is two to three times as large as the case of the AirPods due to the larger built-in battery. Since it has rounded corners, it is still comfortable to carry in your pocket.
Another advantage of the EasyAcc charging case is that it also has a USB-A output so that it can be used as a power bank for another device in an emergency. With 2600 mAh you don't get an iPhone full, but you can certainly improve the battery level by a few percentage points.
The battery case is charged using the supplied micro USB cable. Three blue LEDs on the front indicate the charging status.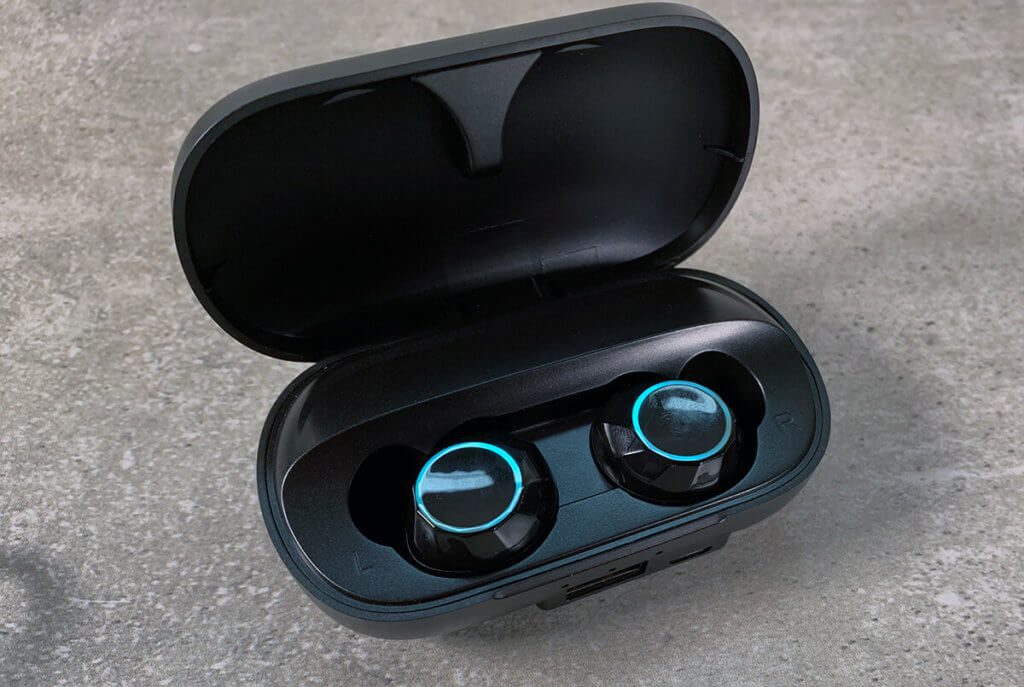 No battery indicator for the earbuds
EasyAcc specifies three hours as the playing time for the X100 - the same value that Apple also mentions for the AirPods. Since the earbuds do not have their own battery indicator and also do not transmit battery information to the iPhone, there is no way to see how much juice they have left.
Wenn die Ohrstöpsel langsam leer laufen, geben sie alle zwei Minuten die Meldung "low battery" aus und blinken einmal kurz rot mit dem LED-Ring.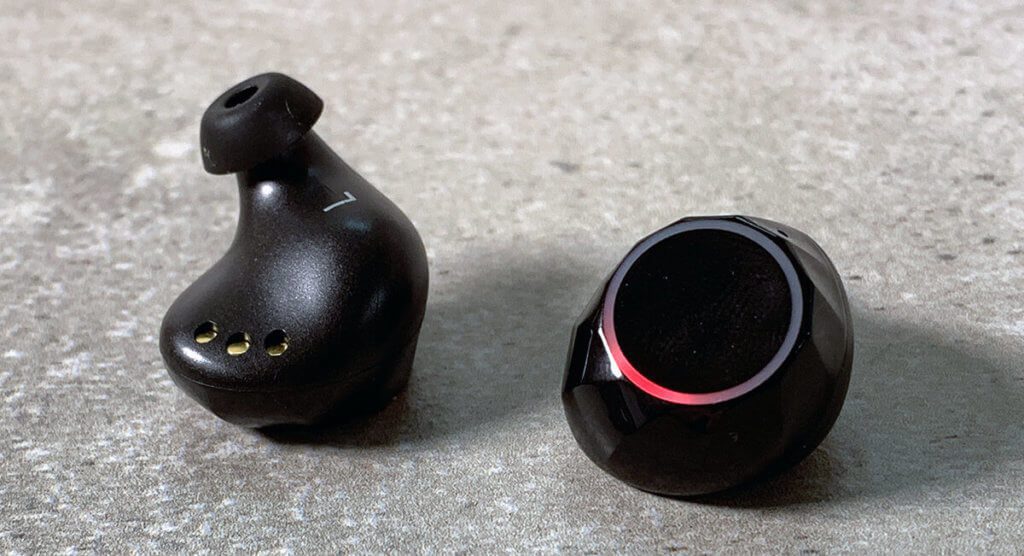 sound quality
Der Klang der True Wireless Kopfhörer ist sehr gut. Besonders angenehm ist, dass es keine "klirrenden Höhen" gibt. Bei abgedichteten In-Ear-Kopfhörern ist so etwas kaum auszuhalten.
With the EasyAcc X100, however, the sound is nicely round and balanced. Due to the in-ear construction, the bass is also nice and powerful. So there is nothing to complain about here - especially when you consider the price of just under 40 EUR.
I haven't tried the quality of phone calls.
Suitable as sports headphones? Yes!
A big question with such true wireless headphones is always whether they can be worn while exercising. I can say yes with a clear conscience, because the earplugs sit securely in the eavesdroppers and made no move to fall out when I hopped and twisted - in contrast to the AirPods, which I would have lost three times.
The EasyAcc X100 are also well positioned when it comes to rain and sweat, because the IPX6 protection class states that they can withstand such attacks without any problems. So good news for all athletes who like to jog through the rain and sweat their hearts out in the process.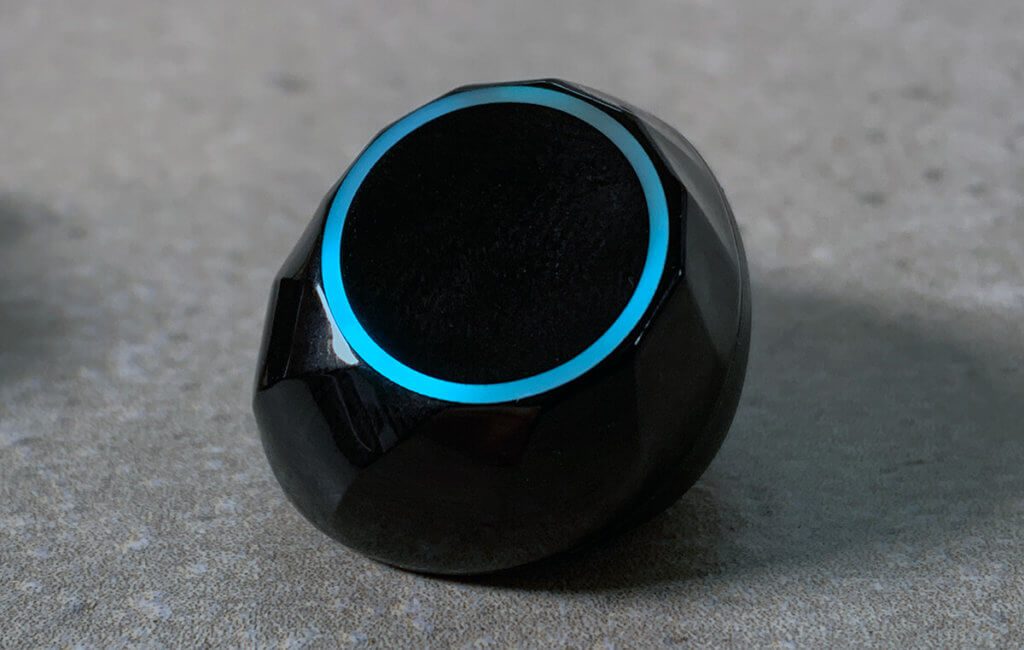 My conclusion
Even if I'm not a big fan of in-ear headphones, the EasyAcc X100 can only be given a very good rating. They are very user-friendly and wait for the user in pairing mode after unpacking so that they can be paired.
The operation with the touch field is intuitive and works very reliably (except for the double taps, which I somehow can't get right). Of course, it's great that you can use Siri to change the volume or do other things.
Incidentally, the playing time of around 3 hours is the same as that achieved with Apple's AirPods. And since the sound is also relatively convincing, nothing prevents me from recommending the True Wireless in-ear headphones.
Attention: Currently 50% discount
The EasyAcc X100 is still available at half price until December 31.12.2019, XNUMX. To get the offer, go via this link und tragt beim Checkout den Code "TWS50FANS" ein.
If you are interested in the EasyAcc X100, you will find it here at Amazon or you can use this product box to get to the capital A:
EasyAcc donated me a model of the in-ears for the raffle. This will take place in my newsletter within the next few weeks. If you want to participate, the best thing to do is to sign up there and you will be presented with the winning question in one of my weekly newsletters.
Instructions for the EasyAcc X100
If you need help setting up or pairing the earbuds, the operating instructions for the True Wireless headphones are sure to help. For this reason I have included them here as photos for you.
Jens has been running the blog since 2012. He appears as Sir Apfelot for his readers and helps them with problems of a technical nature. In his free time he drives electric unicycles, takes photos (preferably with his iPhone, of course), climbs around in the Hessian mountains or hikes with the family. His articles deal with Apple products, news from the world of drones or solutions for current bugs.
The page contains affiliate links / images: Amazon.de