With Controlly the developer Hugo Lispector offers an app for the Apple Mac that enables its control via Bluetooth controllers. For example can the PS4 and Xbox controllers Coupled via Bluetooth and the individual analog sticks, buttons and switches can be assigned functions. It is not only possible to use keyboard shortcuts, but also to control the mouse cursor and clicks with the left and right mouse buttons. The use of the Controlly app for macOS 11.0 and newer is conceivable for ergonomics, physical limitations and so on.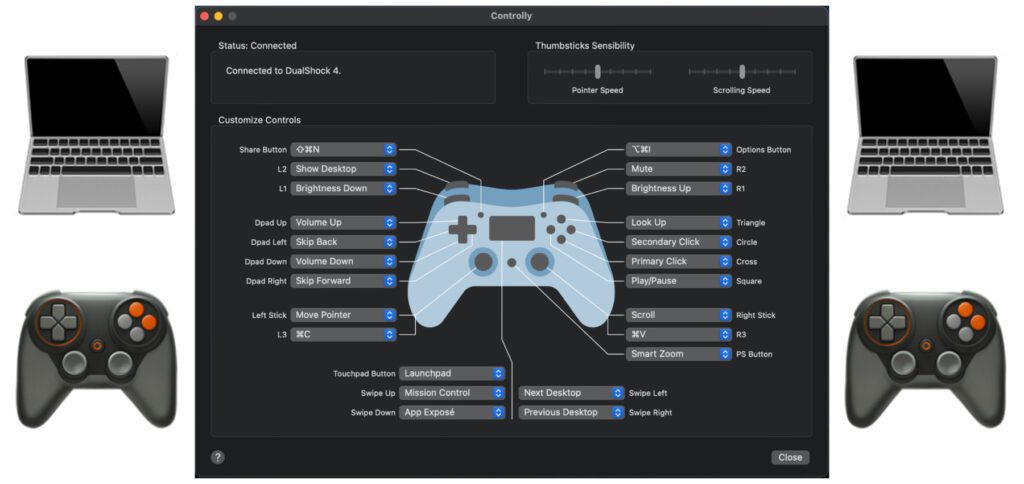 Control Mac with controller: Controlly app
If the app is installed and a gaming controller is connected / coupled via Bluetooth, the various buttons, knobs and levers of the same can be mapped for a wide variety of functions. From the mouse alternative to setting the screen brightness to starting app commands, everything is possible. In this way, both macOS content and individual programs can be operated.
Clicking and scrolling is also possible, which makes it easier to use if, for example, fine motor skills are restricted. There is also the option to create custom shortcuts that can be started with a controller. If you want to get an idea, you can download the app for free from the Mac App Store and use it for 7 days. Thereafter, one-time costs are incurred in order to be able to use all functions permanently.
Controlly download, demo version and price of the full version
You can find the Controlly download in the Mac App Store, which you can start using the Launchpad on your Apple Mac, iMac, MacBook or Mac mini, among other things. Besides, you come via this link to the app overview. The software is compatible with macOS 11.0 Big Sur and its current update versions. You can test for 7 days free of charge whether the software works with your controller. Most functions will then be lost.
In order to be able to use all features after the 7-day test of the Controlly app, you have to buy the full version. That costs 4,49 euros one-time. It is important for the use that you give the app permission to control the Mac. This can be set up in the system settings - Controlly will guide you the way. Currently in English, Spanish, Italian and Portuguese.
Feel free to leave a comment about your experience with Controlly :)
After graduating from high school, Johannes completed an apprenticeship as a business assistant specializing in foreign languages. But then he decided to research and write, which resulted in his independence. For several years he has been working for Sir Apfelot, among others. His articles include product introductions, news, manuals, video games, consoles, and more. He follows Apple keynotes live via stream.