Within the Samsung T7 Touch it is an external SSD hard drive that has 500 GB, 1 TB or 2 TB of storage space and a fingerprint sensor. This is an advantage if you want to save and transport sensitive data. Because once set up, you can use the hard drive on different computers such as Apple Mac with macOS or Windows PCs. The content is only released if the fingerprint sensor recognizes you during a scan. What else you need to know about the Samsung T7 Touch SSD hard drive, I have summarized for you in this article.
TL; DR: You can go directly to the product page here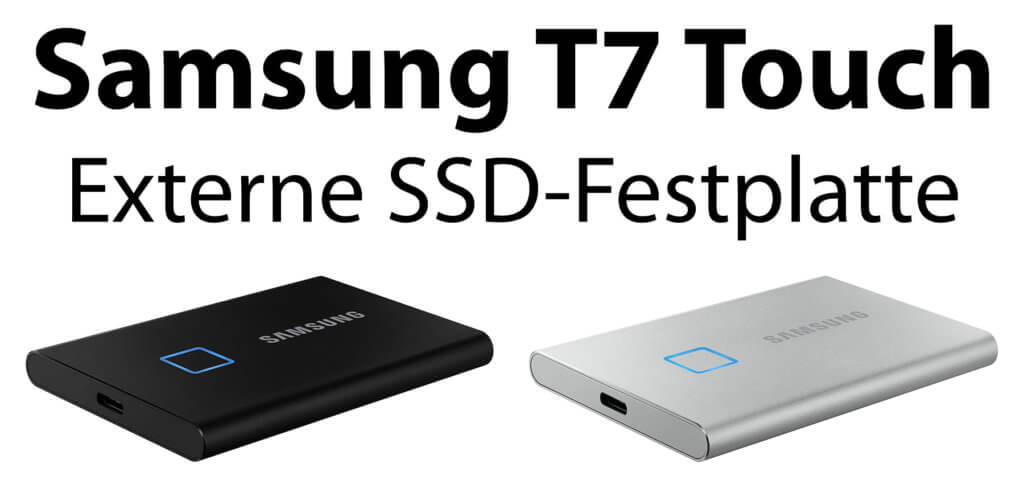 Samsung T7 Touch - Fast thanks to NVMe and USB 3.2 Gen 2
By using the slim NVMe disk protocol data exchange with this external hard drive is very fast. Of course, the highest data rates of 1.000 MB/s (write) and 1.050 MB/s (read) can only be achieved if your end device also offers suitable USB ports. The scope of delivery of the Samsung T7 Touch SSD includes a USB-A to USB-C and a USB-C toUSB-C cable. Thanks to USB 3.2 Gen 2, the write and read speeds shown can be achieved.
In addition to the computer systems already mentioned above, the external hard drive also works with smartphones, smart TVs, tablets and game consoles, according to the manufacturer. The data is backed up using AES 256-bit hardware encryption. In addition to the three storage sizes, there are also different colors with black and silver. The aluminum housing is supposed to protect the memory from falls from up to 2 meters. The dimensions are only 85 x 57 x 8 mm; the weight to 59 g.
37,15 EUR
92,98 EUR
This is how fingerprint protection works: set up once, use anywhere
Up to four fingerprints can be stored for fingerprint recognition. So you can either set up two fingers for each hand or share the hard drive and its contents with up to four people. The corresponding software does not have to be installed on every single computer or mobile device that you want to connect to the hard drive. It is sufficient to set up the security feature on a computer or via an app.
Once that has happened, you can - according to customer questions and answers on the Amazon product page - use the hard drive to boot operating systems from it. Another question relates to the power supply. This is always guaranteed when the hard drive is connected to a USB port. The fingerprint sensor is not used to switch it on and off, but only to unlock the memory.
Samsung T7 SSD - version without fingerprint sensor
In addition to the Samsung T7 Touch as an external hard drive with data encryption and fingerprint scanner, there is also a version without "Touch". This offers all the other advantages such as fast data exchange, aluminum housing and so on. But the encryption of files and folders is missing. So if you don't have that sensitive data, but want to store it more colorfully, then this could be the right external hard drive for you. Because the Samsung T7 is available in black, blue and red; as well as with the storage sizes 500 GB, 1 TB and 2 TB.
16,79 EUR
79,38 EUR
155,35 EUR
Jens has been running the blog since 2012. He appears as Sir Apfelot for his readers and helps them with problems of a technical nature. In his free time he drives electric unicycles, takes photos (preferably with his iPhone, of course), climbs around in the Hessian mountains or hikes with the family. His articles deal with Apple products, news from the world of drones or solutions for current bugs.
The page contains affiliate links / images: Amazon.de