Since the Apple MacBook Pro was introduced in 2016, USB-C has been on everyone's lips and the search for the perfect USB-C adapter with all the necessary connections is an issue in many places. If you are still looking for a USB-C hub for the MacBook Pro late 2016, then maybe the one from Satechi Worth a look. Long awaited and on the market since April 2017, you can now buy the Satechi USB-C hub for the MacBook Pro on Amazon.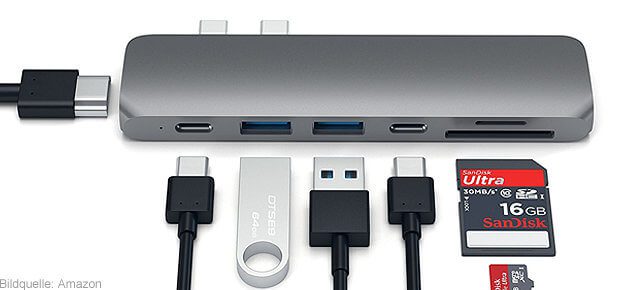 Satechi ST-CMBPM USB-C Hub for MacBook Pro 2016
This USB-C adapter from Satechi was specially designed for the Apple MacBook Pro late 2016 designed. It is designed to operate on the two USB-C or Thunderbolt 3 ports that can be found on the side of the Apple laptop. But don't worry: the hub occupies the two Thunderbolt 3 ports, but it also has two of them in addition to other interfaces. The power supply via USB-C and the connection of devices (or another dongle) are therefore no problem. Since April 10, 2017 you can order the device with the following connections from Amazon:
Two USB-C / Thunderbolt 3 ports for coupling with the MacBook Pro (13 inch or 15 inch)
One HDMI connection for 4K transmission (at 30 Hz)
Two USB-C / Thunderbolt 3 ports for power and data
Two USB 3.0 ports (USB-A)
A SD memory Cards-Reader
A card reader for micro SD cards
Satechi Thunderbolt 3 adapter for Apple MacBook Pro
Although this USB-C hub for the MacBook Pro late 2016 occupies two of the new USB ports, it also has two of them; In addition to two USB-A 3.0 ports, an HDMI port, an SD card reader and a Micro-SD card reader. What more do you need?
FAQ about the Satechi Hub
Now that the article is a few days old and the first customers have hit Amazon, there are a number of problems and questions that have arisen. I would like to briefly summarize these here in the form of bullet points so that you do not have to read through all the customer reviews:
Thanks to the two fixed USB-C plugs, the hub only fits the new MacBook Pro models (2016/2017), but not the MacBook. With other laptops you have to measure whether the distance between the plugs happens to fit.
You can use the hub to charge the MacBook Pro and connect a monitor via the display port at the same time.
More than one hard drive on the hub could result in unstable behavior. If the disks consume too much power, it may happen that they are both "logged off" during operation. You should test whether it works reliably before working with important data on the hub. Satechi recommends using only one plate.
According to a reader (see comments) only one of the USB-C ports can be used for charging. A port is also limited to 5 Gb / s in terms of data throughput. I could not verify the statement, but I wanted to note it here anyway.
For some people, the hub seems to sit too loosely in the MacBook Pro - a criticism that only comes up every now and then.
Some users seem to have WLAN problems when the Satechi hub AND a USB 3 hard drive is plugged in. This is a known problem, but it is due to the poor shielding of the connected USB 3.0 device. You may be able to remedy this with a better USB 3 cable.
Still missing a port?
If you're working on a MacBook, Mac, or iMac, which ports do you need? Is this adapter for USB, USB-C / Thunderbolt 3, HDMI port etc. ideally equipped or is something missing (e.g. an Ethernet port?)? IPhone and iPad can be connected and charged via USB; Printers, scanners and the like can also be connected - maybe even via an additional USB hub? What do you think about the topic? Feel free to leave a comment :)
Shopping tip: Inateck felt pouch for the Apple laptop (with accessory pouch)
After graduating from high school, Johannes completed an apprenticeship as a business assistant specializing in foreign languages. But then he decided to research and write, which resulted in his independence. For several years he has been working for Sir Apfelot, among others. His articles include product introductions, news, manuals, video games, consoles, and more. He follows Apple keynotes live via stream.
The page contains affiliate links / images: Amazon.de