From DJI there has been a short time the new DJI Action 2 as a sports and vlogging camera. In order to be able to make extensive recordings with it, however, an additional storage medium is required. You can buy this in the form of a microSD card and use it in the Action Cam. The DJI Action 2 supports microSD cards with a capacity of up to 256 GB. The manufacturer recommends certain models, including SanDisk. Since we also swear by this brand here in the blog, we have summarized the best SD cards for the DJI Action 2 for you here.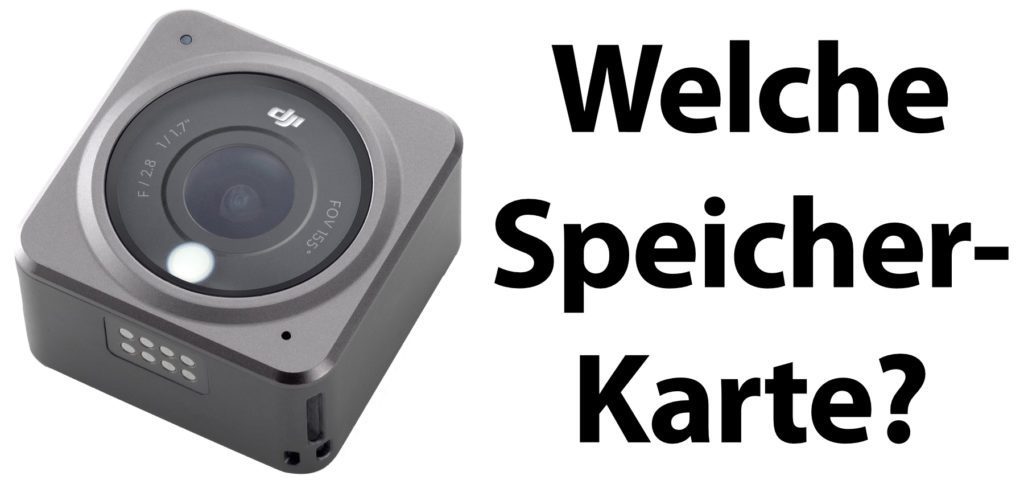 Buy the correct SD card for DJI Action 2
When choosing the right SD memory card for the DJI Action 2, it is important to look at the various properties and classes. For example, UHS-I speed class 3 is recommended. You can also pay attention to the designation V30 and A2. You can find out what this is all about here: SD card names - what are Class, SDHC, SDXC, UHS, I, A, V and Co.? You can find another article about the symbols "A1" and "A2" here: What do the abbreviations A1 and A2 mean on SD cards?
But now to the question: Which SD card fits the DJI Action 2? As mentioned above, you should use a microSD memory card due to its size. More precisely, a microSDXC (Extended Capacity) with up to 256 GB of storage space. Especially for 4K recording, slow motion recording with high fpsnumber and for longer recording times without changing cards in between, you should choose at least 128 GB or 256 GB. Here is the selection of suitable SanDisk cards:
DJI Action 2: How Much Memory for 1 Minute of Video?
If you are not sure which memory size is the right one for you, then you can do a (possible) calculation for the desired recording time. So if you want to buy an SD card for the DJI Action 2 because you want to make short videos or want to drag it to your computer shortly after recording, there is little storage space. Longer recordings, time lapse and longer periods of time before the videos are backed up on the computer require more memory.
For the said calculation of the video size you can consult the maximum bit rate of the camera. According to the manufacturer, this is 130 Mbit / s. That corresponds to 16,25 MB per second. So roughly 975 MB of memory are used in one minute. The bit rate and memory size vary depending on the resolution and fps number. Do you have any questions or comments on the topic? Feel free to leave a comment!
After graduating from high school, Johannes completed an apprenticeship as a business assistant specializing in foreign languages. But then he decided to research and write, which resulted in his independence. For several years he has been working for Sir Apfelot, among others. His articles include product introductions, news, manuals, video games, consoles, and more. He follows Apple keynotes live via stream.