Recently, the manufacturer Anker presented its SD and microSD card reader Anker PowerExpand 2-in-1 with USB-C and USB-A for the German market. It should be available from mid-April 2021. On the Amazon product page but there is the note "Available from May 6th". A reason to take a look at which memory card readers with different connections are still available. Most have slots for SD and microSD cards. In addition to USB-A and USB-C, some also offer Micro USB and Lightning for use on computers, Android smartphones, the iPhone and the iPad. You can find models with an average (very) good rating here.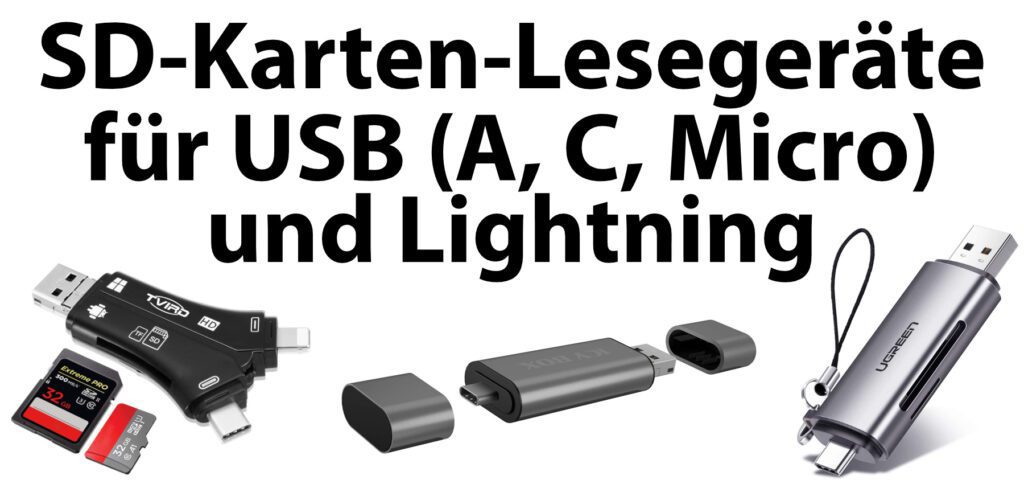 UGREEN 2-in-1 SD and microSD reader with USB type A and type C
UGREEN promises the same thing as Anker with the upcoming accessory device at a lower price and with current Prime availability. With the UGREEN card reader, SD cards in the formats SD, SDHC, SDXC, RS MMC, MMC Micro and TF cards the formats microSD, microSDHC and microSDXC can be read. The connection to Mac, PC, laptops, smartphones, tablets and Co. can be realized via USB ports of the forms A and C. Details, pictures, customer reviews and ratings can be found on the Amazon page of the product. Cards should be supported up to a capacity of 2 TB.
ICY BOX 3-in-1 card reader with USB type A, C and micro
The accessories for SDmemory Cards by ICY BOX. The stick offers a smart design in the form of the Anker and UGREEN card readers, but with a foldable USB-A connector that still hides a micro-USB connector. In combination with the USB-C connector on the other side, this results in a 3-in-1 solution that can also be used to read large and small SD cards. Other advantages are the robust aluminum housing and fast data transfer via USB 3.0. Here you can find the accessories in detail. According to the product description, macOS, Windows, iOS / iPadOS and Android are supported.
2,00 EUR
Tvird 4-in-1 card reader - SD and microSD card reader with all connectors
With the 4-in-1 card reader, Tvird promises an all-round carefree package. Because not only can the adapter read memory cards of the forms microSD, microSDHC, microSDXC, SD, SDHC, SDXC and the like. The connection also works on all possible devices. In addition to a USB-A connector, which can be folded into a micro-USB connector, there is a USB-C connector and a Lightning connector. Here you can see the whole thing. It should be possible to use it on iPhone, iPad, Mac, Android smartphones and tablets, PCs and cameras. One restriction: the stick should only support cards up to 128 GB.
Sir Apfelot's guide to SD memory cards
After graduating from high school, Johannes completed an apprenticeship as a business assistant specializing in foreign languages. But then he decided to research and write, which resulted in his independence. For several years he has been working for Sir Apfelot, among others. His articles include product introductions, news, manuals, video games, consoles, and more. He follows Apple keynotes live via stream.
The page contains affiliate links / images: Amazon.de