In the smart home sector, there are large, complex devices and systems, as well as small, simple gadgets like that Sen.se ThermoPeanut Bluetooth thermometer with which you can measure and record the temperature in the house or outside. The data recorded and transmitted to the iOS device can then be visualized as a progression or diagram using the app. If you use an Android smartphone or tablet, you can also enjoy its use. This could be done via an IFTTT connection in conjunction with Homebridge Sen.se ThermoPeanut Bluetooth thermometers can also be integrated into the smart home via HomeKit in order to trigger automatic, temperature-dependent processes.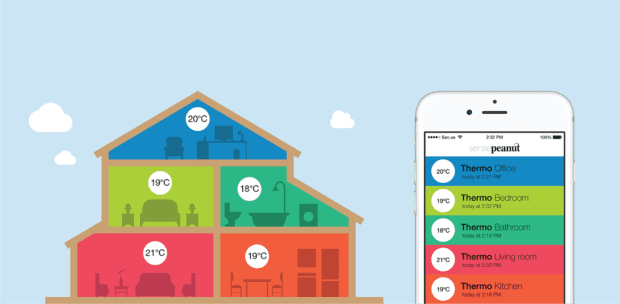 Sen.se ThermoPeanut: temperature monitoring via Bluetooth 4.0
In theory, you can use several of these small devices to measure and record the temperature in all rooms in your apartment or house. All individual Sen.se ThermoPeanut thermometers can send their data to a smartphone or tablet to create a general overview. However, several smartphones and tablets can also access one or all of the Bluetooth thermometers. So everyone in the household knows where to turn on the heating or turn the refrigerator down. In addition to rooms, you can also monitor devices (refrigerator, computer, etc.) in a range from -20 ° C to + 60 ° C.
Recording and transmission of measurement data
According to the manufacturer, the Sen.se ThermoPeanut has a range of 60 meters. With a permanent connection, the recorded values ​​are also transmitted regularly so that they can be App evaluated on a smartphone or tablet. If there is no connection, for example because you are away from home, the device records on the internal memory and then transmits the saved data when you are back. However, this synchronization may take some time and patience. In tests on the device, one reads a transmission time of one second per measurement and several (hundred) measurements per day. If several Sen.se ThermoPeanuts come together, the synchronization takes a few minutes.
Buy Sen.se ThermoPeanut online
Sen.se ThermoPeanut Smart Wireless Thermometer
Place the sensor and you will get the temperature on your smartphone.
You can access the dashboard using the SensePeanut app, available for iOS and Android.
ThermoPeanut warns you with an alarm tone if it is too warm or too cold.
Further considerations on the device and software
According to the manufacturer, the Sen.se ThermoPeanut device is compatible with IFTTT, i.e. with an interface that, according to its name, is simple If This Then That Commands enabled. So if the temperature falls, the smart heating in the smart home could be controlled. If the temperature rises rapidly to over 50 or 60 degrees (the measurable maximum of the device), a message is sent to the resident or directly to the fire brigade. Per Homebridge (here at GitHub) such commands can then be integrated into the smart home system, e.g. HomeKit-based. As far as the software is concerned, there is currently still criticism. The evaluation of the measured data on the smartphone only works in portrait format and cannot be zoomed - a search game when reading out explicit individual values.
After graduating from high school, Johannes completed an apprenticeship as a business assistant specializing in foreign languages. But then he decided to research and write, which resulted in his independence. For several years he has been working for Sir Apfelot, among others. His articles include product introductions, news, manuals, video games, consoles, and more. He follows Apple keynotes live via stream.
The page contains affiliate links / images: Amazon.de