I get asked by customers every now and then if I could give them a guide on how to do Search Engine Optimization themselves so it isn't that expensive. They would book me as an assistant, so to speak, who would show them which points on the website need to be checked and improved and how to make the site better known.
Basically, the idea is also very good, because I also like to act as an SEO consultant and describe how SEO works and what you have to do in order to be placed higher up. The crux of the matter, however, is that there are a lot of small tasks that you have to do, and it quickly becomes uneconomical. If I need 15 minutes to describe a process that I would have done for the customer in 5 minutes, the bottom line is that it becomes expensive instead of cheaper.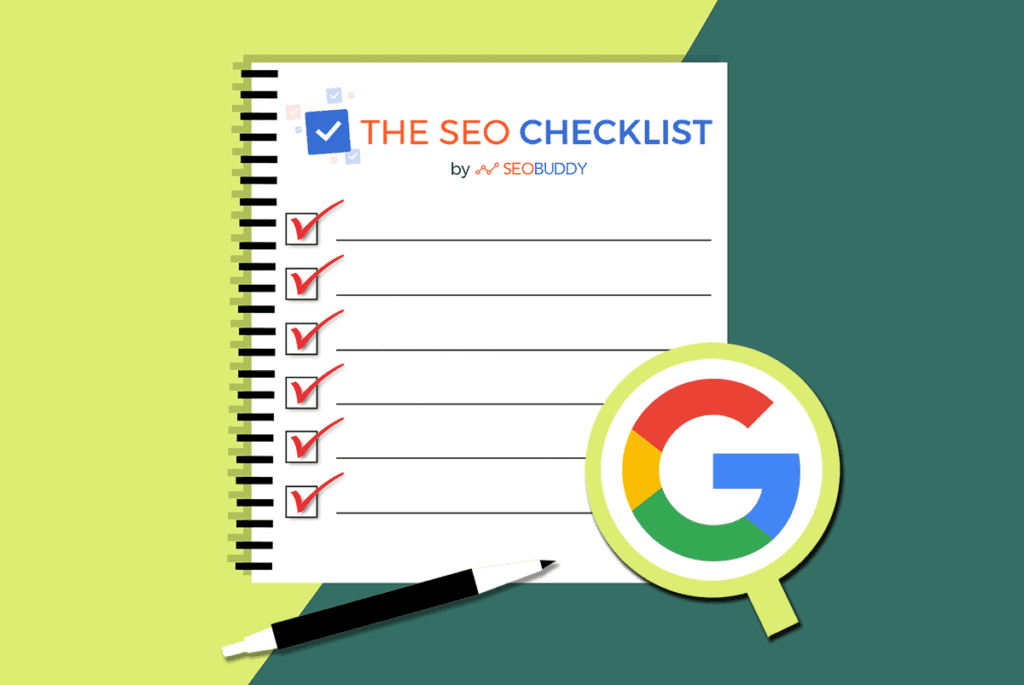 Free Search Engine Optimization? Only with a good checklist!
In order to give customers the opportunity to do as much as possible themselves, I went looking for an SEO checklist that contains as many points as possible so that a large part of my work is covered.
There are numerous large and small checklists from international and also German SEO agencies, all of which are not bad, but were done a bit half-heartedly. Important points or entire areas are missing and you can tell that the list was only generated to "capture" people so that they could enter their emails in the newsletter in exchange for the list. Ultimately, the agencies want to sell their services and they then market them via the newsletter.
My recommendation: Seobuddy SEO checklist
After half a day of research, I'll eventually come to the Seobuddy SEO Checklist landed. A list that is actually not really well described by the term "list". It is more of a table that contains more than 120 points - from the technical page analysis, to helpful tools that can be built in, to off-page optimization with link building.
In addition to all the points that can be found in the checklist, the list also contains other valuable information, such as links to tutorials that show how to do the relevant points, plus there is a three-stage assessment of how difficult the implementation is and how the point is ultimately important for search engine optimization.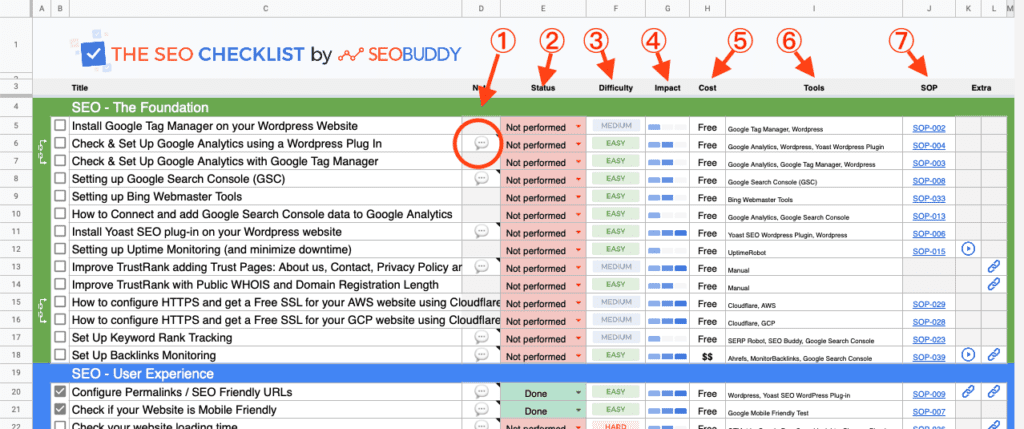 Behind the small speech bubbles there is a longer description of the relevant point.
With this selection list you can set whether the point is still being processed, has already been completed or will be skipped.
In this column the difficulty of the respective task is classified.
Under "Impact" you can find out how strong the influence of the respective point is on search engine optimization (in three stages).
The "Cost" column tells you whether this part can be implemented free of charge or whether you have to invest money in it. This is often the case when it comes to external services or tools.
This column gives tips on the area. These can be tips for the relevant software or online tools, for example.
The last columns contain references to tutorials, videos or blog posts that help to understand and implement the point.
Good search engine optimization for beginners
With all this information, even laypeople can work on the points in the checklist and improve their ranking on Google and Co. But the bottom line is that after all these points have been dealt with, you have probably done more to optimize the website than many professional SEO agencies would do.
I would say that the SEO strategy behind Seobuddy's checklist is aimed at an effective way of optimizing. The following areas are processed:
Basic settings
User experience
Performance (loading speed)
Technical SEO
Content (planning and creation of articles)
On-page SEO
Off-page SEO
Regional SEO
If you have worked your way through all of these areas and the individual points of the SEO checklist, Google will definitely reward your work.
Google page 1 without knowing what to do!
I also find the motto funny for the checklist:
Get your website on the first page of Google (even if you're not sure what you're doing)
in German
Get your website on Google's first page (even if you're not sure what you're doing)
When working with the list, however, you will notice that you have already learned a lot and then you will also know what you are actually doing. The SEO checklist is annotated and includes links to "how-to guides" or tutorials so you can learn why you should do things and how best to get them done.

Not for free, but extremely "inexpensive"
Unfortunately, the SEO checklist is not free. But why, unfortunately ... if it would have been free, the maker Romain Brabant would certainly not have been able to put so much effort into it. It would probably have just vegetated as a hobby project and would never have become such a comprehensive work as it now lies in front of us.
From my point of view, the list is definitely worth the money, especially since you can simply copy it and use it again with every new project. I'll show you below how you can get the SEO checklist, which actually costs almost 100 euros, for under 60 euros.
Lots of valuable information in a small space
I have to say, I was very impressed when I saw the table for the first time, because here you really get all the information in a concentrated form and can work through it bit by bit.
The only requirement is that you understand English reasonably well, because the linked videos, tutorials and blog articles are of course all in English.
Recommendations for SEO tools and software
What is also very well done in the SEO checklist are the recommendations that can be found for many points. For example, if you need to set up a caching solution for the website, the most common solutions can be found in the table: "WP Rocket, Swift Performance, W3 Total Cache".
In this way, it is easier for beginners - which is what my customers in the area of ​​websites and Google optimization are - because they no longer have to research which solution is recommended.
Checking off individual points in the checklist
The nice thing about a checklist is that you don't have to do everything in one go. In fact, it would certainly keep you busy for a few days if you were serious about it.
Instead, you have a huge SEO to-do list, so to speak, and can take on individual points and do them. With the option of ticking off the areas or marking them as "in progress" or "abandoned", you can quickly see where something is still open and you can do the search engine optimization in small bites.
And if you get stuck at one point, I'm happy to be your SEO assistant and take care of it.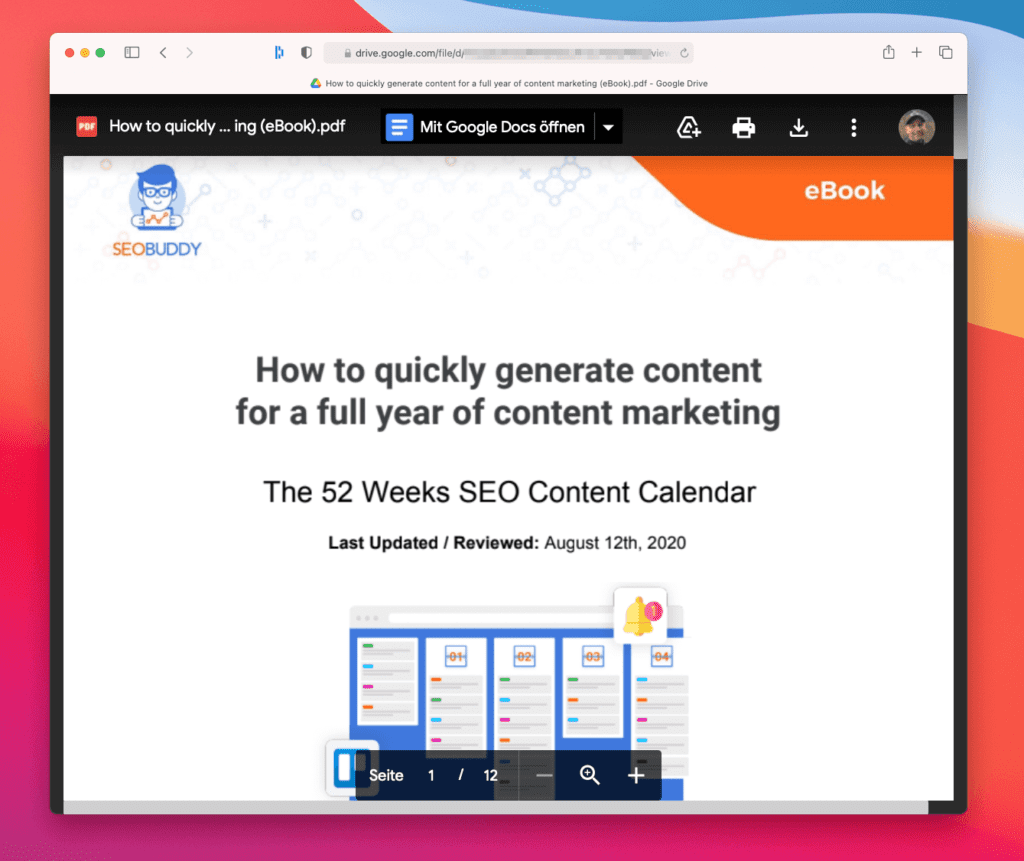 Trello board and content planner included
When you buy the SEO checklist, you receive three very helpful "goodies" in addition to the checklist itself:
An eBook on how to use SEO tools to find frequently searched keywords and thus good article ideas.
A ready-made Trello board in which you can do the content planning for 52 weeks. The board is already filled with article ideas on the topic of weddings, so that you have numerous examples of article ideas and thus find topics yourself more easily.
The SEO checklist as a Trello board so that - if you enjoy working with Trello - you have individual todos right there that you can do. I would still recommend the Google Sheet, as all the additional information about the items on the checklist is missing on the Trello board.
I find the content planner almost as important as the checklist itself, as new and valuable content on websites has become extremely important for the Google ranking. Seen in this way, these three goodies are more than the name "Goodie" would suggest.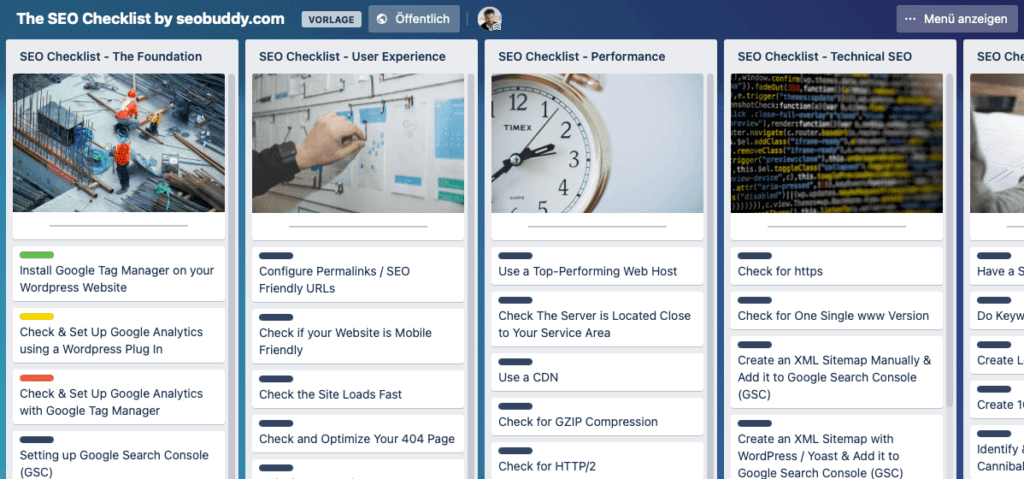 GDPR and SEO tools
The checklist does not "think" that European data protection has certain requirements that conflict with some third-party tools. For example, if you want to use Google Analytics, you also have to use a tool like Borlabs Cookie to allow users to reject Google's cookies. These peculiarities are not pointed out in the checklist, but this is due to the fact that the developer does not come from the EU.
The use of heatmap plugins, visitor counters and the tracking of conversions, which is recommended here and there, also means that in Germany you have to pay attention to certain things that people outside the EU do not have to worry about.
I just want to mention this so that you don't get the idea of ​​wildly integrating all sorts of third-party tools into your website without thinking about the GDPR. If you have specific questions about certain tools, please feel free to ask in my Sir Apfelot forum put. I am neither a data protection officer nor a lawyer, but I am happy to share my experiences with certain tools with you.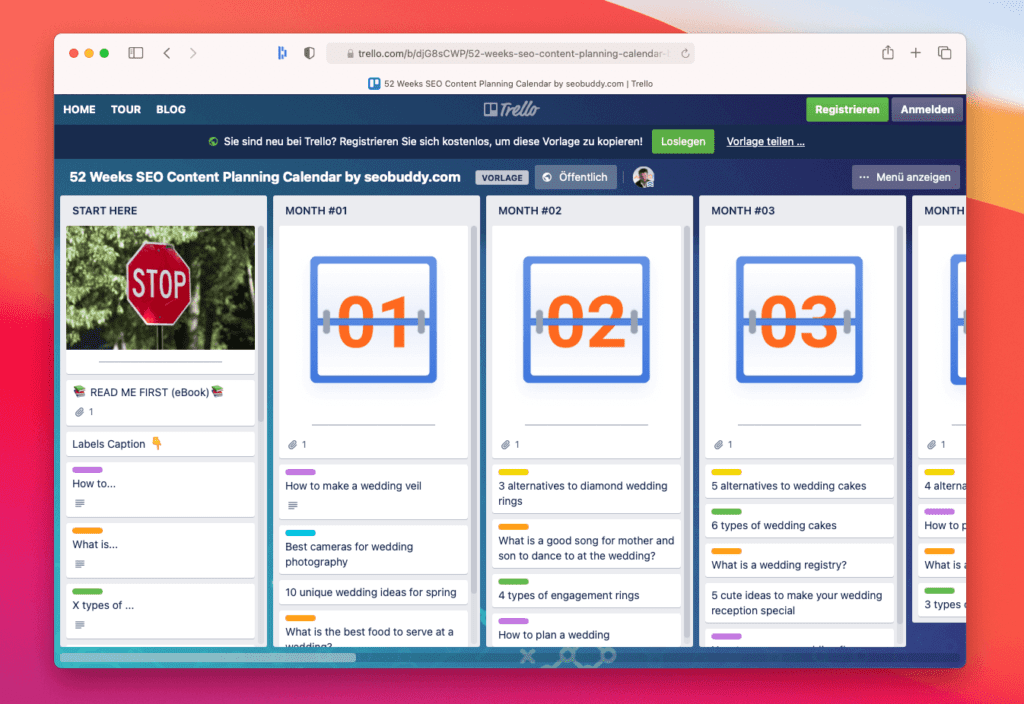 Checklist based on Google Doc Sheet
Seobuddy's huge list is based on a Google Doc-Sheet that you get activated after paying for the list. Now you can copy the SEO checklist and use it for every project or customer. If you like, you can also work on the list with your customer, because you can share the Google Sheet with other people.
Please don't steal ...
The fact that the SEO checklist is a Google Sheet naturally makes it very easy to share the list with others. But I would like to appeal to your honesty.
Romain from Seobuddy put a lot of time and brainpower into creating the list and of course has to keep it up to date so that the links and information it contains are up to date. So that his work isn't in vain, it would be nice if you didn't distribute it wildly online or to your customers, but instead tell your customers to buy the list themselves so that you can then use it together with them.
The price: less than 60 euros with a 25% discount
I bought the list a few weeks ago and can only say that it is an enrichment even for me, who has been doing SEO for customers for over 15 years. When doing SEO work, it is easy to lose track of what has already been done and what has not, but with the checklist you have all the points on a list and work through them one by one.
Romain from Seobuddy has set up a coupon code for my readers (you guys!) So that you get a 25% discount on your purchase. So after my test, the total price is EUR 59,25, which I think is really fair.

You can use the discount code by clicking on this link to the landing page for Sir Apfelot readers and then redeem the "APFELOT" voucher in the checkout process. I have marked you in the screenshot where you have to enter it to get the low price.
My conclusion on Romain Brabant's SEO checklist
For anyone who wants to work on their website themselves, this checklist is easily worth the money. Of course, you can also search for all the information via Bing, DuckDuckGo, Google and YouTube together, but the time it takes is certainly immense.
In addition, SEO forums and articles provide partially contradicting information on the topic. The strategy that Romain uses in his SEO checklist has been tried and tested for years in my experience and works with Google if you stick with it and don't throw the hammer after 4 weeks.
I highly recommend the SEO Checklist. No matter whether you are a complete beginner or have already read into the subject. The checklist, in conjunction with the content planner and the advice from the eBook, is a collection of tools and tips that will help everyone.
▶ Here to the offer for the Sir Apfelot readers ◀
Transparency notice
After I bought the SEO checklist myself, I asked the maker Romain Brabant if he didn't offer an affiliate program, as this is how I refinance my blog. He then issued me the discount code for you, which in turn gives me a few percent of the purchase price as a commission.
You can be sure that I won't make a recommendation just because I can earn something from a product. As a rule, I think a product is great and then see if there happens to be a partner program for it. If not, I still recommend the product.
FAQs on the SEO checklist from Seobuddy
There are sure to be a few questions that are on your mind. I have selected the most important ones from the Romain website and translated them so that you can find a few answers straight away. If you have any further questions, please leave a comment here.
What Exactly is the SEO Checklist?
The SEO checklist itself is a valuable worksheet that outlines all of the key SEO steps and actions you need to consider. Since everything you need to do is kept in one place, it's the master document that you will come back to over and over again.

For every project you work on, you can create a new version of the document and work through it step-by-step. Within the document there are the steps you need to take, recommendations about the tools you might need, and links to resources that could help you complete these steps (this is usually a step-by-step process document, could but also be a link to another useful resource to help you).
What level of SEO experience do I need to use the SEO checklist?
These resources will come in handy regardless of your level of SEO knowledge. For the little SEO business owner, you now have one guiding document for all of your endeavors - a single comprehensive checklist of all the SEO actions you should take.

If you've already dealt with SEO and have a little bit of knowledge, the SEO checklist will help you stay organized. Bonuses like the 52 week content calendar help you manage this important piece of the SEO puzzle.

And even if you are an expert or run an SEO agency, you probably haven't documented all of your procedures. We have spent countless hours creating detailed process documents that will help your team stay consistent and efficient.
Ok but I'm a complete newbie to SEO looking for guidance, will this work for me?
It will, and here is how. I took someone like you into account when designing the SEO checklist. I asked and answered the question: What would someone need to know who wants to rank higher if they don't know anything about SEO?

The checklist makes it crystal clear which SEO measures you need to take. And with the SOP collection ("best practice" so to speak) you will also get help on how to carry out these measures. These step-by-step guides (packed with screenshots) are just for you.
I am confused, is this a training course?
Although you get a lot of training, this isn't a course. The SEO checklist is an actionable checklist to follow as you work. You take an action (we'll show you exactly how to take each step) and then move on to the next step. It is your guide to support you in your work.

You will also receive a collection of process documents to assist you with the execution. And the project planning and strategy tools you need to stay organized and on track.
Do I get a refund if I don't like it?
As this is a digital product and you cannot return it, a refund is not possible. I know you are not sneaky, but unfortunately (and this probably won't surprise you) some of our fellow human beings are willing to cheat; Buy a digital product and then request a refund immediately to avoid paying.

I've tried to make it very clear on this page what you're getting so there aren't any surprises. But let me explain again.

On the one hand, the SEO checklist is a Google Sheet that lists all the important steps that you need to take to optimize your website for a better ranking in the SERPs. You will also receive over 30 process documents (standard operating procedures) that will guide you step-by-step through some of the key tasks included in the checklist.

You will also receive 3 bonuses: a pre-filled Trello board with the steps from the checklist; a 52 week content planner that shows you how to create SEO focused content and the content distribution checklist to get more people to see your content.

The SEO checklist is not a silver bullet. You can't just buy them, you have to put the work into them too. When you are ready to do that, she will help you progress by showing you what to do and how to do it.

If you are unsure, click here and I will send you a free trial version of the product so you can get a feel for what you are buying.
How is the content delivered?
You get instant access to the entire package, with links to the documents emailed to you. You'll need to set up an account with SEOBUDDY, but that takes about a minute (and has a library of resources to help you out if you get stuck).
How long does it take to work through the checklist and see the first results?
Here is the hard truth. SEO is not a sprint. It's not even a marathon. It's an ongoing mission. You have to keep the wheel going (but so does any other marketing).

So there is no easy answer. Still, here's a rough guide:

The basic part of the checklist can be implemented in less than 2 days and you are pretty much ready for life.

With the parts user Experience, Performance, Technical SEO and On-page SEO it's more about building habits to ensure your content and website is "SEO friendly".

The Content and off-page SEO part is the long game.

If you already have some content on your website and some authority, you can implement the SEO checklist and get results in just 3-6 weeks.

If your website is new and you have little authority, it is more like 3 months to see results. And then you build from there.

The secret? Take small steps forward regularly. This will need time. But it's worth it.
I'm using a Shopify / WordPress / Ghost / WooCommerce / Wix CMS, will the SEO checklist still be good for me?
Yes it will. Only about 10 items on our 102-point checklist are WordPress exclusive (and even these likely have an equivalent for your specific CMS). So no matter what technique you use, at least 90% of the checklist will be useful to you.
Why is the SEO Checklist So Cheap?
I'm trying to help smaller businesses crack the SEO code so they can get more organic Google traffic. But I know budgets are often limited (especially this year) so I wanted to make it as affordable as possible. When you put the work into it, that price represents a tremendous amount of value.
Why is the SEO Checklist So Expensive?
This is a roadmap to getting your website high on Google, a goal that has taken me years of work. The SEO checklist will help you accomplish the same thing in a lot less time and with a lot less hassle. It took time to create the checklist (the instructions alone consist of over 400 pages of original content). If you don't think you can use this tool to make your advancement on Google easier, then it probably isn't for you.
Are you interested in the SEO checklist? Here is the Offer for Sir Apfelot readers.
Jens has been running the blog since 2012. He appears as Sir Apfelot for his readers and helps them with problems of a technical nature. In his free time he drives electric unicycles, takes photos (preferably with his iPhone, of course), climbs around in the Hessian mountains or hikes with the family. His articles deal with Apple products, news from the world of drones or solutions for current bugs.