Even during the Easter weekend, Friday is not free from the Sir Apfelot newsreel. In this article I will show you which Apple and tech news I particularly noticed in calendar week 15 of 2022. This time there is again something about Apple, including rumors about the upcoming M2 chip for Apple's computers and tablets. But the following reports also relate to other areas of the technology world. It's about Conrad, the right to repair, free streaming from Amazon and more. If you read something exciting this week, please leave a comment.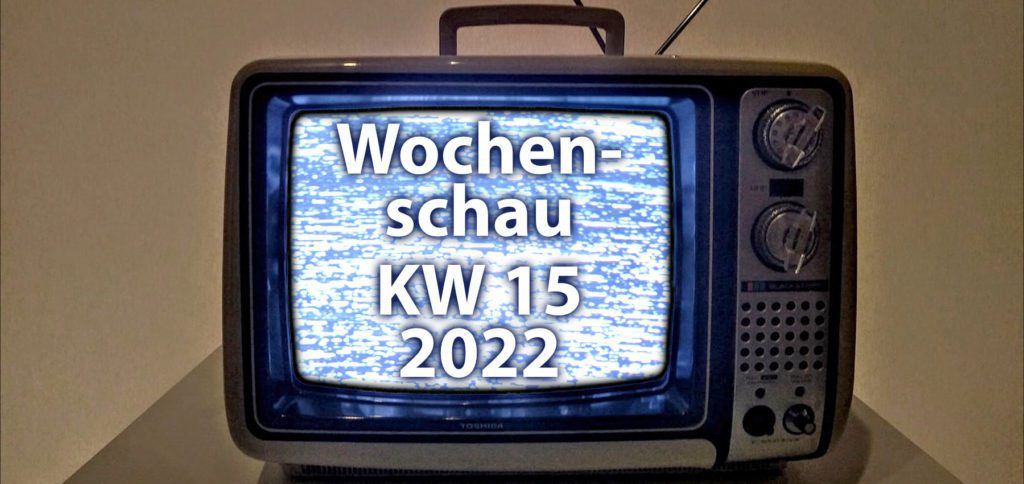 Elon Musk apparently wants to buy Twitter
Elon Musk recently became the largest shareholder in the publicly traded social media platform Twitter. He currently holds around nine percent of the company in shares and seems to be primarily concerned with changing the platform via his own account on Twitter. I myself have no idea because I don't follow what the man is doing. However, relevant information can be found in one Articles from hot online. And it also addresses Musk's considerations of buying Twitter completely, taking it off the stock market and preserving "freedom of expression" on the platform. You could see what that means in US language with Trump... In addition to Facebook, Twitter could soon be an app to be deleted.
Conrad wants to focus on online trading and B2B
Also in one Post I read on the heise online website that the electronics retailer Conrad wants to close all but one branch. Over the course of the year, the stationary trade is to be discontinued – with the exception of the Wernberg-Köblitz location. If you still want to shop at Conrad, you either have to go to Bavaria or order online. In addition to online trading for private customers, the focus should be on other companies. With reference to the official communication of the company Conrad the quote from Ralf Bühler, CEO of Conrad Electronic SE, is also listed there:
"Of course, this step is very difficult for us. We have therefore informed our employees at an early stage and are in talks to find socially acceptable regulations and to live up to our social responsibility. Of course, employees from the branches have the opportunity to apply for vacancies within the Conrad Group." – Furthermore, it is described that the company already closed the branches in the 1970s in order to turn to mail order. It is not yet possible to say whether there will be more Conrad shops again at some point (e.g. after the Covid 19 pandemic has subsided).
Voted for: Right to repair within the EU
The so-called "right to repair" was approved in the EU Parliament with 509 votes in favour, 3 against and 13 abstentions. This is shown, among other things, by iFun this week in one Post on. A proposal by the European Commission is thus accepted. The necessary change in the guidelines for the trade in goods should probably be made in the third quarter of this year, it is said. According to the current statements, the design must also be included in the longevity and repairability of products. Furthermore, ethical principles should be observed in production. In addition to hardware, software was also discussed. Updates should not limit device performance and should be reversible.
Expensive instead of free: Apple tolerates rip-off models in the App Store
Referring to developer Jeff Johnson's tweets, various sites such as iFun (German) or 9to5Mac (English), about the fact that some apps in the Apple App Store have more or less fraudulent cost models. "GCalendar" is listed as an example, but also other apps from Focusek Enterprise. These are all advertised as free with in-app purchases, but indicate upon launch that a full-price purchase is required to use them. "The pattern, according to which the developers market their apps, which are also of questionable value for the user, clearly aims to surprise the users instead of convincing them", the whole thing is summarized at iFun.
IMDb TV is to be offered in Germany as "Amazon Freevee".
According to various media reports, Amazon is planning to offer a free streaming service in Germany. In the USA and Great Britain, the advertising-financed offer of films and series already exists under the name "IMDb TV", in Germany it is to be offered as "Amazon Freevee". This goes hand in hand with the fact that it should generally be given a new name. Among other things, the FAZ reports online in one Articlesthat the streaming offer with advertisements should primarily contain Amazon's in-house productions. It remains to be seen how much advertising will be played between or even during the selected films and series.
Energy-efficient supply chains: Apple shows current plans
A recent press release from Apple states that more than 200 suppliers have committed to "to only use clean energy; they will help generate nearly 16 gigawatts.Apple's goal is to have a carbon-neutral supply chain by 2030. So far, 213 companies have already committed to running all of Apple's production in 25 countries with renewable energy. "In addition to the clean energy commitments of 213 suppliers, Apple invests directly in renewable energy projects around the world. This includes nearly 500 megawatts of solar and other renewable energy projects in China and Japan, which cover some of the upstream emissions", it continues. There are even more details with this link.
In the test: Nine Mac models with four different M2 chips
Apple announced in March that the M1 Ultra, which is used in the Mac Studio, is the last version of the M2020 chip, which was presented for the first time in 1. Accordingly, it can be assumed that future iMac, MacBook Air, MacBook Pro, Mac mini, Mac Studio and Mac Pro models will be equipped with an M2 chip. As several sources now report (e.g. MacRumors here ), Apple is already testing four different M2 variants in nine different Mac models. Third-party apps should also and especially be used for the test. It is conceivable that the previous nomenclature will remain and that an M2 (entry-level model), an M2 Pro and M2 Max (Pro models) and an M2 Ultra (studio model) will come in the coming months.
Has the new Mac mini in Studio display firmware been leaked?
Very briefly summarized: The model identification "Macmini10,1" was discovered in a new firmware for the Apple Studio Display. This does not fit any currently available device. Therefore, it is rumored that it could be the first M2 Mac. Here the source. And to go with that, our post on Mac model names, serial numbers, and identifications: Identify the Apple Mac, iMac, and MacBook model and serial number.
Niantic with new AR offer: "Peridot" provides virtual pets
Niantic, the company behind app hits such as Pokémon GO, has presented a new project based on the well-known principle. With Peridot, users should be able to conjure up virtual pets in their surroundings via AR. For this purpose, the same is filmed with the smartphone camera and the digital animals are used in real time and shown on the display of the device. The game isn't available yet, but you can sign up for a newsletter if you don't want to miss it - here is the official announcement. And here is the first trailer for Niantic's Peridot app:
After graduating from high school, Johannes completed an apprenticeship as a business assistant specializing in foreign languages. But then he decided to research and write, which resulted in his independence. For several years he has been working for Sir Apfelot, among others. His articles include product introductions, news, manuals, video games, consoles, and more. He follows Apple keynotes live via stream.