The last Sir Apfelot newsreel for this month is coming up. This time it's all about the Apple and tech news that caught my eye in week 17 of 2022. There are many Apple topics again today, also and above all relating to the hardware. In addition, something has happened outside of the apple world. Among other things, you will find these reports below with the respective source: Elon Musk buys Twitter, Telekom StreamOn and Vodafone Pass violate net neutrality, Apple with new record sales, noise in the Mac Studio, converted iMac instead of Studio Display and more.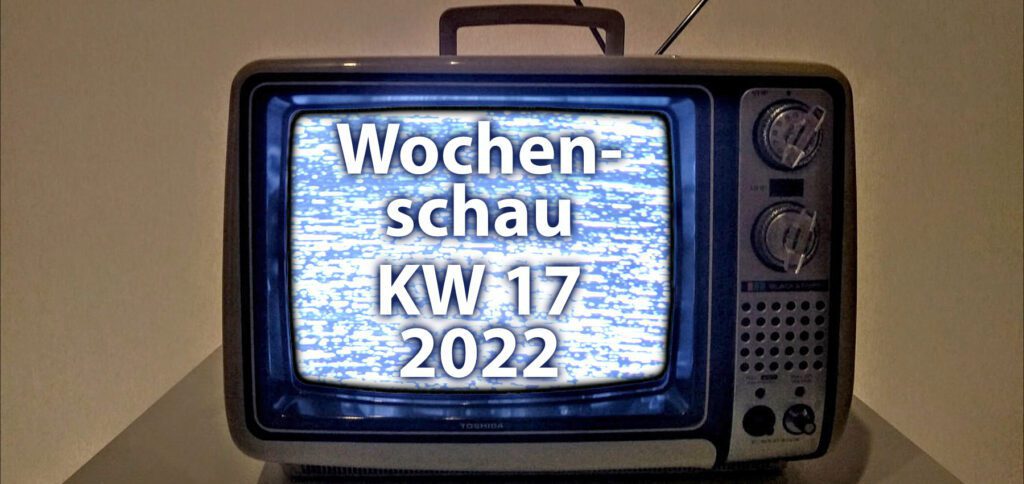 In the Sir Apfelot newsreel for calendar week 17 of 2022: Elon Musk buys Twitter, Telekom and Vodafone vs. net neutrality, Apple with record sales, Max M1 Mac Studio with noise, converted iMac instead of Studio Display, and more!
Elon Musk buys Twitter
As has already been announced in the last few days and weeks, Twitter has now been taken over by the richest man in the world. Too bad. But before I give him another stage at this point, I refer to one at iFun and would like to note that several of my Twitter friends are now closed to Mastodon have switched and definitely recommend this platform. Mastodon is a decentralized social media platform that is divided into so-called "instances" as interest groups. In addition, posts can be made much more carefully. I haven't looked at it myself (I've been busy deleting my Twitter accounts). Maybe I'll write a post about it after looking at the platform ;)
Telekom StreamOn and Vodafone Pass vs. net neutrality
Because they do not treat data traffic equally, the Federal Network Agency has now banned the marketing of the mobile data offers "StreamOn" and "Pass" from Telekom and Vodafone. Sales are to be discontinued by July 1 of this year. Existing contracts can continue until 2023. Among other things, the iPhone ticker points to this with a Entry there. The so-called net neutrality describes according to Wikipedia "[…] the equal treatment of data when it is transmitted over the Internet and non-discriminatory access when using data networks". With the new ban on giving preferential treatment to some customers, it is expected that higher data quotas or cheaper data flat rates will become the standard.
Apple announces record sales again
In the official press release on the topic, in which you will also find the complete report as a PDF, it says in the introduction: "The company reported record sales for the March quarter of $97,3 billion, up 9 percent year over year […]" Sources that have dealt with the details of the report and also show some graphics from it for a better understanding include iFun (German) and MacRumors (English). MacRumors also points out in a separate Post pointed out that around half of all buyers of a Mac model in the second quarter of Apple's fiscal year were new users. The increase in new customers is also attributed to the switch to Apple Silicon.
Bavarian State Office for Data Supervision provides information on Apple's tracking shots
Apple has as shown last week, the "look around" feature of his map service has now also been introduced in Germany. It is logical that not everyone likes this because they can be seen as pedestrians or because you can see the fronts of their houses. That's why the responsible data protection authority in Bavaria is now providing information about Apple's tracking shots on an extensive website. The technical process, the introduction of the look-around feature (previously named "look around" function) and the possibility of objecting are discussed. Furthermore, an evaluation of a similar service, namely StreetView, is linked. You can find all information with this link: https://www.lda.bayern.de/de/thema_apple_kamerafahrten.html
EU concerns: Apple should release its NFC module
Apple (fortunately) doesn't get any rest in Europe. In addition to the standardization of chargers, primarily with a USB-C instead of Lightning connection, the focus is now on the NFC module in the iPhone. In addition, some German banks have already demanded that Apple open the near-field communication function of its smartphone for third-party services. There have been investigations in this area at EU level since 2020, and new antitrust proceedings could be launched as early as next week. For more information, e.g. B. the iPhone ticker here with reference to the Financial Times.
High-frequency noise on the new Apple Mac Studio
The relatively new compact calculator with Max M1 or M1 Ultra from Apple should ensure the highest performance in studio environments. However, the problem currently cited by several sources is: the computer emits background noise. Especially the models with Max M1 if the problem occurs, it says, among other things, in a corresponding Summary from user reports at MacRumors (the models have different heatsinks than those with M1 Ultra). One person told the online magazine in some detail that the noise in the 2.120Hz range appears to be coming from the fans and not coils or other components.
What does the Studio Display camera software update bring?
The users of the Apple Studio Display were also not really enthusiastic when it came to webcams. Because the FaceTime camera mainly shows a blurred image, which cannot keep up with that of a current iMac model or external webcams. The 15.5 beta of the operating system for the monitor has been available since this week and with it several comparison videos that want to show an improvement. You can also find one of them at MacRumors: here . Personally, I don't see much of an improvement (and I'm also personally disappointed with the camera in the 2021 MacBook Pro, but that's another topic...).
iPhone news: iPhone 14 display panels leaked and Apple repair kit looked at
Here I summarize two more reports from MacRumors. The first revolves around a photo that is supposed to show the display borders including the camera area or notch of iPhone 14, iPhone 14 Pro, iPhone 14 Max and iPhone 14 Pro Max. With the two Pro models, the rumor about the disappearance of the notch in favor of an oval and a round recess seems to be confirmed ( ). The second revolves around the repair kit for the iPhone, which Apple is now also making available to private customers. This weighs 19,5 kg and is rented in a large, padded suitcase ( ).
Craft project: rebuild iMac instead of buying a studio display
The last report for this issue of the Sir Apfelot newsreel is again a handicraft project. Saver and Apple fan Luke Miani took apart a 5K iMac from 2014, equipped it with partly new hardware and used the built-in display panel to create a roughly $1.000 cheaper alternative to the Studio Display. He even included a webcam that is better than the original described above. In addition to the advantages, he also shows the disadvantages, e.g. B. the missing P3 color space. But here he points out that you can also use an iMac from 2015 or 2017 if you can get it cheaply. You can see how the conversion works here :
After graduating from high school, Johannes completed an apprenticeship as a business assistant specializing in foreign languages. But then he decided to research and write, which resulted in his independence. For several years he has been working for Sir Apfelot, among others. His articles include product introductions, news, manuals, video games, consoles, and more. He follows Apple keynotes live via stream.