Today there is the first Sir Apfelot newsreel in the merry month of May! This time I'll show you which Apple and tech news I particularly noticed in calendar week 18 of 2022. This time, among other things, these reports are included: Replacement for hate reporting platform in planning, EU also wants to standardize wireless charging, hearing aids can be paired with Amazon Fire TV Cube, Apple Watch Series 8 could measure body temperature, Apple employees want it stay in the home office, and more. Have you discovered anything else exciting? Then please leave a comment!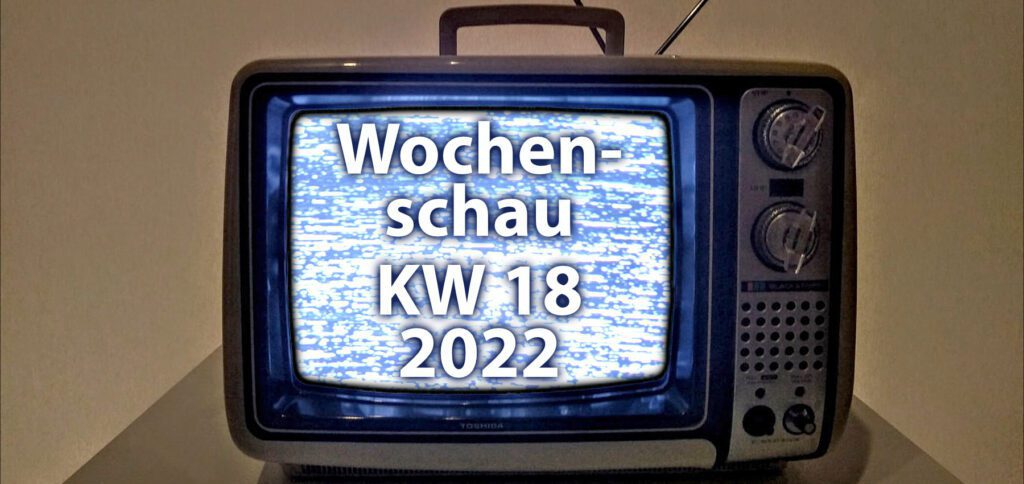 Stop hate reporting, replacement is planned
For the past three years, Internet users have been able to report hate speech and have it reported to the public via the online platform and app of "Hassmelden". In the case of hate messages, threats of crime, insults and similar cases, the volunteer operators of hate reports helped to initiate criminal prosecution. However, the offer was discontinued on April 30, 2022. That berichtete this week's iPhone ticker. However, there was a little later Entrythat the justice ministers of the federal states want to discuss the introduction of a nationwide reporting office for hate comments. This is to take place at a conference in early June. Details on the end of hate reporting: official page.
NASA plans more aircraft for the exploration of the solar system
Let's also look again at our solar system and its exploration. How hot online in one Articles shows that NASA is probably working on other aircraft such as the Mars helicopter Ingenuity. This exceeded all expectations on Mars, it is said. You already know from previous newsreel articles that the device completed far more flights than the previously planned flights. Building on this success, not only is a new copter to be built for Mars, which should be able to reach speeds of up to 2 km/h at an altitude of up to 100 km. An aircraft is also to be used for Saturn's moon Titan. There are already concrete plans and data for this, which you can find in the linked source.
In addition to USB-C: EU also wants unified wireless charging
In the last few weeks, months and years we have also reported on the EU's plans to standardize chargers and the connections for their cables for a wide variety of devices. The USB-C connection should become standard for smartphones, tablets, cameras and much more, which is of particular interest to us as an Apple blog. Because at some point the iPhone manufacturer has to bite the bullet from Apple and also free its smartphone from the Lightning exclusivity. The EU also wants to launch a wireless strategy by 2026. The charging and end devices should also remain compatible with each other so that no isolated solutions arise. is it [called with the iPhone ticker.
Amazon Fire TV Cube can be paired with additional hearing aids
Various hearing aid models can be paired with the Amazon Fire TV Cube via Bluetooth. For audio streaming on the hearing aid, devices from Starkey (Evolv AI, Livio, Livio AI, Livio Edge AI), Audibel (Arc AI, Via, Via AI, Via Edge AI), NuEar (Savant AI, Circa, Circa AI , Circa Edge AI), Telefunken (TF 2PLUS X, TF 2/1PLUS X), Pro Acoustics (ipro.7 AI, ipro.6, ipro.6 AI, ipro.6 Edge AI) and KIND (KINDvitalo KD40, KINDevo KD30 , KINDvitalo KD30), such as this week's network world in a Entry has pointed out. Details on how to pair the hearing aid with the streaming device from Amazon are also available on the official support page.
Right to "fast" Internet: Lower limits for data rates remain small
With regard to guaranteed data rates for the Internet connection at home, the Telecommunications Act should be amended. This is now according to one Entry happened at heise online. A whole 1,3 Mbit/s was stipulated for the upload instead of the 1,7 Mbit/s previously discussed. For the download, the previously communicated 10 Mbit/s and a maximum latency of 150 milliseconds remained. "The draft thus remains well below the expectations of the Bundestag' the linked source says. Because in this at least 30 MBit/s were required for the download. But an exception paragraph was removed, for which the network operators had done lobby work.
Rating companies stop selling Amazon reviews
"Amazon reports success in fending off purchased reviews on its websites. Three internationally active rating companies have therefore stopped selling product reviews on Amazon"It is currently said in various sources, such as in one Entry the daily news. Long legal disputes preceded the success, it is written with reference to a blog post by the manager responsible, Dharmesh Mehta. Among the three companies was Fivestar Marketing, a German company with changing headquarters - sometimes in the small state of Belize, sometimes in Sofia. However, Amazon's actions do not ensure that the rating companies go out of business, they simply no longer offer Amazon reviews. There are plenty of other review sites and mechanisms out there.
Measuring body temperature with the Apple Watch Series 8?
The Apple analyst Ming-Chi Kuo has on twitter commented on this possibility. In the current 7-series, the feature was deleted due to the low quality of the required algorithm. If the algorithm, which has to compare skin temperature, ambient temperature and the temperature of the watch itself, but meets Apple's requirements before mass production, measuring body temperature with the Apple Watch Series 8 could well become a reality. Contrary to previous media reports, Kuo sees no chance for the Samsung Galaxy Watch 5. We told you a few years ago who this Apple analyst is in this post demonstrated.
Apple employees advocate for remote work
An anonymous group of Apple employees have reached out to their employer via an open letter. The concern here is that people should continue to work from their home office and should not be forced to return to the office. The open letter was published on appletogether.org and can even be published in a German translation be called. In it you can clearly read the displeasure that Apple employees did everything they could from home during the pandemic to continue to satisfy customers. In return, they are now demanding to be able to choose for themselves whether they continue to work remotely instead of in the office or in the hybrid model. There are good arguments for this.
After graduating from high school, Johannes completed an apprenticeship as a business assistant specializing in foreign languages. But then he decided to research and write, which resulted in his independence. For several years he has been working for Sir Apfelot, among others. His articles include product introductions, news, manuals, video games, consoles, and more. He follows Apple keynotes live via stream.