Welcome to the Sir Apfelot newsreel! On this Friday, I'll show you the Apple and tech news that caught my eye in calendar week 20 of 2019. After this End of WhatsApp For various smartphones and systems from last week, the chat app is included again this time. There are also reports on the following areas: Google is playing podcasts, Adobe updates for Lightroom apps, Disney is taking over Hulu, Steam Link for Apple devices, Bose Frames, iOS 13 support, iPhone design leaks, Apple's own modems for them iPhone, Apple Pay, monopoly lawsuits against Apple, etc. Please leave your opinion on the reports as a comment;)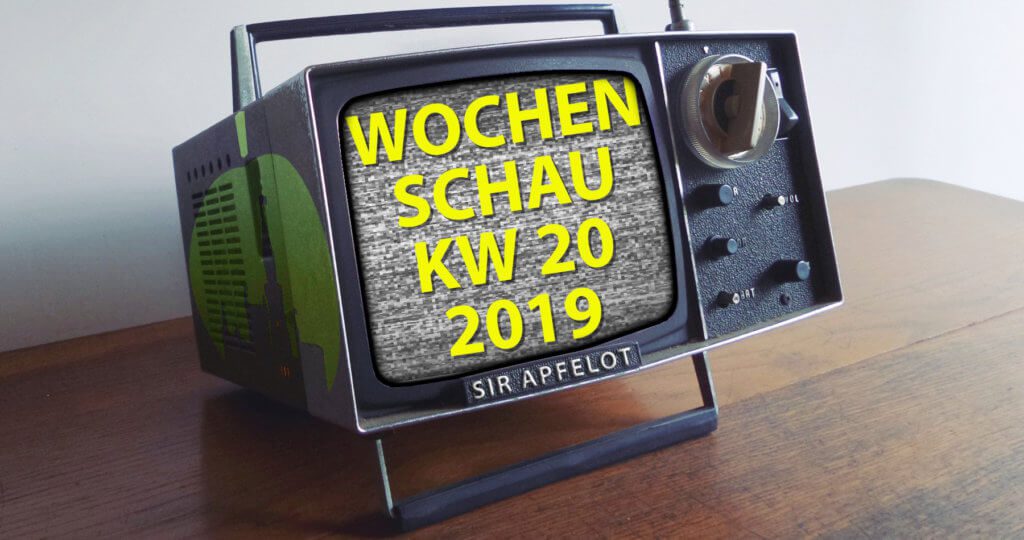 WhatsApp vulnerability allowed installation of spy software
It was possible to bring spy software to iOS and Android devices via a normal VoIP call via WhatsApp. Shortly after this became known, Facebook (operator of WhatsApp) provided a patch that closes the security gap. To be safe from one spywareattack, you should install the update to WhatsApp version 2.19.51 on the iPhone. I have more information and details for you summarized in this post.
Google shows playable podcasts in search results
It is nothing new that images and video suggestions can be found between search results and advertisements after a Google search query in the corresponding list. But how iFun shows, podcasts can now also be played directly from the results page. This shows that the podcast hype is continuing and that Google wants to make it easier for its users to access audio media. But you can not only click on a play button to play the selected podcast episode - a player appears with play, pause, fast forward and rewind (10 seconds each) and even the playback speed (0,5x, 1x, 1,2x, 1,5x, 2x, 3x). So if you want to consume information super-fast, you can now do this directly via the Google search results.
Adobe brings out new things for Mac and iOS apps
There are MacRumors for Adobe Lightroom on macOS and iOS zufolg to an update with new tutorials, texture tools and the like. In addition to step-by-step instructions, there is, for example, a new tool for structures such as skin, hair and bark. In addition, there is a module that corrects colored seams or fringes that result from lens problems and produce purple or green stripes in the image. You can find all details and innovations in the post linked above.
Disney is slowly but surely taking over Hulu
Hulu is one of many streaming offers that brings films and series as well as in-house productions to the television or app-enabled devices. In this country it is not as well known as Netflix, Amazon Prime Video or Waipu. However, Hulu is big enough to be perceived as competition for other providers and bought up. And that's exactly what Disney is doing in the form of share purchases, reports, for example MacRumors and 9to5Mac. Disney is said to have bought the shares that belonged to Comcast and now have control over Hulu: 30% own shares + 30% through the purchase of 21st Century Fox + 10% shares purchased from AT&T + 30% from Comcast = 100%.
Steam link available on iOS and tvOS
With Steam-Link, the game provider Valve wants to bring desktop gaming to iOS devices and the Apple TV. After the app was denied access to the App Store a year ago, it can now be downloaded there. To use it, a computer with Steam (Windows, macOS or Linux) must be registered in the same network as the Apple device. A controller can then be coupled with the latter to play games streamed, so to speak. There's details in one Articles from 9to5Mac as well as in one Review of app dangers. According to the latter, there are still some teething troubles.
Bose Frames: audio AR and sunglasses in one
From the end of May 2019, the Bose Frames, ultra-modern sunglasses with Bluetooth and audio output, will also be available in Germany. Among other things, app dangers writes about it. Context-dependent content is made possible by means of an AR feature, which is only to be added to the two glasses models later via an update - e.g. B. Navigation, travel guide announcements or game sounds. Otherwise, the audio output directed towards the wearer is also used for the use of music, voice assistants, calls and the like. It remains to be seen whether this type of wearable will catch on for around 230 euros.
Are iPhone 6 and iPhone SE out of iOS 13?
As also app risks berichtet, the iOS 2019 operating system expected at WWDC 13 and coming to user devices in autumn could bring the iPhone 6, the iPhone SE and older models to the ranks of Apple smartphones that are no longer supported. But not only these iPhones are being sorted out, but apparently also the iPad mini 2 and the first iPad Air. Another rumor from the post: the 2019 models of the Apple smartphone should be able to charge other devices wirelessly via Qi. For example, the Apple AirPods / Apple AirPods 2 with the corresponding case could be charged by mobile phone while on the move; completely without cables.
IPhone design rumors continue to harden
In the meantime, the back designs of the next three iPhone models for autumn 2019 should be known. Like 9to5Mac here shows, there are new pictures from the back, on which the double or triple camera can be seen. With reference to a Tweet Mark Gurman (Apple expert at Bloomberg) shows pictures according to which two of the three models have three sensors arranged in a triangle; one has two sensors, which indicates an XR version with an update. The bumps, i.e. elevations that result from the cameras, are rectangular or square with rounded corners. Gurman also wants them Colors figured out for the new XR version: lavender, green, yellow, black and white.
Apple's own modems for the iPhone not before 2025
The development of Apple's own cellular, WLAN and Bluetooth modems, such as MacRumors, could take until 2025 shows. In particular, mobile communications chips with a view to 5G frequencies should be a long time coming. The linked article also shows how the deals with Intel and Qualcomm look like, that Apple could buy up the cellular modem sector from Intel, etc. Dangerous situations in the past development and reference history are also shown. The descriptions refer to sources that are close to the respective companies.
Apple Pay soon available in 16 more countries
With reference to information from the mobile banking provider "Monese", MacRumors shows in which countries Apple Pay is to be introduced soon. In a nutshell, these are the following: Bulgaria, Croatia, Cyprus, Estonia, Greece, Lithuania, Liechtenstein, Latvia, Malta, Portugal, Romania, Slovakia and Slovenia. Together with the Netherlands, Hungary and Luxembourg - three other candidates for an upcoming Apple Pay launch - this makes a total of 16 countries in which the service from Cupertino will soon be able to make contactless payments.
Customers can file a monopoly lawsuit against Apple in the United States
The US Supreme Court has now decided that iPhone users can sue Apple for damage caused by competition. The Corpus Delicti is the App Store - which has been disputed by lawsuit since 2011. The app store for iOS software is a monopoly, it is attached. This damages competition and also leads to higher prices, since the developers have to calculate the 30% commission for sales that Apple charges for using its platform. However, the judgment does not yet address these allegations; It was only once clarified whether users are even allowed to take a monopoly lawsuit against Apple. The berichtet including the heise magazine.
After graduating from high school, Johannes completed an apprenticeship as a business assistant specializing in foreign languages. But then he decided to research and write, which resulted in his independence. For several years he has been working for Sir Apfelot, among others. His articles include product introductions, news, manuals, video games, consoles, and more. He follows Apple keynotes live via stream.