And the weekend is just around the corner - of course not without a Sir Apfelot newsreel in your luggage. Also for this Friday I present you the Apple and tech news that I noticed in the past few days. The following topics are worth mentioning in calendar week 20 of 2020: AI for better economic policy, right-wing extremists in the cyberbunker, a construction simulator without end, Unreal Engine 5 from Epic Games, reopened Apple stores, further iPhone 12 leaks and free top Video games for Windows PC and Apple Mac.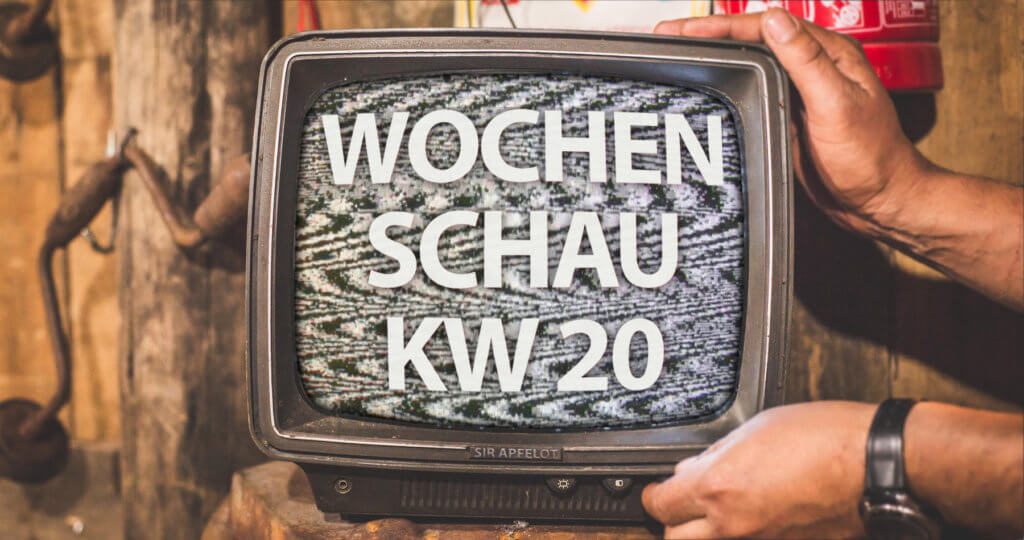 With AI and deep learning for a fairer economic policy?
With a Post heise online raises the question of whether a fairer economic policy could not be achieved by means of AI and deep learning. Or at least with the development of models for such a policy against which real plans could be examined. Above all, fair taxation of people and companies should ensure that the income gap does not widen or close. Finding the right measures at the right speed would be a task for a data-fed system. The linked article addresses the "AI Economist", which was developed by Salesforce and which is getting better and better through "reinforcement learning" - similar to AlphaGo.
Right-wing extremists in the cyber bunker: Hidden servers used by the IB
As I already told you in the Sir Apfelot newsreel for week 41 in 2019 showed, a data center was excavated on an old Bundeswehr site last year. The servers, which were housed in an old bunker, were mainly used for the Darknet. As now heise online in one Entry explains, the Darknet servers were also used by the right-wing extremist "Identitarian Movement". The operators of the facility are said not to have known anything about the content they hosted. They also suspect that the use of the server by Wikileaks ultimately led to the use of the police on site. Further details and statements can be found in the linked source.
BER construction simulator - failure also works virtually
The satire website "Der Postillon" has published a very special video game for iOS and Android. With the "BER construction simulator" you can use mobile gaming to empathize with the failure of a major construction project. This was tested by the specialist magazine Golem, among others at this point. After an introduction and the selection of the buildings, it says: "Nothing just happens". Even though a loading bar is available and indicates five (virtual) days as the processing time, it remains in place even after several (virtual) weeks. Apart from that, a lot goes wrong in the further course of the game. If you also want to fail virtually, then you can play the BER game iOS 9 or Android 4.3 play.
[appbox app store id1496786244]
[appbox googleplay com.illusivereflection.superstructuresimulator]
Epic Games' Unreal Engine 5 arrives in 2021
Among other things, app dangers berichtete this week from Epic Games' new engine. With Unreal in the fifth version, even more realistic graphics, even better physics and thus even more impressive virtual worlds are possible. This is ensured by the two main innovations in Unreal Engine 5: "Nanite" ensures more detailed environments (billions of triangles per frame on which 8K textures from the cinematic area are placed) - and "Lumen" ensures dynamically calculated light and makes making the best of what is currently known as ray tracing (or ray tracing). A <strong>Book</strong> a demo there are of course; it shows the Unreal Engine 5 at this year's coming out Sony PlayStation 5.
Apple stores are now open again
There was also an app threat on Monday Entry Regarding the reopened Apple Stores, which were closed due to the measures to restrict the coronavirus pandemic. The article goes beyond a mere report and into a reporting. It is written about a visit to the Genius Bar, which began with two queues with a total of 60 to 70 people in front of the Apple Store. However, it just took a long time to queue up for free sale. Appointments at the Genius Bar were processed faster. And so the booked repairs could be carried out. For visitors to the Apple Store, however, there were safety measures to take: measure the temperature, wear a mask and disinfect hands.
Apple iPhone 12 Leak: Four versions, two of them with a 120 Hz display
With new leaks on the iPhone models in 2020, the topic of 120 Hz display will come up again. Perhaps you can still remember; in my Summary of week 30 of 2019 I picked up the rumor before. At that time with the note that 120 fps would be useful on the iPhone display for playing slow-motion footage more attractively, as well as for Apple Arcade. With augmented reality (AR) and other areas of application, a lot is now being added. Reports from Pocket PC (here ) and Notebook Check (here ). In addition, there should be a smaller notch, up to 6 GB of RAM and triple zoom for the camera (s). Even the prices are speculated:
iPhone 12 with 5,4-inch display: $ 649 (128 GB) or $ 749 (256 GB)
iPhone 12 with 6,1-inch display: $ 749 (128 GB) or $ 849 (256 GB)
iPhone 12 Pro with 6,1-inch display: $ 999 (128 GB), $ 1.099 (256 GB), or $ 1.299 (512 GB)
iPhone 12 Pro Max with 6,7-inch display: $ 1.099 (128 GB), $ 1.199 (256 GB) or $ 1.399 (512 GB)
Apple invests in Taiwanese production of mini and micro LED displays
This fits in Post by MacRumors. According to this, Apple plans to invest around 334 million US dollars in a new factory for mini and micro LED displays. This is to be built in the Hsinchu Science Park in Taiwan and operated in partnership with the suppliers Epistar and AU Optronics. According to the renowned Apple analyst Ming-Chi Kuo Apple is likely to plan to release at least six mini-LED products by the end of 2021.
Free Games: GTA V and Thimbleweed Park: Delores
If you use the Epic Games Store, you probably know that games are regularly offered there for free. These are not only smaller or less well-known video games, but often also big top-class games. Of course these will not be distributed for free at the release, but still at good times. If you've never played the fifth part of the GTA series, which was released in 2013, you can still get it for free in the Epic Games Store until May 21, 2020. In addition, the Epic Mega Sale is currently running with many discounts. All information, games and prices you can find here. If you are more into classic, pixelated point-and-click adventures and maybe already know "Thimbleweed Park", the prequel "Delores" is for you. You can get this for free on Steam and in the Epic Games Store ( ). Have fun! : D
-
Jens has been running the blog since 2012. He appears as Sir Apfelot for his readers and helps them with problems of a technical nature. In his free time he drives electric unicycles, takes photos (preferably with his iPhone, of course), climbs around in the Hessian mountains or hikes with the family. His articles deal with Apple products, news from the world of drones or solutions for current bugs.