Sunday is election day, in some regions not only for the European elections, but also for mayor or other elections. So don't forget to go to the polling station;) Before that, however, you can study this week's Sir Apfelot newsreel freely, directly, immediately and more or less secretly. In the Apple and tech news, which caught my eye in calendar week 21 of 2019, the following topics romp about, among others: the Wahl-O-Mat and the small parties, Huawei and Android ban, e-scooters in Germany , SD memory card for almost 600 euros, DJI drones with aircraft detection, Instagram data leak, iPhone fraudsters in court and much more!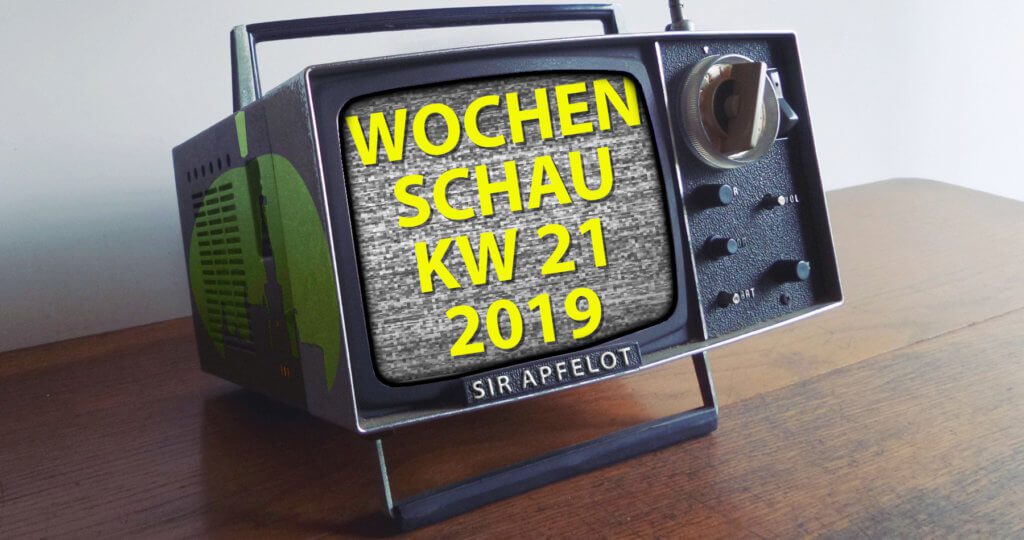 The Sims 4 ™ Free - EA Free Download Promotion
Let me start with the hint on this post Get rid of. I'll show you where and for how long you can still download "The Sims 4" from EA for free. Of course completely legal and as an official action of the developer;)
The Wahl-O-Mat and the small parties
New and small parties like to show themselves to be combative during the election campaign and try to stand out. In addition to the attention they want to get, it is sometimes also about eliminating supposed disadvantages. A lawsuit by a small German division ensured that the Cologne Administrative Court decided that Wahl-O-Mat - a popular decision-making aid for voting that is offered by the Federal Agency for Civic Education (BPB) - should be taken off the network. Among other things, t3n berichtete with reference to Welt Online and Deutschlandfunk. Like the Focus last night pointed out, the Wahl-O-Mat is now online again.
Well informed about the European elections: Click here to go to the "Wahl-O-Mat" website
Due to US suspicion: Google no longer supports Huawei devices
The US President Donald Trump and his administration recently declared a telecommunications emergency that has global consequences for the smartphone market (at least with regard to popular Android devices). Since Huawei is suspected by the US government of spying for the Chinese government, US companies were prohibited from working with the company, which is now on the "black list". As a result, upcoming Huawei smartphones will no longer be allowed to contain Android or Google services as long as they are not open source. Previous devices in the user's hands are not affected, emphasizes Google. For Huawei, this is a big slump in the market, as Android users certainly do not want to flash updates themselves or install alternatives for the Play Store, YouTube, G-Mail, Drive and Co. Swell: hot online, Caschys Blog.
Federal Council lets e-scooters roll through Germany
I already have a planned regulation by the federal government to make e-scooters and other small electric vehicles such as e-unicycles legal for German road traffic at this point informed. The Federal Council has now passed the paper so that e-scooters and similar small motorized vehicles with or without a handlebar can be driven on cycle paths or (if there is no cycle path) on the road. The minimum age is 14 years, an insurance badge is compulsory. Proof of knowledge or a driver's license are not required, and driving in pedestrian zones is not permitted. Here is an infographic from the federal government (source: Facebook):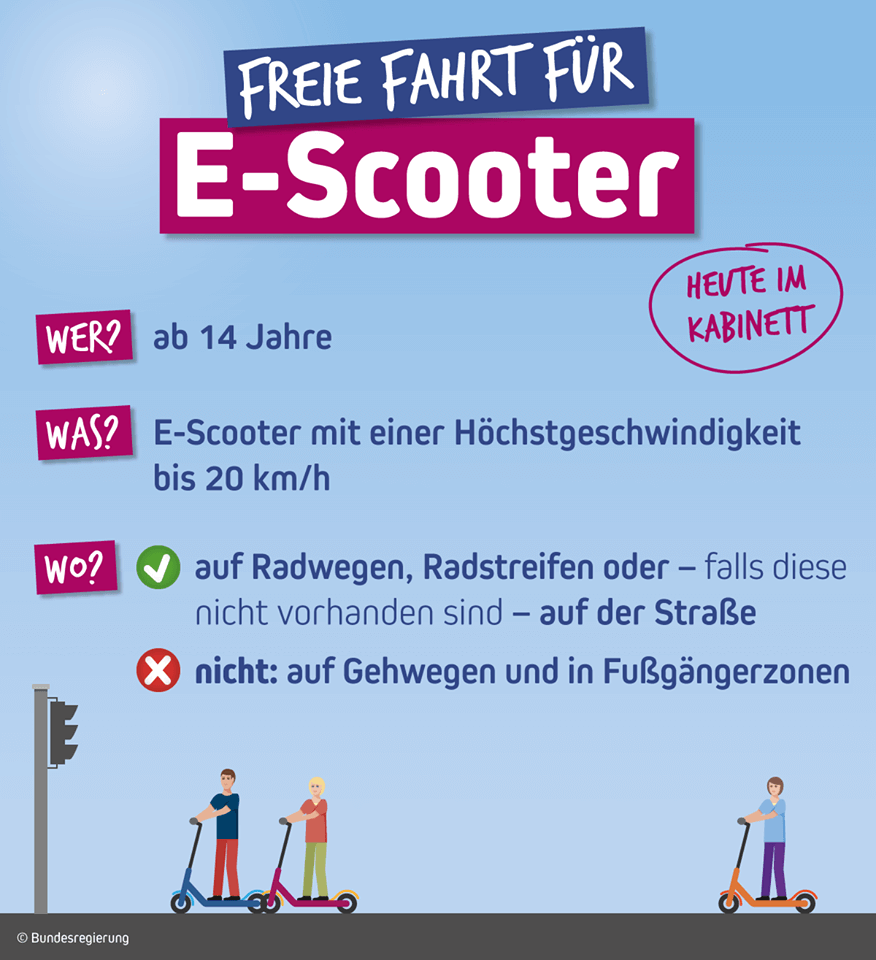 Google publicly addresses an internal data leak
At Google, the user data of users of the G Suite productive cloud had been lying around unencrypted on servers for several years (partly since 2005). Nobody could access it from outside, but Google is addressing the topic in-house Blog Post quite open. It is also noted that companies whose passwords were affected have been informed. Your administrators received a message that they should change their password. You can find a German-language article on the topic among other things at this point from Basic Thinking.
Instagram error: phone numbers and email addresses of users can be seen
Meanwhile, there was a much more serious leak for user data on Instagram. Via the website of the image-heavy social media platform, the phone numbers and e-mail addresses of users, such as MacRumors, could be accessed over a period of several weeks berichtet. All you had to do was access the source code of the page, as shown with reference to the specialist David Stier and the CNET magazine. However, it should not have been as inconsequential as the Google case described above. There is now an extensive leak of sensitive data that affects influencers, celebrities and private users, including minors. The parent company Facebook is thus engaging in the next data scandal; Wasn't there something with WhatsApp just last week?
DJI with helicopter and aircraft recognition for drones
Let's move on to more positive tech news; namely a practical upgrade for upcoming DJI drones. The Chinese drone manufacturer DJI, which recently launched the Osmo Action Camera now wants to make its flying cameras safer for home users. They are to be equipped with Airsense detection technology, which detects helicopters and airplanes and warns the drone pilot accordingly. However, the whole thing cannot be implemented via an update, like Golem shows. For this reason, only new drone models weighing more than 250 g will be equipped with access to ADS-B (Automatic Dependent Surveillance-Broadcast) from 2020. The flying machines are recognized by radio signals and not optically; just as it is already the case with some professional models.
SanDisk microSD memory card with 1 TB for approx. 600 euros
Another development in mobile/portable technology comes from SanDisk, my favorite brand when it comes to SD memory cards. Because you can buy the current microSDXC model "SanDisk Extreme" with 1 TB of storage space via Amazon Prime. the memory card with 1 terabyte offers a U3 standard, the V30 Speed ​​Class and is therefore designed for 4K video recordings. With the A2 standard, it is also ideal for storing apps on it if supported by a smartphone or tablet. The big disadvantage: the small storage medium costs 599 euros. To the Amazon product page (incl. cheaper alternatives) you come with this link.
Over 3.000 iPhone copies sent in for exchange - Fraudster pleads guilty
Like 9to5Mac (here ) and MacRumors (here ) report, a fraudster in the USA pleaded guilty to having sent around 3.000 fake iPhones (with real hardware worth around 600 US dollars each) to Apple as defective. While more than half of the exchange requests were denied, 1.493 devices were actually exchanged, meaning Apple lost $ 895.000. Devices that could no longer be switched on and thus no longer checked were particularly affected. Details on the punishment and further information can be found in the linked posts.
Model numbers of 2019 iPhones discovered in database
Like 9to5Mac with reference to the Eurasian Economic Commission reports, the upcoming iPhone models have been noted in the corresponding database of registered electronics. The model numbers for the 2019 iPhone smartphones from Apple should be as follows: A2111, A2160, A2161, A2215, A2216, A2217, A2218, A2219, A2220, A2221 and A2223. Of course there won't be eleven new iPhones; the different model numbers refer to the versions for individual markets such as Europe, North America, China, etc.
Apple Park Opening Ceremony feat. Lady Gaga
After the Apple Park has already been used by many Apple employees and the Steve Jobs Theater located on the site has also seen some events, the new campus of the technology giant has now been officially inaugurated. At the party, for which a specially constructed stage was built in the center of the ring-shaped building (see video), Lady Gaga was present as a star guest. She gave a concert and also said a few words about company founder Steve Jobs. On YouTube there are some videos from or about the event, which was also used by the app berichtet.
After graduating from high school, Johannes completed an apprenticeship as a business assistant specializing in foreign languages. But then he decided to research and write, which resulted in his independence. For several years he has been working for Sir Apfelot, among others. His articles include product introductions, news, manuals, video games, consoles, and more. He follows Apple keynotes live via stream.