Oops, it's Friday again. And again it's time for a Sir Apfelot newsreel. This time, I'm going to present you the Apple and tech news that caught my eye the most in week 25 of 2020. Among other things, the following topics are included this week: the Corona warning app, new voice feature on Twitter, bright LEDs from the printer, the price of the PS5, the Apple WWDC 2020 and a few more. But let's start with a topic that might be obsolete again next week ...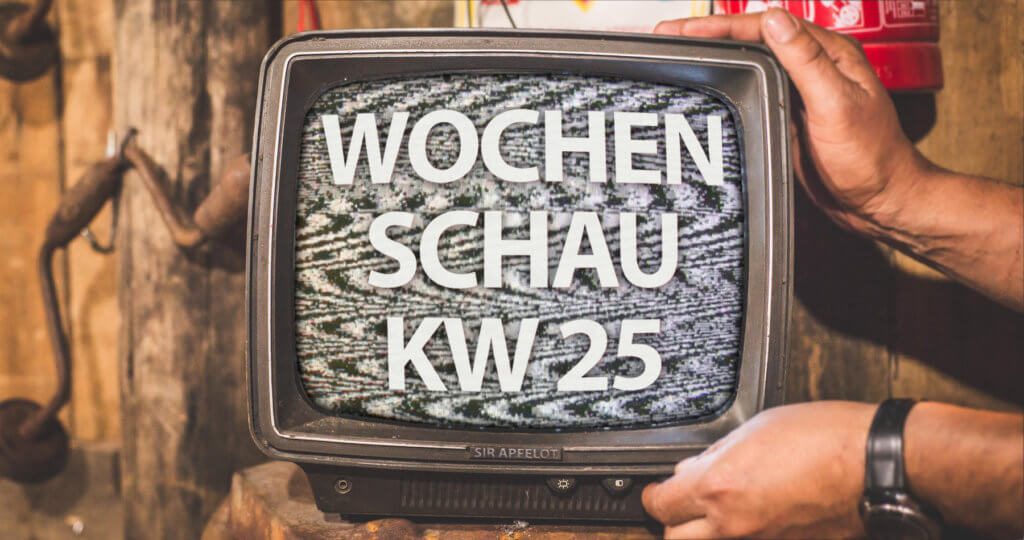 Switch off YouTube advertising with a simple trick
A single, unusually placed point in a YouTube URL (currently) means that you will no longer receive advertising in front of videos. As various media reported, there just needs to be an additional point to to the "com" so that the video starts immediately and you don't get annoyed by one or two commercials. The URL then looks something like this (with the video code instead of the three dots): youtube.com./watch?v=… - you don't have to set the dot anew for each video, as the spelling is adopted. Why? Because YouTube does not (yet) use URL normalization. We will see how long it continues; the error will certainly be corrected promptly.
Corona warning app - a safe way to contain pandemics
The German Corona warning app was launched this week, as I have already shown you here: Corona warning app is available for iOS and Android. Since the developers from SAP and Telekom had disclosed the source code beforehand, numerous weaknesses could be fixed and improvements incorporated. The data that are important for the functions of the app are pseudonymized and processed locally, which makes them secure against data misuse. In addition, it is not necessary to enter personal data to create an account, because there are no accounts. And if even Linus Neumann from the CCC praises the app (see here), you can download and use them without hesitation;)
[appbox app store id1512595757]
[appbox googleplay de.rki.coronawarnapp]
Twitter now also allows voice tweets
While Twitter repeatedly ignores such functions as editing tweets, although many users want it, other features come out. So you can now send voice messages as a tweet, like the platform here officially shows. The option is currently only available in the app for iOS devices. It is not yet possible to post a Twitter voice message via a web browser or an Android smartphone. But is that bad? Critics rightly point out that the new feature leaves out those who are hearing impaired. Without a transcript, the audio tweets are useless to the deaf. And if you write a transcript, you can also make a standard tweet out of it ...
LEDs from the printer: high-luminosity diodes made easily
Let's move from apps and their functions to hardware, more precisely to those from the printer. Because like Scinexx here reports, researchers have succeeded in using inkjet printing to create powerful LEDs made of the semiconductor material perovskite (CaTiO3) to print. In addition to laser chips and solar cells made from organic semiconductors, light sources can now also be printed. Further details on the topic, the chemical challenges of the process and the luminosity of the perovskite LEDs can be found in the linked article.
Fear of 5G in Peru: technicians kidnapped by villagers
What does the term "5G" do to you? Hopefully he doesn't scare you. Because that would show that you fell for some conspiracy tale. As I did to you before at this point have shown, these are total nonsense. Unfortunately, too few people know that, as news from Peru showed this week. For example WinFuture berichtetethat eight technicians were kidnapped in a Peruvian village because residents thought that 5G technology was being installed. That was not the case (and would not be an excuse), only existing radio masts were to be repaired.
Sodium-ion batteries - miracle cure for the energy transition?
The so-called energy turnaround is necessary worldwide to counteract not only the scarcity of raw materials, but also environmental pollution and the climate crisis. But the problem of finite raw materials also arises in e-mobility and in other electrical areas. Like golem shows in a post, sodium-ion batteries could be the solution here. Current prototypes have "only" an energy density that corresponds to that of lithium-ion batteries from the year 2000, but they can withstand over 500 charging cycles. The linked source comprises three pages (click further), has links to further articles and sources and offers the conclusion: "The end of the shortage of raw materials for batteries is imminent".
Sony PlayStation 5 price leaked: € 499,99 was displayed on Amazon
Lately the blog has been about them every now and then Sony PlayStation 5, which should come on the market at the end of the year. But when exactly and at what price? This information is said to have now been leaked on Amazon. For example Netzwelt shows a corresponding screenshot of the French Amazon site, on which the release date of November 20, 2020 and a price of 499,99 euros is indicated. The price therefore applies to the version of the console that has a disc drive. The digital-only version could be noticeably cheaper.
Foldable iPhone: The idea of ​​Apple's folding cell phone is not off the table yet?
Lately it has been quiet about rumors, concepts and considerations about foldable iPhone models. Based on current leaks and speculations, it is certain, at least for the upcoming iPhone 12 series, that it will not offer folding smartphones. But like golem means, the plans for a foldable iPhone are not yet completely off the table. In Cupertino, they are working on a device with two displays, not on a cell phone with a foldable screen, as is the case with Samsung or other manufacturers. So Apple would go Microsoft's way. What do you think about it?
The winners of the WWDC20 Swift Student Challenge have been announced
In preparation for WWDC20, this year's World Wide Developers Conference, Apple launched the Swift Student Challenge. I had a corresponding message early May ready for you. The competition has now ended and the winners have also been determined, like Apple in one press release reported. These are the three award-winning programmers and their projects (more information, pictures and backgrounds can be found in the Apple message):
Sofia Ongele, 19, from New York - Your app aims to ensure more social justice by, for example, B. Abuses can be reported and the injured get help faster from health centers and hotlines
Palash Taneja, 19, from New Delhi - His Swift project consists of a playground that not only teaches programming skills, but also simulates the spread of a pandemic disease and includes factors to contain it
Devin Green, 18, from Castro Valley - His app recognizes via a pressure mat under the bed mattress whether you are still in bed and emits an alarm until you have scanned a randomly selected QR code in the house
Follow the Apple WWDC 2020 keynote with this link
Finally, let's stay with the topics Apple, programming and WWDC. Because the conference, which will take place completely digitally this year, will start next Monday. Traditionally, it starts with the keynote with information on the new versions of iOS, macOS, iPadOS, watchOS and tvOS. From June 22, 2020, at 19:00 p.m. local time, you can not only follow them live in the Apple Developer App, but also at this point on Youtube.
Jens has been running the blog since 2012. He appears as Sir Apfelot for his readers and helps them with problems of a technical nature. In his free time he drives electric unicycles, takes photos (preferably with his iPhone, of course), climbs around in the Hessian mountains or hikes with the family. His articles deal with Apple products, news from the world of drones or solutions for current bugs.