It is the week after the Apple WWDC20, the hype about the new operating systems and the Apple Silicon SoC has subsided somewhat. That's why there's a slightly more colorful mix of Apple and tech news for today's Friday. The messages that caught my eye in calendar week 27 of 2020 include the following: Energy from solar islands, TikTok ban in India, Facebook with new data scandal, Lenovo NAS systems hacked, Apple Arcade, Apple vs. advertising industry, PlayStation 5 and more.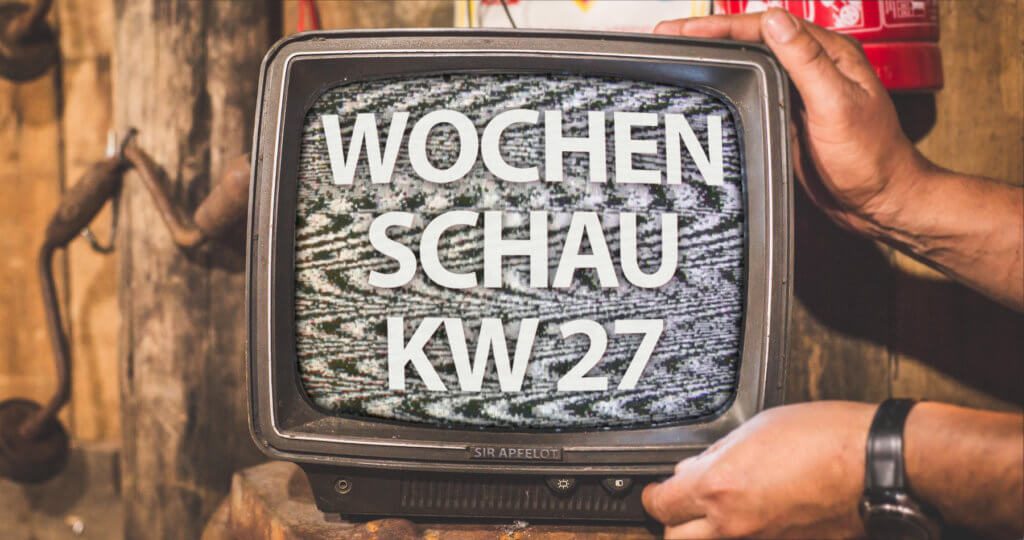 Electricity and fuel from floating solar islands
With the focus on a sandbank in the North Sea berichtet World of an idea that can be a remedy against the worsening pollution and climate crisis. It is not (only) about wind turbines in the sea, but also about artificially created islands that use solar energy to produce electricity as well as fuel. "Sufficient energy could be produced on artificial solar islands to handle all goods traffic in the world in a CO2-neutral manner", It says in the linked post. You can find more information on the topic right there.
In India, TikTok and other Chinese apps are banned
A total of 59 apps from China have been banned in India, such as t3n shows. That didn't just happen, however, but because the apps - which include the popular video network "TikTok" and "WeChat" - read and forward excessive amounts of user data. Above all, the fact that the data would be passed on to the Chinese government was criticized. After all, India is making itself vulnerable to the profiling that is possible with it. A Reddit user found out which data is (improperly) collected and passed on by TikTok using "reversed engineering" and on the platform veröffentlicht. You can also find the summary (in English) about this tweet.
Data scandal: And again the company is called Facebook
As Facebook itself seems to have established, user data was also passed on to apps that were not used for more than 90 days. This deadline was written into company policy following the Cambridge Analytica data scandal. But apparently that didn't do much, like Facebook in one own blog post shows. In German you can find the most important information from it, for example at Golem read up. There it says in the introduction: "Around 5.000 app developers have received data from Facebook that they shouldn't have been given. "
Alleged data theft: Hackers delete Lenovo NAS devices
Like ZDNet, among others shows, a hacker group called "Cl0ud SecuritY" seems to be targeting NAS systems from Lenovo. These are older devices from LenovoEMC, the successor brand to lomega. The hackers delete the data on the storage systems and demand a ransom for the restoration. However, as ZDNet shows, there are no indications that the data is actually copied and thus restored before an attack. So paying the ransom may not be of any use, except that in addition to your data, you also have an amount of money between 200 and 275 dollars going on. Details on the topic can be found in the linked source.
Apple Developer Transition Kit benchmarks published
The sometimes simply "Mac mini developer kit"Developer Transition Kit from Apple was sent to developers of Mac apps as part of WWDC20 so that they can prepare for the switch from Intel chips to Apple's own ARM solution. Like golem now sets out, a benchmark test was carried out with such a DevKit. This shows that the A12Z chip (which is also found in the iPad Pro 2020) delivers better data than the Snapdragon 8cx, for example. And that, although only four of the eight cores are used and the application is over Rosette 2 is emulated. However, there is also a hint that upcoming Mac models will contain a different kind of "Apple silicon" and that DevKits are not the same as the final hardware.
Apple Arcade is to be redesigned in terms of content
I also read on Golem that the Apple Arcade game service is to be realigned. So it says in the relevant one Post that there should be fewer adventure games. Rather, the focus should be placed on games that are to be played for longer and that keep users busy for months. The goal of the whole thing is of course clear: a longer membership with a subscription that costs 4,99 euros per month. Unsuitable for this are games that offer an adventure campaign with limited content, after which there is no reason to continue the subscription (in addition to the other games included in the subscription). We probably won't see Animal Crossing counterparts in Apple Arcade; but more games like "Grindstone".
New restrictions for the advertising industry on iOS 14
From iOS 14 onwards, you can individually set on the iPhone whether apps are allowed to track you in other apps and on websites so that they can show you personalized advertising. Among other things, heise online shows that all in one Post and reports the fears of the advertising industry. Of a "earthquake "And a"tectonic shift"Is the talk here, because campaigns can no longer be carried out as before. Advertisers would be, so to speak, a "Flight blind"Forced. Furthermore, in the linked source, Apple's Ad-ID, which plays a role in the topic, is discussed.
Xbox Series X and PlayStation 5 news
At Netzwelt I found two reports this week, one about the Xbox Series X and one about the PS5. The Microsoft console will not only be available in the standard version that is already known, but also as a budget model at a lower price. The code name should "Lockhart"Be, ultimately it could refer to a"Xbox series s"Run out. Either in July or in August, the cheap alternative is to be presented at a new reveal show. It should have a little less processor power and less GPU power. More on this here .
At the same time, with regard to the new Sony console, it is said that Epic Games has a "Revolution"Rave and completely new games would become possible. The statement goes back to working with a DevKit, which has already given the developers an insight into the possibilities of using the PlayStation 5. What innovative, new game concepts we can expect with the Unreal Engine 5 on the PS5 is still pending. It should not be available until 2021. You read more on the topic here .
Jens has been running the blog since 2012. He appears as Sir Apfelot for his readers and helps them with problems of a technical nature. In his free time he drives electric unicycles, takes photos (preferably with his iPhone, of course), climbs around in the Hessian mountains or hikes with the family. His articles deal with Apple products, news from the world of drones or solutions for current bugs.