It's the last working day of the week and so it's time again for the Sir Apfelot newsreel. Today is the Apple and tech news for you that caught my eye in calendar week 29 of 2019. Topics include: Threema with new functions, StreamOn from Telekom, DuckDuckGo with adjustments, Nintendo Switch with more battery life, climate impact from streaming, Apple products that have not been stolen, a scanned NeXT catalog, "For All Mankind" series from Apple tv + plus a few other news.
Do you already know FaceApp? Neither should you!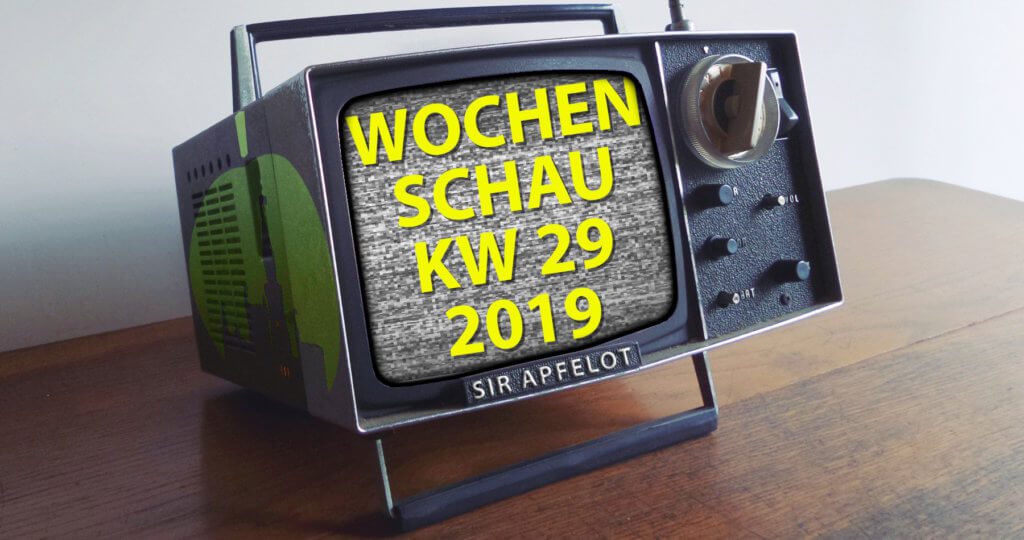 Threema Messenger with updates in v4.3
If you use the Threema Messenger as a short message app or find it interesting, you should be interested in the current update to version 4.3. Because this not only provides a link preview when using 3D Touch on your iPhone, but also the addressing of messages via @ -handle to people in a group chat. Threema v4.3 also does not stop music playback on the device when a video is played, but only pauses it. So it will continue after the video. In addition, the duration of voice messages is now shown in the push notification and in the chat. Source of the info is a Post of app dangers.
Controversial topic StreamOn: court bans the telecom service
After the administrative court in Cologne, the higher administrative court of the state of North Rhine-Westphalia has ruled that Telekom is no longer allowed to offer its StreamOn offer in its current form. The reason was, among other things, that the network neutrality anchored in Europe and also the roaming rules were disregarded. The Federal Network Agency pointed this out. Further information and background as well as the wording of the reasons for the judgment are available, among other things at this point.
DuckDuckGo with Apple cards and dark mode
Since the beginning of the year there has been an integration of maps from Apple in the desktop and mobile version of the DuckDuckGo search engine. This has now been expanded and also equipped with the newly added dark mode. The map material with streets, markings, name displays and the like can therefore now also be displayed in dark. In addition, as with Google, a "Maps" tab is now displayed for regular searches. MacRumors has more information and screenshots about the changes to the search help without data octopus ambitions at this point merged.
Nintendo Switch now with more battery life
Nintendo already has it recently Switch Lite presented, a slimmed-down handheld version of the hybrid console launched a little more than two years ago. But this itself has now also been reissued. Improvements such as a directional pad, more stable Joy-Con brackets or a 1080p display should not be expected, however; but only more battery life.
So if you want to use the big sister of the Lite as a handheld instead of it, you can now do this for longer with the new build and for longer without using a power bank. From the beginning of September 2019, the Nintendo Switch will be available with improved battery performance, which will provide 4,5 to 9 hours instead of 2,5 to 6 hours of mobile gaming time. Nintendo offers details on the official website.
Climate killer streaming: CO2 through Netflix, Prime Video, YouTube and Co.
What part do online videos actually have in the global climate crisis? The French think tank called "The Shift Project" has taken on this question. In a recent publication (here as an English PDF) the comprehensive answer and its derivation is given on 35 pages. You can find a short form in German at the specialist magazine t3n (Link). Streaming and VoD services and their users get off badly, which is actually not a big surprise.
In the past year, online videos from Netflix and Amazon Prime via YouTube and Vimeo to social media sources such as Facebook and Twitter as well as "adult entertainment" on porn sites caused emissions of 306 million tons of CO2. Tips to reduce this are: switching off autoplay, playback in 480p (nobody will participate voluntarily), stream less and buy new devices less often. What's your take on that? Feel free to leave a comment!
The home emptied - but the Apple devices are still there
In several cases, burglars are said to have stolen all kinds of devices and other valuables from their victims' homes. The criminals are said to have deliberately left iPhones, MacBooks and other Apple devices lying around. A MacBook is also said to have been taken out of the laptop bag so that it could be stolen. GIGA reports all of this in one Articles citing a story as well as comments on Reddit. The possible and most logical reasons for the picky thieves: the "Find my Mac" or "Find my iPhone" functions via the Apple iCloud. The good security, which makes access to the devices more difficult for strangers, will also play a role.
NeXT catalog: Steve Jobs' Apple alternative on 138 pages
Like MacRumors berichtet, hobby computer historian Kevin Savetz scanned a NeXT catalog from 1989 and uploaded it to Archive.org for everyone to view and download. The platform is actually made for content free of rights, and the catalog is also up to date here viewable, but it is possible that Apple could take action against this publication. NeXT was the company with hardware and software ambitions that Steve Jobs founded in 1985 after he had to leave Apple. The company was dissolved in 1996 and from 1997, after Steve Jobs rejoined Apple, offered the basis for modern operating systems - macOS is based (in part) on the NeXTStep OS. Further information: Wikipedia.
iPhone in Macintosh (1984) and iMac (1998) design
And another bit of (theoretical) Apple history: if cell phones and smartphones had been as on vogue in the 80s and 90s as they are now, the iPhone might have been in a Macintosh or iMac look. What would that have looked like? This shows the "Future Punk" channel on YouTube in the following integrated Video. You can find more fake advertising on the channel, for example from a Netflix VHS system;)
Upcoming Apple products with the old rainbow logo?
One goes with the mockups shown above Entry from MacRumors, according to which future Apple devices could come back with the former logo design. That means: colored stripes that show a contrasting color gradient or a rainbow. In the article referring to rumors, MacRumor offers its own concept graphics showing iPhones and MacBooks with colored apple logos. As a disclaimer it says: "... this rumor could very well be untrue"- this rumor could very well be false.
For All Mankind in a new trailer
As in March tv + was presented, there was already one or the other outlook on expected series of the streaming service, which in the future is to provide CO2 in addition to Netflix, Sky, Disney and Co. In keeping with the moon landing, which is currently 50 years old, one of the series called "For All Mankind" is about the Apollo 11 mission. Anyone who wants to dare to take a look will get it with a new one Trailer:
After graduating from high school, Johannes completed an apprenticeship as a business assistant specializing in foreign languages. But then he decided to research and write, which resulted in his independence. For several years he has been working for Sir Apfelot, among others. His articles include product introductions, news, manuals, video games, consoles, and more. He follows Apple keynotes live via stream.