This week the Sir Apfelot newsreel comes back to your receivers as usual on Friday. In this issue, as you have probably already guessed, I will show you the Apple and tech news that particularly caught my eye in calendar week 29 of 2022. Among other things, these reports are included: ARD media library is the most used German streaming service, DB Navigator app forwards data illegally to Marketingcloud, Apple spends record sums on lobbying and pats itself on the back for health features, jailbreak for iOS 15 and iPhone 13 announced, plus some more.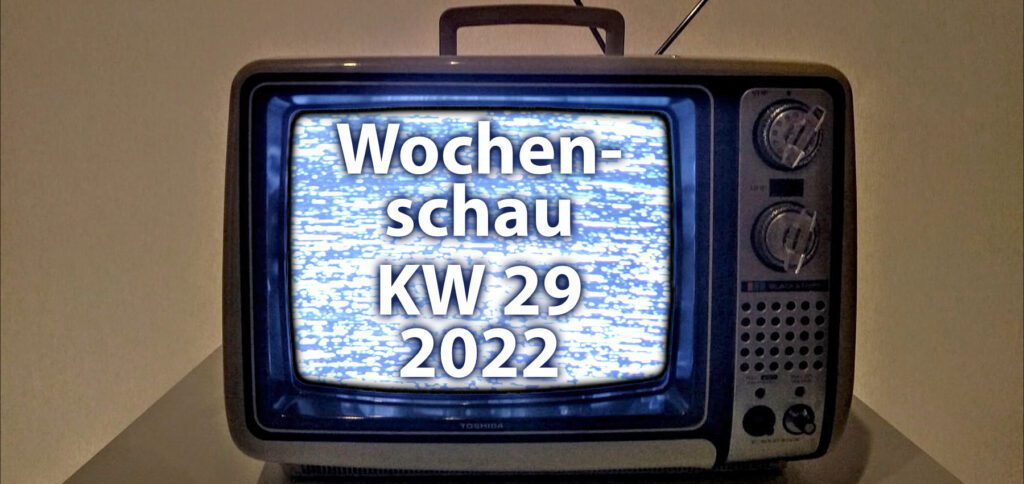 App leaks user data to marketing company, AirTags battery meter off, Apple spends record lobbying, and more." width="1024″ height="484″ />
The Sir Apfelot newsreel for calendar week 29 of 2022 includes the following reports: ARD media center with around 2 million users daily, DB Navigator App Illegally leaks user data to marketing firm, AirTags battery meter off, Apple spends record lobbying, and more.
ARD media library plays 2,37 million hours of content every day
This week there was interesting information about the ARD media library in one Entry by iFun. It shows that the public broadcaster's online service is the market leader among German streaming services. Up to two million users should access it every day and watch a total of 2,37 million hours of content. Recently, documentary series and individual documentaries have been of particular interest. In the linked source, iFun has shown a few examples of which documentaries are watched by how many viewers. You come to the ARD media library with this link.
Amazon Prime Video renovated: look adapted to Netflix
The title actually says it all. There are details about this in a Entry by iTopNews.
Netflix vs. Account Sharing: New subscription option for more households
Netflix has repeatedly complained in the past that accounts are shared between several households, even though they are only for several people one household are intended. The streaming platform would lose customers and revenue as a result. But now there is a "solution" put in place by Netflix itself, as does iTopNews berichtet. From August, the "Add a home" option will be available in some countries. With this, another household can be unlocked for using the same for $2,99 ​​in addition to the regular subscription price. Whether, when and at what price the whole thing will come to Germany is still pending.
The DB Navigator app is a useful tool when traveling by train with Deutsche Bahn. You can use it to buy tickets, show them and their QR code with them or proactively use the "Comfort Check-in" on long-distance trains, display delays in current connections or look for alternative journeys. It's just stupid that it's now public how user-unfriendly this app is. The DB Navigator of Deutsche Bahn is intended to spy on users and handle data illegally. The iPhone ticker shows this here. on and refers to the Campaign page of the Digitalcourage Association. There you will learn everything about the allegations and the upcoming lawsuit.
That's what happens to games when they're no longer on Apple Arcade
With the new support document HT213347 Apple released some information (not yet translated into German) about Apple Arcade and the games published in it this week. In addition to finding new titles and using updates, it is also about what happens to games that are no longer available in the gaming subscription portfolio. After they are removed from the portfolio, everyone who previously installed them can continue to play them for at least two weeks. The developers can then decide for themselves whether the game will end up in the App Store as a single offer. If so, this version may differ from the arcade version.
Until recently, anyone who uses Apple AirTags to find items that could easily be lost was able to take a look at the battery capacity on the iPhone. With the update of the current operating system to version 15.6 and in the current Beta version of iOS 16, however, the corresponding icon disappears from the Where is? apartment This includes MacRumors in one Post a. There are only rumors about Apple's motives for removing the battery symbol and the charge level. However, it may be because the display was too imprecise and partly showed empty batteries, even if they were still full.
Tip: Track down foreign AirTags with Android - Here's how!
Apple has already paid $2022 million for lobbying in 4,6
It is not enough for Apple to keep pointing out the possible dangers of sideloading on the iPhone and iPad at events and in press releases. If politics, e.g. B. in the US, but is still working towards a law that is intended to break up the app store monopoly of the iPhone manufacturer, then paid middlemen have to take care of it. Or even entire subcontractors. Which Apple also decided to do this year. iFun points in a Entry pointed out that the whole thing has already cost $4,6 million. That's the highest-ever spending on influencing policy in favor of Apple's will.
Jailbreak for iOS 15 and iPhone 13 should be called "Cheyote".
Anyone who is still (or just because sideloading is not yet possible) interested in jailbreaks on the Apple iPhone should check it out this post watch from the iPhone ticker. It is about Cheyote, a jailbreak announced for the iPhone 13 and the current iOS 15 operating system. In addition to the solution from the Odyssey team, which has been announced for an early release, the linked source also shows alternatives, at least for older systems and devices. Are you interested in jailbreak (still)? And if so, why? Feel free to leave a comment on the topic!
Only five solder points: cheaply equip the iPhone SE with USB-C
The iPhone ticker also went this week with a conversion of the first iPhone SE from the Lightning connection to USB-C Entry a. After a brief review of past projects by ambitious hobbyists, a project is shown that can basically be imitated by anyone who can handle a soldering iron. In addition to the iPhone SE of the first generation, a cheap Lightning-to-USB-C adapter is also used. After it has been dismantled, only five soldering points are required for rewiring, and the battery can be charged and data can be exchanged via a new connection. Details can be found in the linked source as well on twitter.
Apple's Empowering people to live a healthier day report
With iOS 16 and watchOS 9, a total of 2022 areas of health and fitness can be viewed by iPhone and Apple Watch users from autumn 17. Over 150 types of health data can be stored and evaluated by the Health App. You can find this and other information in Apple's "Empowering people to live a healthier day" report, whose 59 pages you here as PDF can see. The iPhone manufacturer has a press release on the subject published here – also in German. One of the goals defined therein is, "Users on their personal health journey [to] support". And all this with a large pinch of self-praise.
After graduating from high school, Johannes completed an apprenticeship as a business assistant specializing in foreign languages. But then he decided to research and write, which resulted in his independence. For several years he has been working for Sir Apfelot, among others. His articles include product introductions, news, manuals, video games, consoles, and more. He follows Apple keynotes live via stream.