Today, Friday, it's time again for a Sir Apfelot newsreel - this time I'll show you the Apple and tech news that caught my eye in calendar week 3 of 2019. Also included are critical comments from China, Netflix's pricing policy, the Federal Cartel Office and again a lot of reports about Apple and the products from Cupertino. If you have an addition or want to express your opinion on one of the topics, please leave a comment under this post;)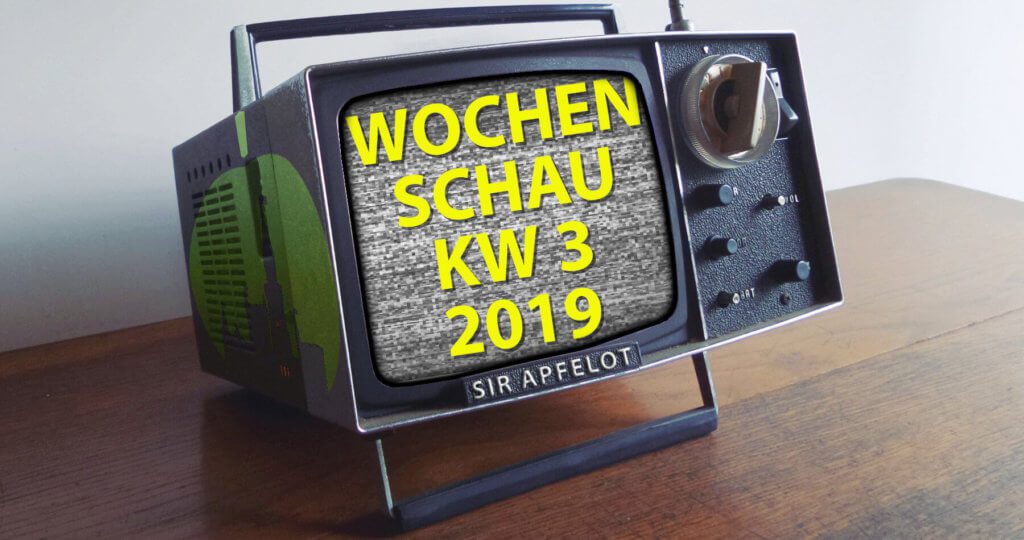 Apple, Amazon, Nike and Co .: China criticizes the names of Hong Kong and Taiwan
Like 9to5Mac berichtet, several large companies have been criticized from the Chinese side for incorrectly naming the Hong Kong and Taiwan regions. Among other things, on the company's websites - when selecting countries for shipping, for example - the two regions are referred to as independent states or areas, and not as part of China. Background: Hong Kong is a special administrative zone with its own government, which, however, can be counted as part of China after the full name "Hong Kong Special Administrative Zone of the People's Republic of China". Taiwan has a similar but more controversial status and sees itself as autonomous.
Netflix price increase - what is it about the more expensive subscription?
This question is dangerous with an app little experiment got to the bottom. After several blogs reported about an imminent or already ongoing price increase at the streaming provider Netflix, the website was called up in various browsers to find out the current subscription and, above all, new customer prices. This resulted in different prices, which may depend on the browser used. The conclusion of the test:
So there can be no talk of a general price increase for a long time. It seems much more as if Netflix is ​​currently working with very flexible prices and offering new users a subscription that is a bit more expensive. True to the motto: You can try it.
Bundeskartellamt: Facebook has to keep data for itself
Facebook is arguably the largest data octopus that has currently archived all kinds of personal data, likes, dislikes, relationships, whereabouts and other information from users worldwide. This makes the platform particularly interesting for advertisers and many other companies who build their success on large-scale market research. The Bundeskartellamt believes that action should now be taken against this Entry according to GameStar. In detail, Facebook is to be prohibited from passing on the collected data to third parties. Should this happen, heavy fines would have to be paid. Details can be found in the linked post.
Music on HomePod and iPhone - no longer with different accounts at the same time
Without a family account, it is no longer possible to use Apple Music to play different music on the HomePod and the iPhone at the same time. Among other things, 9to5Mac reports this with reference to reports from Reddit users at this point. The reason seems to be that the ability to have two different music outputs with one account was more of a bug than a feature. The new usage policy of the playback devices is therefore not an update of the usage regulations, but rather just a bug fix.
Appgefahren presents highlights of CES 2019
TVs with HomeKit, iTunes and AirPlay as well as roll-up TVs, smart home components, innovative Bluetooth speakers and much more could be seen at CES 2019. A highlight list has app dangers, among other things collected. It lists a number of new products and product updates that were last seen in Las Vegas. Lenovo, JBL, Mophie, Mijia, Nanoleaf, Netgear Philips Hue and many other brands are included. Check it out ;)
New rumors and render graphics for the iPhone 11
It's January and yet the rumors about the 2019 models of the Apple iPhone are already flying around your ears. Among other things, heise online is now showing the first render graphics as well as further speculations about the iPhone 11 (or iPhone XI), which will be released in September. Like you see here shouldn't really change anything in the basic design. Only a third camera sensor should be placed on the back, which could lead to a square arrangement, among other things. Somewhat like the Huawei Mate 20 (Pro). However, the three camera lenses and the flash could also be arranged in a strip - this would probably often lead to sensors and LEDs being covered by fingers ...
Is AirPower coming soon?
A new battery case for the iPhone has been added to the range of accessories in the Malaysian Apple Store. That is not so spectacular if the product description had not included the compatibility with the "AirPower Wireless Charging Mat". The reference to the charging mat for Qi devices was soon removed, but again raises questions about the product, which should have been on the market a long time ago. There has been talk of this since 2017, i.e. with the iPhone X, 8 and 8 Plus. You can find details on this among other things in this post. You can find the latest news here:
Second Qualcomm lawsuit dropped in Germany
With a lawsuit against Apple, Qualcomm was able to prevent the manufacturer from officially selling certain iPhone models in Germany. You can find details on this in the Sir Apfelot newsreel, week 1 2019 With a second lawsuit, the iPhone sales ban should be extended in this country. But like MacRumors (here ) and 9to5Mac (here ) report, the lawsuit was dropped. The reason: the patent in question was not infringed by the installation of the corresponding chips in the Apple devices.
New success story for Apple Watch: man recognizes heart disease
Among other things, the fact that Tim Cook, the CEO of Apple, spread this story on Twitter, has spurred some reporters to issue a corresponding report. In detail, it is about the new ECG feature of the Apple Watch Series 4, which cannot (yet) be used in Germany. This has given a man in the United States an abnormally high pulse rate and signs of atrial fibrillation. The suspicion was confirmed in the emergency room and he was treated. Details about the story can be found under app risks auf Deutsch and at MacRumors in English.
Apple Watch for US Seniors with Health Insurance Subsidy
It should be known that the new functions of the Apple Watch can reveal heart diseases, show irregularities and promote fitness. Now Apple is no longer only committed to the younger, active target group, but also wants to ensure that the Apple Watch in the USA is made more affordable for seniors aged 65 and over with the support of private health insurance (Medicare). The MacRumors website has details on the project at this point and 9to5Mac in this post summarized. Officially, according to the reports, there is still no definitive deal.
After graduating from high school, Johannes completed an apprenticeship as a business assistant specializing in foreign languages. But then he decided to research and write, which resulted in his independence. For several years he has been working for Sir Apfelot, among others. His articles include product introductions, news, manuals, video games, consoles, and more. He follows Apple keynotes live via stream.