It's time for another Sir Apfelot newsreel, in which I'll show you which Apple and tech news I've particularly noticed over the course of the week. This time it's about calendar week 3 of the year 2022, in which I made a note of these messages for you, among other things: Adblockers do not violate copyright law, Microsoft buys Activision Blizzard, Android 12 on pixel smartphones falsifies QR codes, Starlink disrupts the Gazing into space, Safari vulnerability finally getting attention, Apple set to be regulated in the US, and more.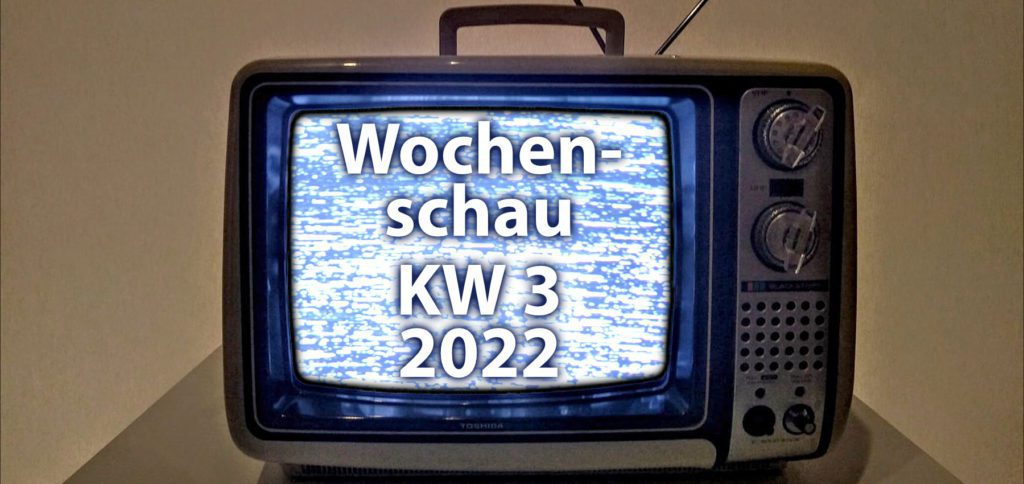 Lawsuit dismissed: Springer fails in dispute against adblocker
Ad blockers ensure that advertising on websites is hidden and replaced if necessary. In doing so, they intervene in the structure and presentation of the pages. Based on this circumstance, the Axel Springer publishing house sued the Eyeo company because they allegedly changed copyrighted material with their ad blocker. Already in the first paragraph on the subject and the dismissed lawsuit it says in one Articles from Golem: "Adblockers do not interfere with the display of Internet pages in an inadmissible way.This is also the view of the Hamburg Regional Court, which decided accordingly on January 14, 2022. It was therefore established that the combination of individual content (texts, images, videos, etc.) does not have a sufficient level of originality for copyright.
Microsoft buys Activision Blizzard for $68,7 billion
On January 18, 2022, Microsoft announced in-house Blog announced that the video game company "Activition Blizzard" is being bought for $95 per share. That adds up to about $68,7 billion. King, a provider of mobile gaming apps, has also been part of the merger of the combined houses Activision and Blizzard since 2016. The currently best-known games from the companies mentioned include Overwatch, Diablo, Call of Duty, World of Warcraft, Candy Crush and StarCraft. With the studios and the game series, Microsoft wants to expand its range of games for PC, Xbox and mobile devices. Fans and studio employees also hope that the working atmosphere at Activision Blizzard will improve - cases of sexism and bullying involving the executive floor are well documented. German sources: hot online, iFun
Camera app on Google smartphones with Android 12 corrupts QR codes
I also have one at heise online Articles found showing a strange bug of Android 12 on Google's own "Pixel" series smartphones. Because if you use the camera app in this combination, it can happen that the AI ​​improvement falsifies the QR codes and thus possibly calls up completely different content than should actually be called up. Ideally, this simply leads to an error message, but if someone takes advantage of this error, then attacks on the device could also be triggered. You can work around the error by deactivating Google Lens Suggestions and using the Google Lens app or a standalone QR code app to scan QR codes.
Post & DHL App 8.0 – notification of letters directly to your smartphone
As in one Entry described by the iPhone ticker, the current version of the Post & DHL app brings letter tracking and letter post notification directly to the smartphone. If the letter has been processed accordingly, a photo of the envelope can also be displayed. As described in the linked source, it can happen that parts of the messages sent are visible in advance; such as postcards without an envelope. The service is not offered automatically and must be activated individually in the app. Details are in the linked post.
Astronomical photos from Earth are distorted by satellites
Satellites launched into Earth orbit by humans can also be seen in astronomical photographs. When taking pictures with longer exposure times, they show up as streaks of light. The more satellites are on the move, the more of these light strips there are. Among other things, the Starlink satellites launched by SpaceX into earth orbit will be in one Post listed by t3n as an example. Reference is also made to a study by the American Astronomical Society. According to this, both the increase in light strips and the triggering objects are secured. So far, however, there should not be any impairment of research. In addition, the effects at SpaceX are to be reduced by the "Visor" concept.
Safari error leaks parts of browsing history
Apple keeps boasting about the privacy measures they want to apply across their devices, systems, and apps. But no system is perfect and there are always errors, bugs and security gaps. This is also the case in the current version 15 of the Safari web browser for macOS. This week iFun pointed this out in one Articles there. It refers to the analyzes of the company FingerprintJS, which has also published an information and demo page on the problem. Apple has also been aware of the problem since November 2021, which is why FingerprintJS has now gone public. A day later it said in one Post from MacRumors that Apple is now working on a fix. Public pressure seems to have helped.
Platform providers like Apple are to be regulated in the USA
Current headlines about the Apple App Store, the Google Play Store, sideloading for iOS and iPadOS and related topics clearly show that the major platform providers should tear down their digital walls and offer users more freedom. Exactly that could soon be possible in the USA, like iFun in another Articles shows. It is about a bipartisan draft resolution called the American Innovation and Choice Online Act (AICOA). This is compared to the EU Digital Markets Act. A consequence of the passage could be the enabling of sideloading on iPhone and iPad. In addition to Apple and Google, there may also be changes at Amazon, Meta and Co.
Current rumors about Apple devices: iPad Air and iPhone SE
Referring to a Japanese blog as well as database entries at the Eurasian Economic Commission, MacRumors made two posts this week (here and here ) published, which are about upcoming Apple devices. Two iPad models and one iPhone model were probably listed, which suggests that a new iPad Air (one model with WLAN, one with WLAN and SIM card) and a new iPhone SE will be released in spring. Current rumors about the new budget smartphone from Apple can be found here: Apple iPhone SE 3 - Everything We Know So Far. The iPad Air is said to offer an A15 Bionic chip, a 12 MP ultra wide-angle camera with center stage, 5G and other interesting specs.
After graduating from high school, Johannes completed an apprenticeship as a business assistant specializing in foreign languages. But then he decided to research and write, which resulted in his independence. For several years he has been working for Sir Apfelot, among others. His articles include product introductions, news, manuals, video games, consoles, and more. He follows Apple keynotes live via stream.