The last real summer month of this year began in August; and it's time for the Sir Apfelot newsreel again. Today, Friday, I'm going to present you the Apple and tech news that caught my eye in calendar week 31 of 2019. These topics included: DHL on Twitter, Facebook's "Libra" currency, Spotify with great growth, third parties listening in on Siri, rings on the Apple Watch, "Look Around" feature from Apple cards, Apple Pay and PayPal, as well a few more things. Do you have an exciting message ready? Then leave a comment!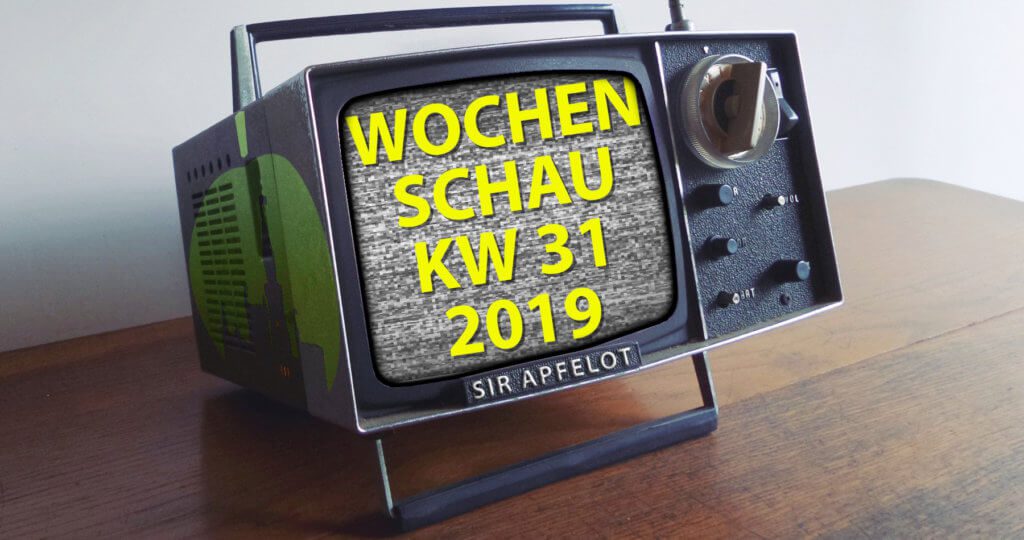 #DHLFanFoto 2019 - DHL receives criticism instead of approval on Twitter
Customer loyalty via social networks can be a good idea for companies. Apple, among others, does that with the Hashtag #ShotOniPhone ahead. However, there are also companies that are not so well received by the community and whose employees, products or services are more likely to attract negative than positive criticism. As we now know, DHL is one of these companies. Because with the hashtag #DHLFanFoto on Twitter The delivery service did not reap the happy picture expressions of satisfied parcel recipients, but rather resentment. The most frequent responses consisted of pictures of DHL delivery vehicles parking bike lanes.
Likely failure of Facebook's "Libra" currency
The Weekly news for week 25 I've already written on the subject of Libra. Back then it was about the fact that the currency that was here and there called the Bitcoin alternative is not one. Because Libra has nothing to do with blockchain and is not intended to be decentralized. In addition to this criticism, the digital currency Facebook could now also fail before the actual start due to other factors. Because governments and regulators have already carried out thorough reviews and will continue to do so. In addition, Mark Zuckerberg's company is not at all strong in the field of digital currencies, which is why external help would be necessary. In other words, the next data protection scandal in the making. All bad omens ... Source is here app risks.
Spotify is growing rapidly: over 108 million paying users
With around 108 million paying users, Spotify is clearly ahead of Apple as a streaming provider for music, podcasts, audio books and radio plays. Because Apple Music "only" has around 60 million users who pay for the service. That writes MacRumors at this point. Including the non-paying customers who use Spotify for free, the music streamer from Sweden has around 232 million active uses worldwide. This is an increase of 29% compared to last year. According to the article, Apple should be ahead in the US and offer 28 million to 26 million.
Apple admits that Siri requests are heard by employees too
Apple wants to be a pioneer when it comes to privacy. The on-device encryption of biometric data, efforts around "Login with Apple" and so on make that clear. But now it came out - and it was confirmed by the company itself - that inquiries directed to the Siri voice assistant are partly overheard by Apple employees. As with app dangers heißt, but less than 1% of Siri activations are affected. With reference to a Post The Guardian also writes that the inquiries analyzed by human intervention are not linked to the Apple ID and that there are strict confidentiality rules for the auditors.
The Apple Watch activity rings need to be reconsidered
At least that's what Bradley Chambers means in his Post at 9to5Mac. He calls for a version 2.0 of the Rings on the Apple Watchwhich should be able to consider some special cases. The idea came to him while training for a marathon or on a day off when he wanted to regenerate his legs. On the two days before, he had run 15 miles each time. That's why he came up with the idea of ​​rest days in the training requirements of the Apple Watch, at least for people who do strong cardio or strength training. The transfer of points to the next day for above-average performance would also be good. In addition, sick days should be considered. Maybe we'll see the whole thing in the next watchOS or the one after that;)
"Look Around" in Apple cards is not coming to Germany
I got you guys last week shownthat the Apple camera cars will roll through Germany to collect material for an Apple map update in September. Part of the speculation about data acquisition was that it would also enable the "Look Around" function for German roads. How now but among other things app risks here reported, this will not be the case. Apple could keep the created material in ambush in order to publish the service for the local traffic routes after all. For now, however, the quote from the data protection supervisory authority in Bremen says: "Apple has emphatically assured that it does not plan to publish the look-around feature in Germany." There is an insight into and comparison with the "Street View" counterpart of Google Maps in this video:
Six serious security vulnerabilities in iOS closed
Google's "Project Zero" is known for finding security gaps in systems, devices and apps and then reporting them to the relevant manufacturers or providers. They then have six months to work on a solution in secret, if they choose. After the six months, Google then publishes its information on the bugs and leaks. So is it [called at ZDNet, for example, that the six vulnerabilities found in iOS were dangers that did not require any user action for attacks other than opening a message. However, the gaps in the system were closed with the iOS update to iOS 12.4 from July 22, 2019, which is why you should install this as soon as possible - if you have not already done so.
Apple Pay is growing faster than PayPal
Apple has released its numbers for the third quarter of its current fiscal year. One of the issues to be considered was Apple Pay. This is shown by 9to5Mac, for example here on. Tim Cook said that Apple Pay generates more new users faster than PayPal. The monthly transaction volume also shows a four times faster growth. The rapid growth can be explained and also positively forecast for the future, because Apple Pay can be used, among other things, to pay for public transport (in some cities in the USA).
iPhone 11 - do we need a stylus after all?
Like the Business Insider at this point reports, analysts predict the support of the Apple Pencil for the upcoming iPhone - possibly the "iPhone 11". Because the "stylus" that Steve Jobs demonized when the first iPhone model was presented in 2007 is more than the operating aids from back then. It's a tool for artists. The Business Insider relies on analysts from Citi in its forecast for the possible iPhone accessories. They also expect more powerful batteries and a constant price level. We will only have clarity about rumors, assumptions and forecasts in September after the annual keynote ...
Jens has been running the blog since 2012. He appears as Sir Apfelot for his readers and helps them with problems of a technical nature. In his free time he drives electric unicycles, takes photos (preferably with his iPhone, of course), climbs around in the Hessian mountains or hikes with the family. His articles deal with Apple products, news from the world of drones or solutions for current bugs.