The calendar says it's still summer, even if the weather in many parts of Germany feels like autumn. We can locate ourselves in terms of time, among other things, through the Sir Apfelot Wochenschau, which is available to you today, Friday, in the edition for calendar week 31 of the year 2021. Once again I have compiled some interesting Apple and tech news for you that have particularly caught my eye over the past few days. Included are z. B. these topics: security gap in CDU apps and the withdrawn advertisement, a programmable satellite in earth orbit, online store moves into focus on the Apple website, and more.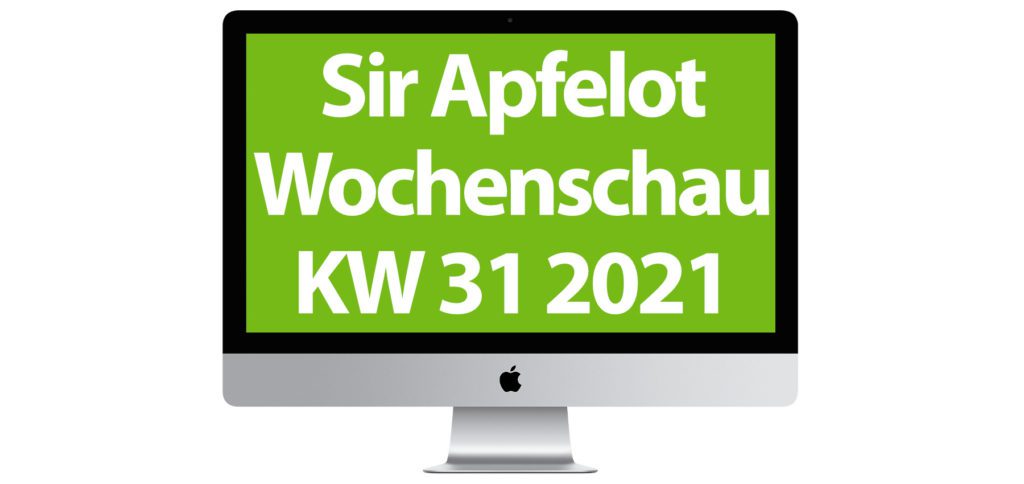 Lilith Wittmann reveals security gaps in the CDUconnect app
In the past few weeks I noticed a couple of times on Twitter that Lilith Wittmann has taken on the election campaign apps of various parties and has encountered massive security gaps at the CDU. The whole thing was reminded me of the whole thing this week by two posts on the iPhone ticker. In the first from August 4th it concerns a complaint by the CDU against the IT activist. It also shows that the Chaos Computer Club (CCC) will therefore no longer report any security gaps to the CDU and that the party will "good luck with future vulnerabilities"Wishes. That same day there was that in the evening second message, in which a withdrawal of the CDU from the display is shown.
You can find information from Lilith Wittmann on her Twitter account.
Programmable satellite orbits the earth
"First reprogrammable satellite in orbit"Is the headline of the Scinexx magazine in a current issue Entry. The artificial satellite was launched on July 30, 2021 and is to be operated for 15 years. It was developed by ESA, Airbus and Eutelsat; and according to the linked source, "Bandwidth, frequency and direction of its radio emissions at the push of a button"To be changed. If you are interested in the exact background and possible applications, then I can only recommend the article from Scinexx. There is also a YouTube video, in which the satellite called "Eutelsat Quantum" is explained again.
YouTube app with new possibilities for paying users
Speaking of YouTube, I found two messages on the iPhone ticker this week for the corresponding iOS app. For one, will shownthat there is now a lite version of the YouTube Premium subscription, which is cheaper and allows you to watch videos without advertising. However, it does not include YouTube Music. The lite subscription costs 6,99 euros, the full subscription (including music) costs 11,99 euros per month. For another, will berichtetthat the picture-in-picture option of the YouTube app should now also be available on the iPhone in Germany. Watching videos while using other apps is also only possible with a premium subscription.
Apple manager on leave after sexism complaints
Apple has been facing criticism from its own workforce lately. Not only do many employees who have been ordered back to Apple Park want to stay in the home office. There have also been allegations against Apple and individual employees for a long time based on sexual discrimination and harassment. A first internal investigation into this was initiated in 2018, but was soon closed again.
After new (partly public) allegations on the part of Ashley Gjøvik, Senior Engineering Program Manager at Apple, the issues are coming back into focus. But instead of taking her seriously, she was given leave of absence. Not good news that Apple is sending out while the company is outwardly so caring for everyone. Inside, that doesn't seem to work.
Apple is moving the store into the focus of its website
The digital Apple Store on the website of the technology giant from Cupertino is now the first menu item on the same. In addition to the individual categories Mac, iPad, iPhone, Watch, TV, Music and Support, the menu item offers an overview of the offers collected, various options for advice on buying and additional Information. There is a technical faux pas here: If you scroll up or down on the horizontal picture galleries with the mouse, nothing happens. A trackpad or arrow keys are recommended for navigation. In addition to the store sub-page, there is another new feature: On the category pages, the purchase options come to the fore in order to navigate to the purchase page more quickly.
Face ID and Touch ID in or under the display of iPhone and MacBook
One of them is about a new Apple patent, which makes it possible to use identification techniques in the display of various devices Entry by t3n. It says that a screen has been patented in which not only touch or face ID could be used, but even both in combination. The technical solution for this is also discussed. Sensors behind the display should be able to perceive the reflected light from outside through tiny openings. However, these openings in the screen panel should be small enough so that the user does not have to accept any loss in image quality. You can find more details in the source.
Larger test team for Apple's autonomous vehicles
Almost 70 of Apple's vehicles that are supposed to test autonomous driving in California have been on the road since 2017. A steady increase in the number has been observed over the past few years. It looks different, according to one Entry for the Macerkopf, for the number of test drivers. This is said to have been halved only last year. In the last few months, however, there have been new hires, so that we now have a team of 92 people. In May it should have been only 76. The new investment in vehicle testing could mean that self-driving cars have become more important again for Apple.
After graduating from high school, Johannes completed an apprenticeship as a business assistant specializing in foreign languages. But then he decided to research and write, which resulted in his independence. For several years he has been working for Sir Apfelot, among others. His articles include product introductions, news, manuals, video games, consoles, and more. He follows Apple keynotes live via stream.