Not only the summer, but also the current week is slowly drawing to a close. Starting today, Friday you will of course get a nice filled Sir Apfelot newsreel again. In the following paragraphs you will find the Apple and tech news that caught my eye in calendar week 35 of 2020. Among other things, these topics are included: Internet with 178 terabits per second, WeChat users are suing Trump, Sparkasse Girocard can now also be used with Apple Pay, the iPhone 12 camera, Mac mini with iPod dock and more.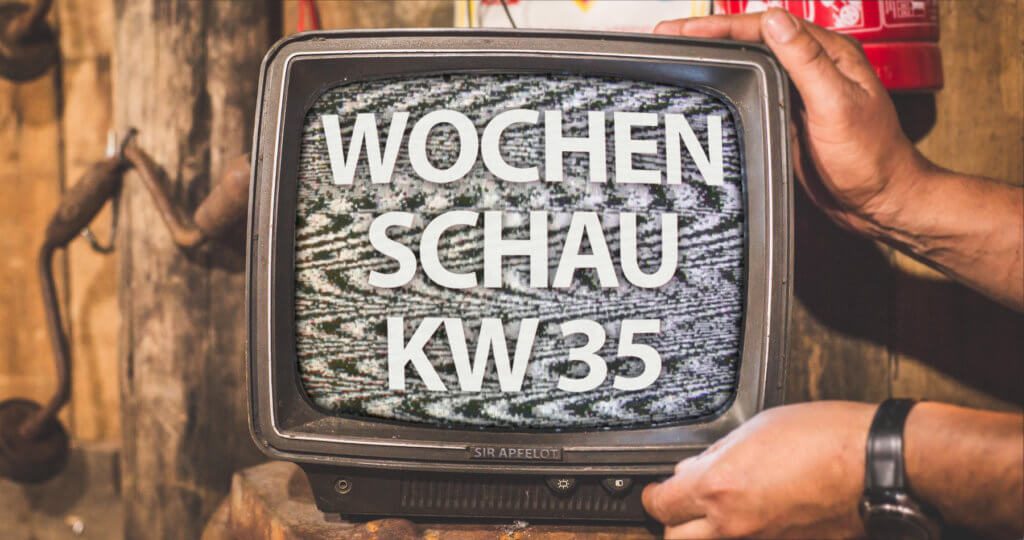 Current deals from Anker, AUKEY and Cyberport
This week I presented you with numerous articles here on the blog. In addition to new products such as the DJI OM 4 or the Nomad Base Station Pro, there were also Safari extensions for the Mac. Not all contributions will appear in the newsletter, which is why I would like to briefly refer to the deals presented this week. Here you will find technology bargains that are only eligible for a discount for a short time:
Researchers have succeeded in creating an Internet with 178 terabits per second
Like the specialist magazine t3n shows, has succeeded at University College London in realizing an internet transmission with 178 terabits per second. That's about 22,25 terabytes per second. Since this is probably an unimaginably large amount of data for most, the comparison from the linked article helps to understand: "That way [...] the entire Netflix library could be completely emptied in less than a second."Such a fast Internet is of course not intended for Netflix, but rather for research in which extremely large amounts of data have to be sent. For the data that produced the first picture of a black hole, the Internet would still need an hour at 178 terabit / s.
WeChat users are suing Trump
As is the case with the English-language source MacRumors berichtet, users of the Chinese app "WeChat" are suing the Trump administration. That's a reaction to that rather this month Proposed ban on the providers Tencent and ByteDance and their apps WeChat and TikTok. WeChat is one of the most important apps for the Chinese population as well as Chinese or relatives outside of China. The original chat service has functions such as mobile payment and, in addition to Chinese, can also be used in English, German, Polish and other languages. The plaintiffs in the USA want to take action against the ban with the argument that it is directed against the freedom of expression promised by the constitution.
Hidden front camera from Xiaomi - New generation even better
Like Golem, for example shows, the Chinese technology manufacturer Xiaomi has presented a new generation of cameras integrated in the display. In comparison shots (see linked source) it becomes clear that this significantly improves the quality of the photos. There is practically no difference to cameras that are not installed under a display. "According to Xiaomi, the camera technology should be mature enough to go into mass production", is it [called. However, it is not yet known when the first Xiaomi smartphones with a completely concealed front camera will come onto the market.
Apple Pay now also with the Sparkasse Girocard
Both at t3n (here ) as well as app dangers (here ) I read that you can finally add the so-called Girocard of the Sparkassen to Apple's payment service. For the time being, however, this only extends the option of paying in retail. In order to be able to use mobile payment within apps or in online shops via the Safari browser, you still have to wait. These functions should only be available from 2021. It is also pointed out that the data transmission could be more secure. When paying with the Girocard z. B. the card number called PAN is not communicated via tokens, which means that the IBAN and thus also the account number can be read out.
News about the camera in the Apple iPhone 12
The new camera technology in the iPhone 12 - or at least in the Pro or Max version of the upcoming Apple smartphone - should bring higher resolutions, better slow-motion recordings and other new features. Netzwelt reports at this point and refers to the insider and leaker Jon Prosser. According to him and the linked post, z. B. the autofocus can be accelerated and improved by using a LiDAR sensor. This should have a positive effect on portraits with blurred backgrounds or other photos Bokeh effect affect. For the first time, "butter-smooth slow-motion recordings" should also be possible, since videos in 4K resolution with up to 240 fps should be possible. It is not yet clear whether this applies to all models or only to the "big ones".
Xcode projects infected with malware could end up in the App Store
Like last week reported in the Sir Apfelot newsreel, malware is currently making the rounds that uses Apple's developer software Xcode to inject specific malware from the XCSSET family into Mac apps. This happens without the knowledge of the respective developers. As MacRumors is now explaining, projects infected with the malware could also get into the Mac App Store and thus onto end devices. The malware can e.g. B. nest in web browsers to steal data, read cookies and exploit JavaScript. It can also run apps like Skype, Evernote, Telegram, Notes, WeChat and similar infiltrate to extract data, take screenshots, upload files and more. The malware is also said to run on new Macs with an Apple Silicon chip. Users should therefore pay attention to conspicuous and repetitive security notifications under macOS.
Mac mini with iPod dock: old prototype leaked
In a current one Post indicates app dangers to the Twitter profile @DongleBookPro down. There are always pictures or other documents about prototypes, test devices and drafts that never made it onto the market. In one of the more recent tweets, this includes an old Mac mini (still with a disc drive) with a slot for an iPod on the top - an old model with a 30-pin connector. The prototype shown could be from the early years of the Mac mini (2005 or 2006), when speakers and stereos with iPod docks were in vogue. As with app dangers, I have a follow-up recommendation for @DongleBookPro on Twitter, as there are always interesting insights into Apple's past.
EVT Mac Mini, with iPod dock. Totally scraped project that never saw the light of day pic.twitter.com/fSm1m31fhX

- Dongle (@DongleBookPro) August 22
I stopped by MacRumors again Entry discovered, which revolves around a supposedly leaked manual for a new iPad. These are supposed to be the instructions for the iPad Air 4, the screen of which should extend over (almost) the entire front. The Apple tablet equipped with USB-C should therefore have a home button, but not do without Touch ID. Rather, the fingerprint sensor should be located in the on / off switch on the top. This is also described in the Spanish-language manual; Face ID does not appear in it. In addition to USB-C as a physical interface, a Smart Connector is also shown, which could make the tablet connectable to the Magic Keyboard. The iPad Air 3 has been available since March 2019; an update is possible soon.
After graduating from high school, Johannes completed an apprenticeship as a business assistant specializing in foreign languages. But then he decided to research and write, which resulted in his independence. For several years he has been working for Sir Apfelot, among others. His articles include product introductions, news, manuals, video games, consoles, and more. He follows Apple keynotes live via stream.