It's September, soon Apple will present its novelties. Then we will see which rumors are true and which were just rumors and wishful thinking. But before that, there is the well-loved Sir Apfelot newsreel today. In this issue you will find the Apple and tech news that particularly caught my eye in calendar week 35 of 2021. These topics include: Telegram with live stream function, release date for Windows 11, Wahl-O-Mat is online, new strategy for Martian rock samples, developments related to in-app purchases in the iOS App Store, new information about the Apple Car, and more.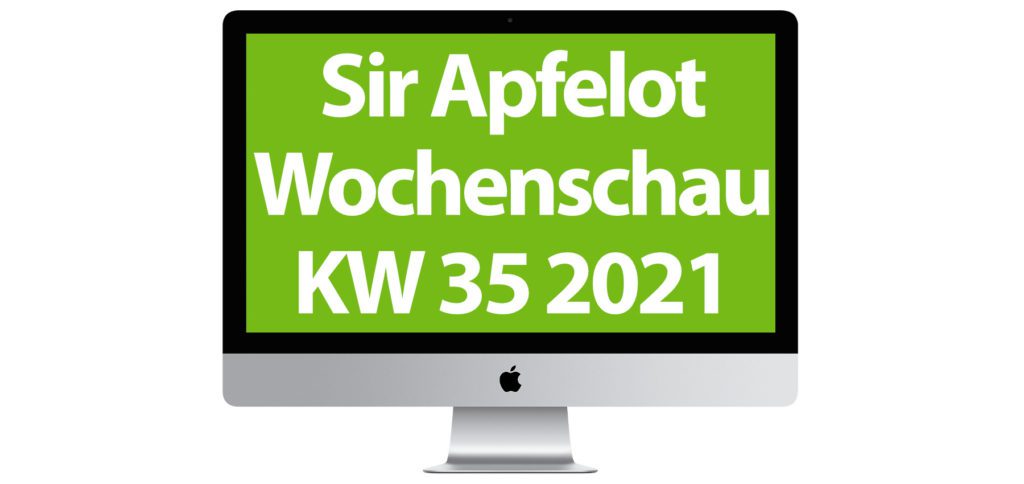 Livestreams at Telegram: viewer limit lifted
The messenger app Telegram is gradually being transformed into a social media platform. One of the last steps in this direction was made with the ability to stream live video. These were previously limited to a limit of 1.000 spectators. But how it is currently in a Entry from the iPhone ticker, this limit has been lifted. "From now on, live streams and group video chats via Telegram can have an unlimited number of viewers", You can read in the linked post. If you don't just want to watch or listen, you can raise your virtual hand for larger streams to register for requests to speak and to be activated.
Windows 11 upgrade will be rolled out from October 5, 2021
In the last few weeks there have been reports about Windows 11, new functions, the new design and so on. An official release date for the new, large operating system from Microsoft has now been set. Windows 5 can be purchased from October 2021, 11. Compatible PCs with Windows 10 can also install the new system with a free upgrade. However, the rollout for the upgrade should not happen in a rush. Microsoft could take its time until mid-2022, it says in one Articles from heise online. Important note: it will not be possible to run Android apps at the start.
If you want to see which party represents what percentage of your opinions and wishes, then you can now use the Wahl-O-Mat again. By means of various questions and theses, to which one can answer or for or against which one can decide, it is calculated which party suits one best. This can help with the voting decision. The election to the 20th German Bundestag will take place on September 26, 2021. The Wahl-O-Mat website can be found with this link. I have articles on the topic this week, for example. B. at heise online (here ) and t3n (here ) found.
After unsuccessful drilling: New strategy for recovering Martian rocks
"The first attempt to take rock samples from the Martian soil was not particularly successful", It says more or less diplomatically in the introduction of a Article on the topic at t3n. There is not only a review of the mission that failed on the first attempt, but also information about the new attempt. A nine-step strategy should therefore ensure that everything runs smoothly the next time you try. To do this, a drive is made to the extraction site, the environment is analyzed, an initial drilling is carried out and then analyzed again. Then the second drilling, the rock extraction, the sampling and the sealing of the interior of the Mars rover Perseverance takes place.
In-app purchases in the iOS App Store: The compulsion is starting to crumble
All over the world, states and confederations of states are calling for apps on the mobile systems of Apple and Google not only to be purchased via the App Store and Play Store. Last week we already had one corresponding legislative proposal in South Korea reported. The concept paper has now become a law, like MacRumors here shows. Meanwhile, 9to5Mac goes with one Post on developments in Japan and India. Then there are the demands at the US and EU level. What do you think? Will the app store model for subscription and other purchases in mobile apps develop into a multi-market model everywhere in the medium term?
"Reader" apps can be managed outside of the app store
Like Apple itself yesterday with one press release reported, the Japan Fair Trade Commission (JFTC) has ended its investigation after the company gave in. Apple now enables developers of so-called reader apps to incorporate links to external pages in their apps, on which accounts can then be set up and managed. What sounds very theoretical, in practice means, for example, that you can go to the Netflix page from the Netflix app in order to create an account and take out a subscription. This is then cheaper than the in-app purchase, as there are no app store fees.
"Although the agreement has been made with the JFTC, Apple will implement this change for all reader apps in the App Store worldwide", You can read in the linked source. There is also an explanation of what kind of apps it is (in addition to streaming offers): "Reader apps offer previously purchased content or subscriptions to digital magazines, newspapers, books, audio, music, and video content."Of course, the whole thing is being sold as a positive development that Apple is actively promoting. However, one can read between the lines that Apple is doing the whole thing against its own, previously expressed will.
Mac App Store: Developer interest is falling
For over 10 years, the Mac App Store has offered the option of submitting programs for macOS, having them confirmed by Apple and then offering them via the shop solution implemented on the Mac (i.e. via the Mac App Store). While the concept is still working on the iPhone and iPad and there are still a large number of new additions for iOS and iPadOS, the developers' interest in the macOS solution seems to be declining. 9to5Mac (English) and iFun (German) a. It is based on analyzes by AppFigures, which show a decline in new additions since April 2021.
Production of the Apple Car from 2024: Apple allegedly in talks with Toyota
With reference to DigiTimes schreibt including MacRumors that Apple should be in talks with Toyota. This allegedly involves the mass production of a car under the name of the iPhone manufacturer. This should start in three years, i.e. from 2024. Such discussions are important, it is shown, because it is a completely new product category and thus also a completely new supply chain for Apple. It makes sense that an experienced manufacturer is called in for this. The Apple Car topic does not seem to be off the table yet, we remain excited.
After graduating from high school, Johannes completed an apprenticeship as a business assistant specializing in foreign languages. But then he decided to research and write, which resulted in his independence. For several years he has been working for Sir Apfelot, among others. His articles include product introductions, news, manuals, video games, consoles, and more. He follows Apple keynotes live via stream.