It's Friday again, time for the Sir Apfelot newsreel again. This week I'll show you which Apple and tech news caught my eye in calendar week 37 of 2020. Among other things, these topics will be included: more action against fake news in social media, digital discount on Facebook, new Apple event on Tuesday, new Apple store in Singapore, details on the Xbox Series S, new rumors about the Nintendo Switch with video output in 4K -Resolution, and more. If you still have an interesting message in stock, please leave a corresponding comment;)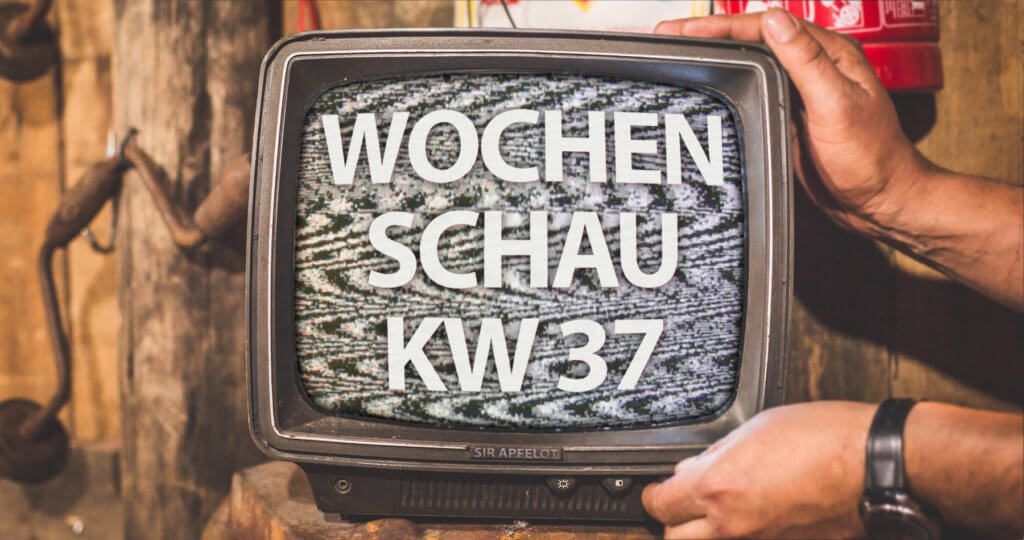 EU takes stronger action against fake news
Fake news - that can be harmless false reports and ducks, but also dangerous false claims, conspiracy stories and the like. The EU Commission now wants to take stronger action against the latter; like it in a Entry von heise online means, especially on Facebook, Google and Twitter. Accordingly, the two-year-old self-regulation code, which is enforced on the platforms on a voluntary basis, is no longer enough. It is not adequately implemented in the fight against disinformation. In addition, new, stricter regulations are to be adopted against new dangers and actors. Details can be found in the linked source.
Facebook must give heirs access to the accounts of the deceased
It was like in a Articles from Golem is to be read, Facebook must give the relatives of deceased users the opportunity to access the user account and thus the profile. The precedent presented was about the user account of a 15-year-old from Berlin. She died in 2012, and her parents have been campaigning in court to get Facebook access to her profile ever since. The Federal Court of Justice (BGH) ruled in 2018 that the girl's digital inheritance was to be handed over - Facebook only understood this to be the account data, i.e. around 14.000 PDF pages on a USB stick. In the new ruling, the BGH specified that access to the Facebook account must also be part of it.
ARTE app with a new design is easier to use
The media library app of the Franco-German TV broadcaster ARTE has received an update that has a new design and therefore better functionality. I recently did that in one Entry read of app threats. in the App Store you can read about the current version 5.21.3 that, in addition to the new, user-friendly design, there is now also the option of reducing the streaming quality, e.g. B. to save data volume on the go. The ARTE media library, in which you can find documentaries, reports, concerts, indie films and the like, has a rating of 4,7 out of 5 stars as an app for iOS. It's about downloading ARTE content in this guide.
[appbox app store id405028510]
Apple Special Event on September 15, 2020
Whether it is in September this year Apple event would give was discussed at length. After all, there should be delays in the production and thus also in the release of the iPhone 12. But now it's certain: On September 15, Apple will be sending a keynote from Cupertino's Apple Park to the world. As I already do at this point showed, it may well be that the new iPhone won't play a role in this. Since the event has the slogan "Time Flies", the focus could just as well be on the Apple Watch. It is questionable whether the iOS 14 operating system will be rolled out if there is no smartphone. You can find the stream on Tuesday from 19:00 p.m. here: https://www.apple.com/apple-events/.
New Apple retail store with a unique design in Singapore
The new Apple store in Singapore reminds me a bit of that AUKEY lamp that I tried in 2017. The technology giant from Cupertino has the new store "Apple Marina Bay Sands" in the form of a press release as "most ambitious[s] Retail project"Presented by the company. It is namely "the first Apple Store that is directly on the surface of the water". It also offers an all-round panoramic view of the city and its skyline. The self-supporting dome consists of 114 pieces of glass and covers the so far third Apple Store in Singapore. In the linked press release you will find photos of the two levels as well as further details. Here still Video, which shows the store in moving images:
Rumors confirmed: Xbox Series S announced as budget console
The Xbox Series X, the next-gen console from Microsoft, has been known for a long time. With pictures of a controller packaging, on which the compatibility with an S-model became known, one could finally be sure that there will also be a cheaper S-version in addition to the X-. Corresponding rumors have now been confirmed, such as Netzwelt here reported. The fact that the budget model does not support 8K, but "only" 4K (as well as 1440p at 120 fps), that shouldn't bother most people. What makes it significantly less attractive is that it doesn't offer a physical drive for games, Blu-rays or the like. Instead of 1 TB of storage, there is only 512 GB. But it should only cost about 300 euros. Here the official trailer:
Pre-order date, release date and prices of the new Xbox models
Also at Netzwelt I have another one Entry found more information on the topic. The two consoles Xbox Series X and Xbox Series S should be available for order from September 22, 2020. Delivery and retail sales will start on November 10, 2020. The price for the Xbox Series X is 499,99 euros. The price for the Xbox Series S is 299,99 euros. The Game Pass, which offers numerous games in the affordable subscription model, also includes "EA Play" free of charge. EA Play includes games such as Battlefield, Command & Conquer, Dead Space, FIFA, Madden NFL, Mass Effect, Need for Speed ​​and others in different years.
New Nintendo Switch with 4K support from 2021?
Another Message, which revolves around a new (or revised) console, I found at 4Players. With reference to Bloomberg, it says (here ) that game studios have been encouraged by Nintendo to make their titles 4K-capable. Rumors of a new Nintendo Switch have been around for a long time - after all, the hybrid console was launched in 2017 and only received a small update in 2019. The Switch has no place in the current console race from Microsoft (Xbox Series X) and Sony (PlayStation 5). A release of the 4K version in 2021 sounds reasonable. There is still no official statement from Nintendo. By the way, the "Legend of Zelda" series will be 2021 years old in 35, which is why actions and remakes are to be expected - similar to the current Super Mario.
After graduating from high school, Johannes completed an apprenticeship as a business assistant specializing in foreign languages. But then he decided to research and write, which resulted in his independence. For several years he has been working for Sir Apfelot, among others. His articles include product introductions, news, manuals, video games, consoles, and more. He follows Apple keynotes live via stream.