After German Unity Day, this year will be one thing above all else: Friday. The Sir Apfelot Wochenschau does not get a bridge day, so today I am presenting you with the latest Apple and tech news. In the following you will find those topics that caught my eye in calendar week 40 of 2019. Also included are: Checkm8, iPhone SE 2, Apple Card in Germany, Oktoberfest and other news.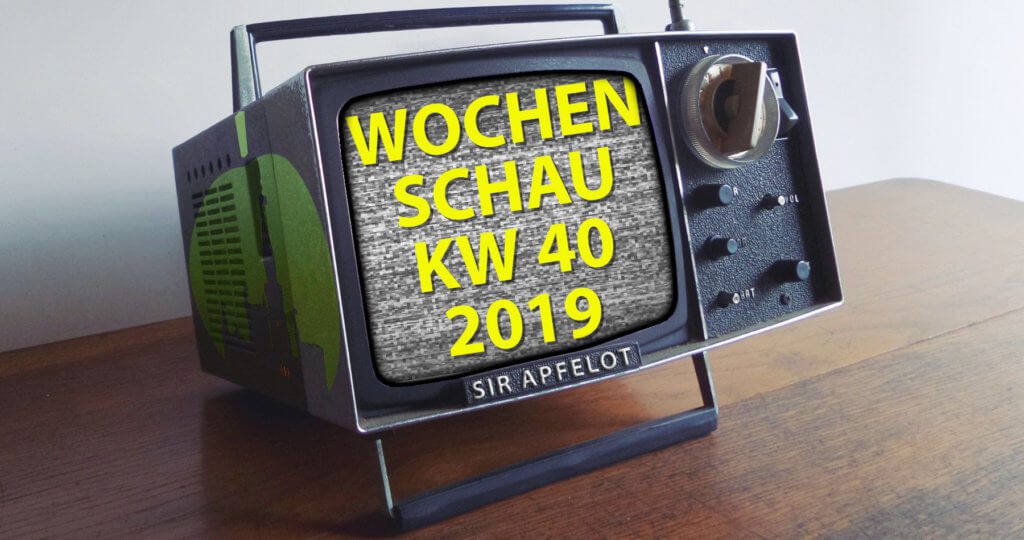 Checkm8 - security hole on iPhones up to 8 and X
As several sources have reported, older iPhones up to the 2017 models are affected by a security hole that cannot be closed, known as "Checkm8" (checkmate). Among other things, Spiegel Online points at this point point out. What exactly Checkm8 is all about, I have for you in this post summarized. In it I'll also show you why you don't have to panic about it. If you want to create more security for your data on the Apple iPhone, I have also explained that here: Set alphanumeric code in iOS.
No more "Google Play Music" - YouTube Music becomes the Android standard
A lot will soon change on the Mac, not just for iTunes friends; Even those who tend to be in the Android area and listen to music with appropriate devices have to get used to it. At least on devices with Android 9 and 10, YouTube Music will be preinstalled as the method of choice. Google Play Music will still be available as an app in the Play Store, is it [called on the official YouTube blog, but the app will no longer be preinstalled. It is foreseeable that the YouTube music app will completely replace the Google name offer in the medium to long term.
Apple iPhone SE 2 is slated to hit the market in 2020
The Apple iPhone SE 2 should already be available in the first quarter of next year - at least you can read at MacRumors. There one refers to the speculation on the analyst Ming-Chi Kuo, who ascribes the smartphone a similarity to the iPhone 8. A faster A13 chip and 3 GB of RAM should be used in it. Whether it will be called the iPhone SE 2 or will introduce a new name (Air, Light or something else contrary to "Pro") is not clear. The iPhone SE2 is intended to address those users who have not yet wanted to buy an update from the iPhone 6 (Plus). Apple could use it to diversify its services like tv + and Arcade even further.
The next generation of Apple AirPods with in-ear design?
Apart from the lack of a cable, the Apple AirPods are still quite similar in design to the EarPods. Like it among other things with app threats with reference to MacRumors, there is an icon in the beta version of iOS 13.2 that could indicate a new design of the AirPods and thus a new generation of wireless headphones. As you can see on the graphic, in-ear plugs are indicated that can suppress ambient noise and provide a better grip - is the new generation called "AirPods Sport"? It should be the first pictures of the housing of the new AirPods (still without in-ear membranes, but matching holes) at this point on the Japanese page 52 give audio.
When will the Apple Card come to Germany?
Also with app risks there is the hint to the fact that the Apple Card should come to Germany. During his visit to Germany, Tim Cook, Apple's CEO, said that the company would like to offer the card everywhere. However, since it is a banking product, the individual regulations must be complied with in each country. Apple explicitly wants to bring its own credit card to Germany; when that will be the case is still in the stars. Incidentally, it is also mentioned that Apple is satisfied with the sale of the iPhone 11 and that the models had a "very strong start".
Tim Cook visits Germany and France
Among other things, with the Oktoberfest and a visit to the Algoriddim developer studio in Munich, Tim Cook was able to tick off a few stations in Germany. He also met with a local Apple design team. Like MacRumors berichtet, he is said to have traveled to Berlin to meet the people behind the Blinkist app. You can find details about the app here in the blog: a review as well as Alternatives and Instructions. In addition to Germany, Tim Cook also visited France, according to the linked MacRumors article. Tim Cook's tweets on the individual stations are also integrated there.
Mario Kart Tour: App success in the first week
The latest Nintendo app for iOS and Android called "Mario Kart Tour" brings the fun racing classic to your smartphone. Since the first title "Super Mario Kart" for SNES in 1992, the series has been a pioneer in its genre; with considerable representatives on all systems from Nintendo 64 to GameCube and Wii to Nintendo Switch. And mobile success does not stop, like NintendoLife, among others reported yesterday: In the first week there were around 90 million downloads worldwide. In addition, impatient players who did not want to earn the benefits of some items, but wanted to buy them, have already spent over 12,7 million US dollars on in-app purchases. But don't worry: the game from the App Store and Play Store is also completely free fun;)
[appbox app store id1293634699]
[appbox googleplay com.nintendo.zaka]
After graduating from high school, Johannes completed an apprenticeship as a business assistant specializing in foreign languages. But then he decided to research and write, which resulted in his independence. For several years he has been working for Sir Apfelot, among others. His articles include product introductions, news, manuals, video games, consoles, and more. He follows Apple keynotes live via stream.