It's autumn, it's getting colder and it's Friday - perfect for a cozy Sir Apfelot newsreel. In addition to the many messages, instructions and advice on macOS 10.15 Catalina, which dominated the blog this week, there are other messages. In the following you will find the Apple and tech news that caught my eye in calendar week 41 of 2019. These include: PayPal phishing, WhatsApp vulnerabilities, Darknet bunkers in Germany, phone calls with Windows computers, Twitch on Apple TV, Red Dead Redemption 2 on the PC and a few more!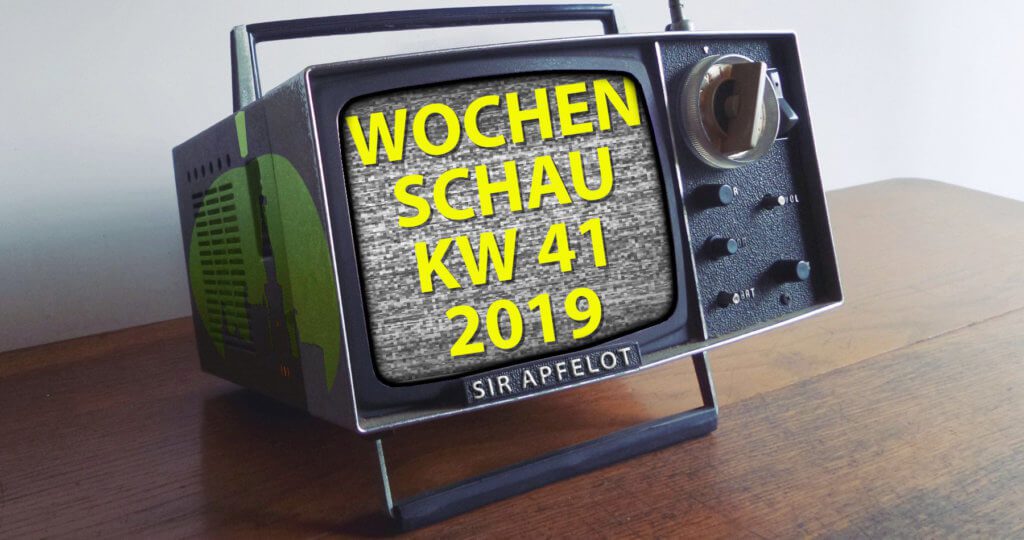 PayPal phishing: fake emails keep getting better
Among other things, Netzwelt indicates current phishing emailssent on behalf of PayPal. "Fake emails on behalf of PayPal look deceptively real in October", It says right at the beginning. Among other things, the official logos of the payment service are used; In addition, there are no gross linguistic errors that could directly reveal the emails. By the way, the subject is "Account not active", the mail then claims that the user account has been restricted. An old scam that quickly causes panic and rash action in many recipients of such emails. Stay calm with such an email, register regularly (without a link from the emails!) At the service, check your account there and call support if necessary.
WhatsApp vulnerabilities on Android
Also Netzwelt (here ), but also other sources (here ), have warned of a security vulnerability in WhatsApp that mainly affects Android users. The leak in the messenger software ensures that hackers can influence the smartphone using a modified GIF graphic. The attackers can access messages and images, among other things. There is already a remedy, however, and it is as simple as it is logical: an update of the WhatsApp app via its settings or the Google Play Store. It can also help to prohibit the automatic download of media in the settings and only download images, videos and the like from contacts you know (manually).
From the Bundeswehr to the Darknet: Police are digging up data bunkers
Like Spiegel Online, for example berichtet, a data center was excavated in an old Bundeswehr facility that was sold to a privately run company. The police discovered a data center for Darknet offers. How did it come about that the Darknet servers could be stationed in the former Bundeswehr bunker? Due to the cost savings for maintaining a vacant space, the property should be sold quickly after it has been used. For lack of alternatives, it was sold to the operators of the questionable computing and storage centers. The whole story with further details can be found in the linked post.
Telephone calls with the Windows computer
It's nothing new to Apple users to make calls on their Mac when their iPhone is paired. If you use Windows on your PC, you will only get this feature now, currently in a corresponding preview of Windows 10. Android smartphones from Android 7.0, such as Golem, can be coupled berichtet. The Windows preview is Insider Build 18999; This contains the function called "Calls", with which calls can be made. The prerequisites are a connection via Bluetooth and Windows with a build of 19H1 or newer. Further details can be found in the linked article.
Is humanity ready for extraterrestrial life?
At Futurezone you always get interesting information on space travel topics; For example, on two Mars rover models that will jointly search Mars for signs of life from 2021 onwards. You can find the contribution to it here . This also raises the question of whether humanity (in parts or as a whole) is even ready for such discoveries. For example, the NASA chief scientist Jim Green is quoted, for whom such a discovery with the necessity of "completely new way of thinking"Goes hand in hand. It also says: "I worry about this because I think we are about to make some announcements."- What do you think about that? Feel free to leave a comment ????
Twitch tvOS App - streaming service now also on Apple TV
In addition to Google's YouTube, the live streaming platform "Twitch", which belongs to Amazon, is one of the largest providers of Let's Plays, lifestyle streamers, e-sports broadcasts and similar things. The platform and its app should be spread accordingly so that they can be accessed from as many systems and devices as possible. Like iTopNews, for example berichtet, the application for receiving and playing back the streams is now also available for tvOS on the Apple TV. A third-party download is of course not necessary for this; you get the Twitch app officially from the App Store (also for iPhone and iPad).
[appbox app store id460177396]
Apple's environmental balance sheet: On the right track, but lots of construction sites
In times of the climate crisis, the protests of Fridays for Future and the actions of Extinction Rebellion, the question of how environmentally and climate-friendly (large) companies actually are is legitimate. Tech.de has now made a contribution to the environmental compatibility of Apple products at this point released. Among other things, the raw materials used are discussed, but also packaging, ethics in the supply chain, and so on. The conclusion is relatively positive, as Apple - thanks to ambitious, self-set goals and milestones already achieved - is on the right track. Nevertheless, a few construction sites are shown that are still waiting for completion.
Red Dead Redemption 2 on PC
After the developer Rockstar Games launched its own game launcher for the PC (mentioned here), it was actually clear that the console favorite "Red Dead Redemption 2" would finally be playable with a mouse and keyboard. Now you can actually save the game via the launcher - individual details from the system requirements are interesting: in addition to an average of 8 GB (at least) or 12 GB (recommended) RAM and a good graphics card, there is no less than 150 GB of memory on the hard drive needed. For comparison: GTA V requires around 65 GB of memory; Cyberpunk 2020, which will be released in 2077, will require around 4 GB (on the PlayStation 80).
New Nintendo Switch should appear without handheld function
And another message from the world of video games: For example PCGames shows, the second version of the Nintendo Switch (perhaps a completely new console) could come without a handheld function. That would mean that the mobile gaming fun is limited to the Nintendo Switch Lite limit and the "Nintendo Switch 2" should only be responsible for the TV mode. The disadvantage: you need two consoles for at home and on the go. The advantage: the mobile downscaled games can be played at home with the same module in higher quality - via online service even with the same memory level. It's still better than before with Wii and Nintendo DS. Or what do you think about it?
After graduating from high school, Johannes completed an apprenticeship as a business assistant specializing in foreign languages. But then he decided to research and write, which resulted in his independence. For several years he has been working for Sir Apfelot, among others. His articles include product introductions, news, manuals, video games, consoles, and more. He follows Apple keynotes live via stream.