Friday is newsreel day here at Sir Apfelot's. And today we make no exception. In today's Sir Apfelot newsreel, I'll show you the Apple and tech news that caught my eye in calendar week 41 of 2022. Included in this colorful bouquet are the following messages, among others: Reporting requirements for income on online platforms, network operators are lagging behind the expansion target, robot manufacturers speak out against the use of weapons, Netflix announces advertising subscription, Apple tv + should also get advertising subscription , Apple Store is getting ready for the iPhone 15, and more.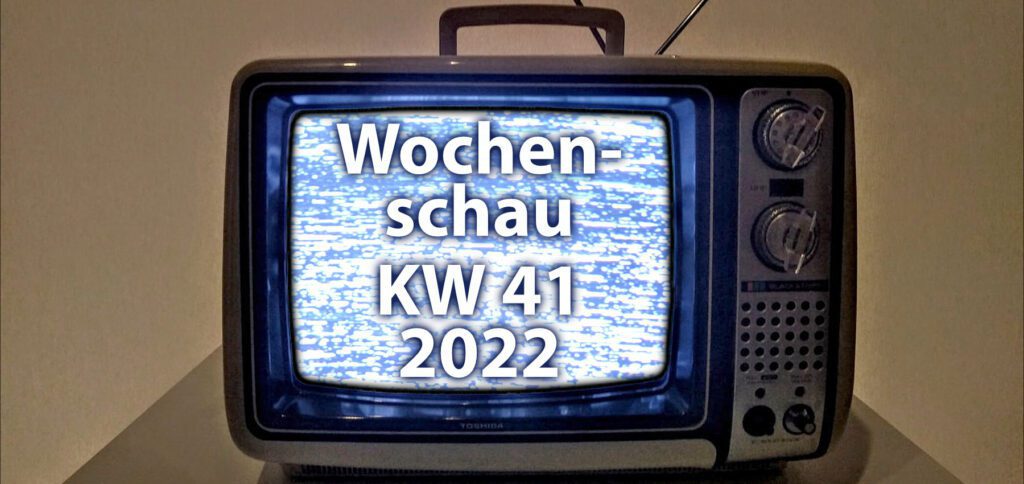 Airbnb and Co.: Income should soon be reportable
In Germany and the rest of the EU, online platforms such as Airbnb or Uber are to be obliged to provide identifying information about users and their transactions. iFun points this out in a Entry there. Income from the rental of premises, from taxi services and the like should no longer be able to be smuggled past the tax authorities. The linked source shows that the "Law implementing Council Directive (EU) 2021/514 of March 22, 2021 amending Directive 2011/16/EU on administrative cooperation in the field of taxation and on the modernization of tax procedural law" would also be applicable to eBay, Shopify, Etsy and Co.
Expansion requirements: network operators supply 89 instead of 600 additional regions
At iFun's sister portal, the iPhone ticker, is it [called meanwhile mockingly: "If you only look at the press releases of the German mobile phone providers, you quickly get the impression [you] would do nothing day in and day out but set up new base stations [...]". The fact that the reality is quite different becomes clear in the next paragraph. Referring to one Articles The Handelsblatt explains that the expansion requirements for 2019 locations (600 per provider Telekom, Vodafone and Telefónica) formulated in 200 cannot be met by the end of 2022. A total of only 89 locations were expanded (as of August 2022) - 6 by Vodafone, 22 by Telekom and 61 by Telefónica.
Boston Dynamics and Co. commit to gun-free robots
It's no secret that robots like "Spot" from Boston Dynamics are already being used by the police and military. Recently there was also information that the robot dog and Russian replicas were equipped with weapons by third parties. Well we with one open letter reacts, which was drawn not only by Boston Dynamics as a subsidiary of the Hyundai Motor Group, but also by Agility Robotics, Anybotics, Clearpath Robotics, Open Robotics and Unitree. It shows that the manufacturers will not equip their robots with weapon hardware or software and will also prohibit users from doing so. Where possible, potential customers should be checked (which is a rather vague statement).
The end of "Office": Microsoft 365 as the future official name
"Microsoft Office" is known to many as a package for office and business applications such as Word for word processing, Excel for spreadsheets, Outlook for e-mails and PowerPoint for boring colleagues. The name given to the app collection in 1989 is now to be relinquished and make way for the "Microsoft 2011" subscription introduced in 365 (which was still called "Office 2020" until 365). In addition to the name change, which should not affect the apps or their functions, heise online has a Post to the logo change. It is also shown the official FAQ, which answers questions about Microsoft's transition.
Meta Quest Pro: Facebook parent's MR headset released
While there are currently only rumors about Apple's mixed reality headset, which is supposed to combine virtual reality (VR) and augmented reality (AR), Meta has released the "Quest Pro" headset. Made for (semi) virtual experiences, this headset offers four times the resolution of the Quest 2 and is backward compatible with the applications of the previous models. In addition to a Snapdragon XR2+ processor, ten VR/MR sensors, 12 GB of RAM and 256 GB of storage space for apps and other content are also installed. According to the official site the device seems to be designed less for gaming and more for creative and office applications as well as virtual co-working.
Netflix will offer its promotional subscription starting November 3, 2022
In a total of twelve countries, including Germany, Netflix can be used from November 3, 2022 with an advertising-financed tariff that is cheaper than the other subscriptions. Only 4,99 euros are called up monthly for it. In addition, the resolution in the basic subscription (for 7,99 euros per month) as well as in the advertising subscription increases from 480p to 720p HD. I have these details in one Entry found online by heise. Information on the amount of advertising can also be found there: four to five minutes of advertising can be displayed per hour. And: Not the complete Netflix catalog will be available. "A limited number of films and series will not be available for licensing reasons", is it [called.
Is Apple also planning an advertising-financed subscription for tv+?
After Disney+ and Netflix, Apple tv+ will continue to have a tariff that is cheaper than the regular offer, but will include advertisements. But it could also be free streams framed by advertisements. Digiday shows that in one go Articles on. Todd Teresi, the manager responsible for Apple's advertising department, is said to have already held several discussions with the relevant agencies. By the way, you can find a German summary of the information given by Digiday in one Post by iFun. There, consideration is given to whether a free but promotionally effective offer kills two birds with one stone: more advertising revenue and winning over potential subscribers to fee-based tariffs.
Apple vs. Unions: Organized workers get no benefits
Those who are unionized in US Apple stores are not given the newly introduced benefits such as educational bonuses or health insurance. That's what it says this week, among other things, in one Post at heise online, which in turn refers to Bloomberg. Specifically, it is Apple's first unionized store in Towson. "The decision that has now been made not to grant new benefits to Towson could further fuel the conflict, as it can be interpreted as a retaliatory measure' the linked source says. The fact that the procedure is not uncommon in the USA (Starbucks was mentioned as another example) does not make things any less bad.
Apple Store in England is already getting ready for the iPhone 15
In a Post MacRumors also has information about an Apple Store in England. At the Apple store in Milton Keynes (located between London and Birmingham), employees are said to have been instructed not to take vacation between September 15 and October 7, 2023 and between December 2, 2023 and early 2024. Such or similar instructions usually only come relatively shortly before an iPhone release - but the new 15 series seems to be able to generate an unusually high number of store visits. The executives claim that the instruction came from a higher management position, but the employees concerned are not so sure, it is said.
iPhone accident detection goes haywire on the roller coaster
Accident detection as a function of the iPhone 14 series and the new Apple Watches can save lives on the road. On the roller coaster, however, she can mistakenly recognize a crash and thus trigger an emergency call. Several media have reported this since the weekend, including MacRumors with one Post . That's why I would like to give all roller coaster fans among you a quick guide to deactivating (and later reactivating) accident detection on the iPhone: iPhone 14 Accident Detection - Enable and Disable in Settings. This ensures that you do not accidentally call for an ambulance in the amusement park.
And have a nice weekend! :)
After graduating from high school, Johannes completed an apprenticeship as a business assistant specializing in foreign languages. But then he decided to research and write, which resulted in his independence. For several years he has been working for Sir Apfelot, among others. His articles include product introductions, news, manuals, video games, consoles, and more. He follows Apple keynotes live via stream.