There's another Sir Apfelot newsreel coming up, because: it's Friday. In the following you will find the Apple and tech news that caught my eye in calendar week 42 in 2019. In addition to some topics related to the technology giant from Cupertino, robots, Android 10 and one or two video game reports are also included. Without addressing the corresponding simulator, we will also briefly talk about technology in agriculture. Do you have any other interesting news ready? Then please leave a corresponding comment;)
Only until Sunday: AUKEY voucher codes for Amazon!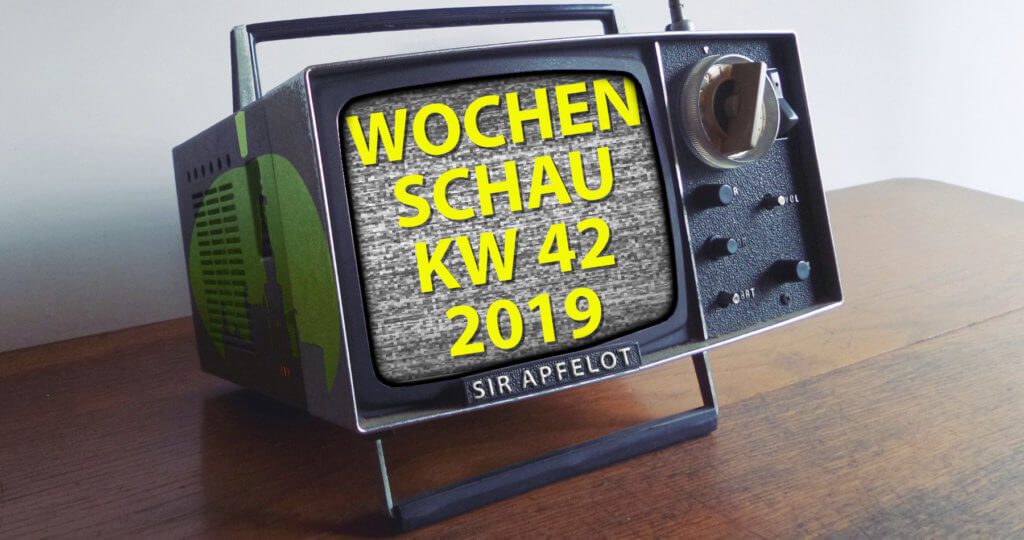 Electronics retailer Conrad tests robot salespeople
Like t3n berichtet, Conrad relies on humanoid support in a Berlin branch. The robot salesman "Alex" is active around the clock and is supposed to help those buyers who decide to buy technology at night, among other things. The selection and interaction options are still extremely limited, as there are only 36 items available in the robot kiosk. In addition, although the robot has twelve different facial expressions graphics ready, it is not yet possible to speak of empathy in conversation or individual purchase advice. By the way, Alex von Conrad is not the only robot at technology salespeople; According to t3n, Saturn has had an advisor bot at the start for three years.
These smartphones get the Android 10 update
Also at t3n I discovered a list of Android smartphones that are currently updated to Android 10. The list includes models from Google Pixel, Samsung, Huawei, Honor, HMD Global / Nokia, OnePlus, Lenovo / Motorola, Sony, Xiaomi and others. So if you want to know whether your Android smartphone or device is getting the 10 version from someone in your Android-affine environment, then take a look here .
Promotion of agricultural technology by the federal government
In einer short message Deutschlandfunk shows that "according to the Minister of Agriculture Klöckner", a total of 14 projects will be given 50 million euros over the next three years. Techniques for agriculture are to be developed in order to achieve more precise sowing and fertilization, for example through the use of sensors and / or satellite-supported systems. Modern equipped tractors and other agricultural vehicles or machines already work extensively with GPS and other systems. It is exciting to see how the possibilities in this field will develop.
Safari on iOS sends data to a Chinese Tencent company
In the past few days, the news that the Safari browser used under iOS was also exchanging data with the Chinese company "Tencent" caused a stir. Then there was a lot of criticism. As with the cooperation with "Google Systems", it is now said in an official statement from Cupertino, but the data exchange only serves to warn of potentially dangerous websites. Tencent is only used when users select China as the country when setting up the iPhone. The initial excitement could be put into perspective. You can find more information and background information as well as Apple's statement at PocketPC.
Apple doesn't want to mess with China either
Apple and China again: After the scandal surrounding a Hearthstone player who expressed himself critical of China's actions in Hong Kong in an interview, the entire entertainment industry has now been examined in some places for companies and actors who do not have opinions or representations want to offend China. When creating its "tv +" content, Apple is said to have made sure that nothing is included that could be banned on the Chinese market. At least that's what MacRumors reports at this point. Information about Hearthstone and the game developer Blizzard can be found here. The topic is also presented in an entertaining way in this video.
iPhone SE 2 with A13 chip for only 399 euros?
Let's move away from China, but stay with Apple. Because the company with the apple should - like two weeks ago already touched on - release the iPhone SE 2 in the coming year. Two weeks ago it was already known (or as a persistent rumor in circulation) that the device should contain an A13 chip, 3 GB of RAM and other possibly slightly reduced features. Further details are now available from Netzwelt, among others shown: the "Apple iPhone SE 2" or whatever it will be called should therefore be the mediator between iPhone 8 and iPhone 11 and cost only 399 euros. The target group should be not-yet-users as well as those who still have an older iPhone and reject a new purchase due to the prices.
Patent: Apple AirPods Pro with Active Noise Canceling
The "AirPods 3" or "AirPods Pro" could be the next generation of completely wireless headphones from Apple. Again Netzwelt points in this regard here on a patent showing, among other things, the shape of the earplugs; and thus a very clear design as in-ear headphones. But a noise-canceling technology is also addressed, which should work extremely well. Like MacRumors in one more recent report shows, the headphones could hit the market by the end of this month - for $ 260. Further technical data, information on battery life and so on will probably not be available until the devices are actually sold.
Fortnite: Battle Royale bestseller after Season 10 major event offline
Fortnite has been a leader in the battle royale video game genre for some time. Above all, the visual design makes the game popular not only with young and adult players, but also with children through comic-like representations. Accordingly, many players were surprised when the game world after the last season 10 major event disappeared into a black hole and the game was unplayable with it. In the short offline time, "PUBG Lite" is interesting launched, a free version of the genre founder "Player Unknown's Battlegrounds" (PUBG). In the meantime, however, it continued for Fortnite; With Part 2, a new game world and new seasons.
Google Stadia - Stream Gaming starts on November 19, 2019
Playing video games on all possible end devices because the hardware is irrelevant? That is the goal of Google Stadia. The video games run on the provider's servers and are streamed in real time to the gamer's device. The hardware starter kit costs 129 euros and the "Stadia Pro" service costs 9,99 euros per month. In return, there should be 4K resolution, 5.1 sound and always free new games. Laut The Verge starts the offer on November 19, 2019. The article provides many more details, for example the launch game list, which includes some Doom parts, Metro Exodus, Red Dead Redemption 2, parts of Final Fantasy, Tomb Raider and Assassin's Includes Creed, The Crew 2, Watchdogs and other sizes.
Jens has been running the blog since 2012. He appears as Sir Apfelot for his readers and helps them with problems of a technical nature. In his free time he drives electric unicycles, takes photos (preferably with his iPhone, of course), climbs around in the Hessian mountains or hikes with the family. His articles deal with Apple products, news from the world of drones or solutions for current bugs.