From today you can not only Age of Empires IV and Mario Party superstars play, but also browse a new Sir Apfelot newsreel. For today's Friday I have summarized the Apple and tech news that caught my eye in calendar week 43 of the year 2021. Among other things, these messages are included: Facebook group is now called Meta, Kdenlive with Mac version, newer Apple services soon also in Germany, macOS Monterey is available, possible leaks for the upcoming MacBook Air, current quarterly figures from Cupertino, and more! It's going to be Apple-heavy again today: D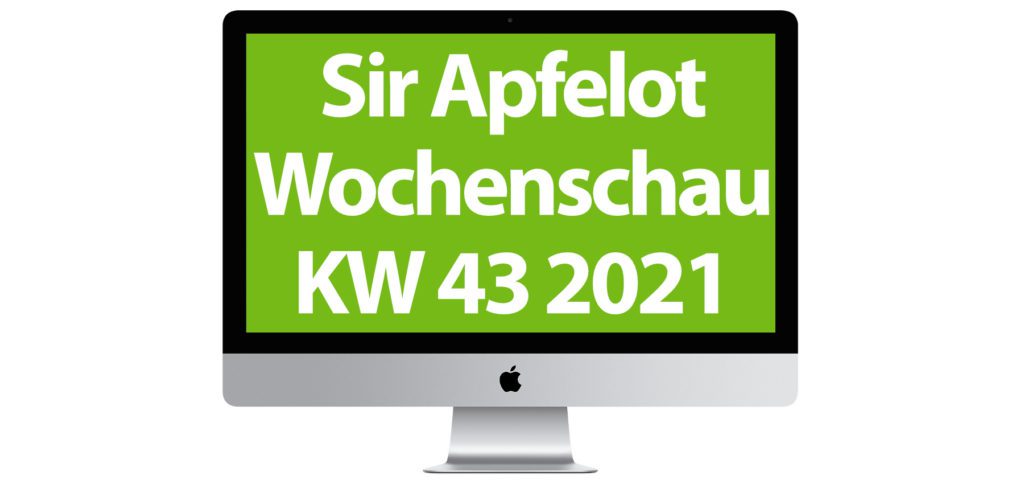 Facebook parent company is now called "Meta", effects also on Oculus
Last week there were several rumors that Mark Zuckerberg's Facebook group was about to be renamed. Now, after the "Connect 2021" event, several sources are reporting that this is actually taking place. Facebook, Instagram and WhatsApp are now part of the meta group. Meta is probably an allusion to the metaverse that the company is striving for. We already published a post about this last week: What is a metaverse / metaverse? The current change also affects the Oculus VR glasses. Because these will also be renamed to "Meta" and should come along without Facebook compulsion from next year.
More information on the individual topics relating to Facebook / Meta is available here:
"Connect: Facebook group is now called Meta, new high-end VR headset announced" (The H)
"Virtual Reality: Oculus becomes meta and escapes the Facebook constraint" (The H)
"Facebook wants to be on the wrist: Meta's Apple Watch competitor" (iPhone ticker)
German Digital Library: Newspapers digitized from 1671 to 1950
At heise online I found completely different news. So becomes in one Post showed that there is now a digital collection of historical newspapers as the "German newspaper portal". This comes from the German Digital Library and can be downloaded from the link deutsche-digitale-bibliothek.de/newspaper be called. A graphic shows the years from which most of the digital newspapers come. The timeline begins in 1671, but only after 1800 there is a significant increase; Most of the content dates from around 1900. Currently, the range extends until 1950. There is a search bar for keywords you choose to search through. Filters are available for title, location and year.
Kdenlive gets a Mac version, currently only "Nightly" version
If you are interested in video editing apart from expensive Adobe programs or Apple offers, you may already know the Kdenlive app. These are available for both Windows and Linux platforms. As I read this week at iFun, a version for macOS is now available. By doing Articles However, it is pointed out that it is a nightly version, i.e. a kind of beta that is not yet completely stable. On the official download page it says: "Kdenlive and MLT can compile and run under macOS. There is no stable macOS version yet, but you can help to have one soon by testing our daily macOS version."
macOS 12 Monterey is now available as a public download
MacOS 12 Monterey has been available as an upgrade for compatible Apple computers since Monday. In addition to the official website for the new operating system, which was shown for the first time in June as part of the WWDC21 keynote, Apple also shows again in a press release to various features and innovations. If you don't just want advertising for macOS Monterey, but also download options for the system and wallpapers, information on creating a boot stick, tips on troubleshooting and instructions as well as more information on the subject, then take a look here: macOS 12 Monterey - Everything you need to know!
There was a lot going on in the Apple Newsroom again this week. The department of the Apple website, in which current press releases can be accessed, currently provides information about new Apple stores, the launch of macOS Monterey, the new Apple quarterly figures and the subscriptions recently integrated into the service portfolio. Because these will soon be bookable and usable in other countries - for example in Germany. "Apple One Premium, which provides access to Apple Music, Apple TV +, Apple Arcade, Apple Fitness + and 2 TB of storage with iCloud +", Also comes to Austria, Switzerland and some other countries ( ). Accordingly, Fitness + can also be used from November 3, 2021 (all information here).
Quarterly figures for Q4 of Apple's fiscal year 2021
"Revenue up 29 percent to a new record in a September quarter"Apple continues to report in a press release that published today is. The message, which has already been available in English since yesterday, also shows further figures for the last quarter of Apple's fiscal year 2021: "The company had record sales for the September quarter of $ 83,4 billion", It says among other things. In the linked source you will find a few more information and a statement from Apple CEO Tim Cook, the download link for the consolidated financial statements as a PDF. If you don't want to study it yourself, but want to read a summary, then you will find it with this link with the iPhone ticker.
MacBook Pro (2021) - First teardowns reveal the inside
Similar to the MacBook Pro versions since 2016, the new generation of professional mobile computers from Apple can also be opened Entry at MacRumors. There you will also find pictures of the opened bottom, which, for example, allows a view of the ventilation and parts of the circuit board. In addition, the battery elements can be seen, which suggest an easier battery replacement. Meanwhile, at iFun, you can get your first glimpse from the professionals at iFixit at this point a. Is still their articles not complete, but more information will be provided soon. I guess you can see the full teardown next week.
Mini-LED display in the MacBook Pro: Less "blooming" than in the iPad Pro
The current iPad Pro models convince, at least when looking at the front view of the display, thanks to the mini-LED lighting. Viewed from the side, however, what is known as "blooming" should occur, ie a kind of rays of bright image content against a black background. This effect should not occur (so strongly) when looking at the displays of the new MacBook Pro models from the side. These also have mini LEDs, but apparently have a better structure that dampens the described effect. There's information about it in one Articles by MacRumors.
MacBook Air: narrower display bezels and notch in white
After the new MacBook Pros from Apple were presented last week, more rumors about the upcoming MacBook Air are emerging. This is supposed to a case in different colors get, similar to the current iMac. In addition to the case, leakers now also want information about the display and its embedding in the laptop lid, at least one Articles at MacRumors. The display edges should also be thinner in the Air model. The camera would therefore need a notch. The whole thing should come in white. In addition, the keyboard should be white. The design rumors are justified with the orientation of the iMac and MacBook Air towards everyday users, while (i) Mac Pro and MacBook Pro are aimed at professionals who prefer darker designs.
After graduating from high school, Johannes completed an apprenticeship as a business assistant specializing in foreign languages. But then he decided to research and write, which resulted in his independence. For several years he has been working for Sir Apfelot, among others. His articles include product introductions, news, manuals, video games, consoles, and more. He follows Apple keynotes live via stream.