Yesterday was Reformation Day in some federal states; So some of you will probably read today's Sir Apfelot Wochenschau on a bridging day;) Perhaps you will also celebrate All Saints' Day as a holiday and therefore have a day off ... In any case, one thing is certain: there is new Apple and tech news! The messages that struck me in particular in calendar week 44 of 2019 deal with the following topics, among others: important iOS update for old devices, dangerous iOS update for HomePod, references to the upcoming 16 inch MacBook Pro, first tv + series Reviews and more.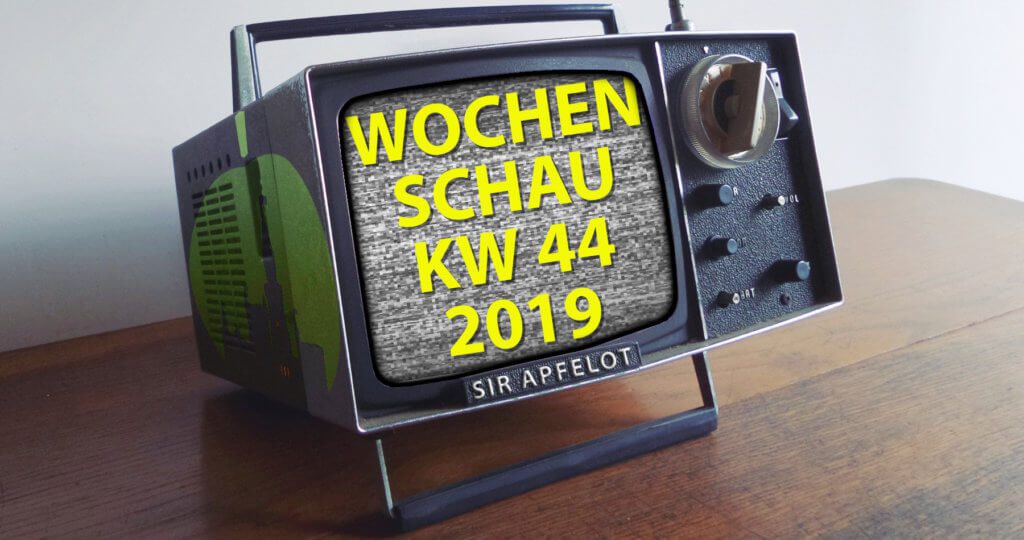 Xiaomi's feeding station for pets can / could be controlled externally
Due to a security gap, the security researcher Anna Prosvetova succeeded in gaining access to networked feeding stations from the manufacturer Xiaomi. The stations of the "Furrytail" model can therefore not only be controlled by the owners, but apparently also by other users. The researcher from Russia noticed this by chance and then had access to around 10.000 devices, of which she could have changed or modified the firmware. In addition to incorrectly dispensing food, it could also have forced DDoS attacks, for example. Further details on the case can be found here at Golem.
Most important iOS update for iPhone 5, 4s and iPad models
Like me you already shown at this point you should perform an iOS update if you are still using an iPhone 4s, an iPhone 5 or old iPad (mini) models. The update still has to be installed today or tomorrow, as you can get GPS and Internet failures as soon as next week, which makes an update only possible via the Mac or PC. This is due to the "Week Roll Over" of GPS technology. You can find more information on this as well as details on the required iOS versions on the individual device models in the linked article.
Dangerous iOS update for HomePod
It looks different with the Apple HomePod. You shouldn't equip this with the update to iOS 13.2, but choose the version 13.2.1, which has now been released. Like Apple in English Support document on the topic, the new update is particularly necessary before resetting the smart speaker. If you reset the Apple HomePod under iOS 13.2, you can find yourself with a broken device. Among other golem (here ) and iFun (here ) reported on this. Users have shown that the HomePod is caught in a loop under the named OS version after the reset. To fix this, the device must be sent in.
Notes on the new MacBook Pro with 16-inch display
In the new macOS update 10.15.1, Apple probably forgot some graphics that (un) intentionally refer to the not yet released MacBook Pro with 16-inch display. Among other things, iFun berichtete via a laptop symbol, which was subsequently exchanged. In another Post In addition to the front view of the laptop, an image of the keyboard is also analyzed. This shows a touch bar from which the fingerprint sensor can be seen on the right. An innovation that separates both components, but also clearly indicates that Apple has a certain new product in the pipeline.
Critics are not enthusiastic about tv + series
For selected journalists there has already been a demonstration of Apple's own series productions, which are intended to inspire viewers for a tv + subscription. Like iFun here shows, the PR event doesn't seem to have really played into Apple's pocket. Because only the series "For all Mankind" is said to have received consistently good reviews. The star-studded series "The Morning Show", however, was punished verbally. Even the series "See", which appears ambitious in trailers, is said to be "not even close to being a good series". Let's see if the expected user opinions will be the same or if they paint a different picture.
Sales tax carousel: tiles instead of iPhones in shipping on the go
Among other things, with reference to an ORF contribution, the iPhone ticker has a series of frauds shownwho came across Austrian and Hungarian tax investigators. Pieces of tiles and bricks in iPhone packaging were repeatedly sent across the border by dealers in order to commit a "carousel fraud". The input tax deduction is used instead of paying the VAT paid by buyers. If the same goods are sent several times to three or more stations at home and abroad, the profit can be illegally maximized. The ORF contribution you can find here. A video that explains the procedure in detail, can be found here.
iFixit dismantles the new AirPods Pro
After Apple launched its AirPods Pro launched there is already a corresponding one Teardown the repair page iFixit. Both the in-ear earbuds themselves and the charging case have been taken apart. As expected, it ended up with a repairability rating of 0/10. Everything is well glued and built so compactly that repairs on your own are practically impossible or do not lead to the initial state. Apple itself does not repair either, but only replaces. It may be interesting for local readers that the batteries built into the Apple AirPods Pro come from Germany. As iFixit points out, these are almost the same batteries that can be found in the Samsung Galaxy Buds.
Scanner problems under Catalina? Try out VueScan!
Jens has been running the blog since 2012. He appears as Sir Apfelot for his readers and helps them with problems of a technical nature. In his free time he drives electric unicycles, takes photos (preferably with his iPhone, of course), climbs around in the Hessian mountains or hikes with the family. His articles deal with Apple products, news from the world of drones or solutions for current bugs.