Before you all meet again on the weekend Animal Crossing busy, because Nintendo rolled out the update to version 2.0 prematurely yesterday, you can quickly grab the Sir Apfelot newsreel here. This time I'll show you which Apple and tech news caught my eye in calendar week 44 of the year 2021. Among other things, these topics are included: Instagram posts via website, digitization too fast for some and too slow for others, fans create nature wallpapers for macOS Monterey, performance comparison of the smallest M1 Pro and the largest M1 Max, and more!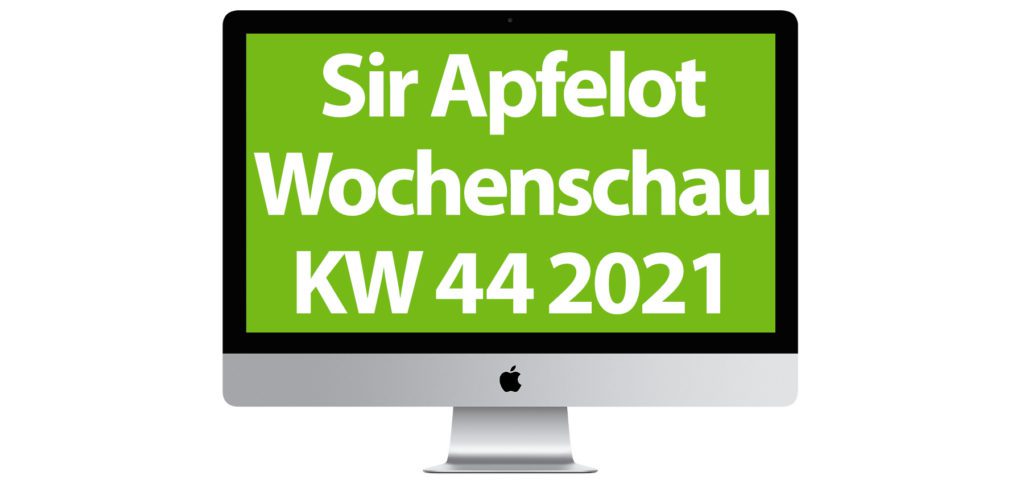 Instagram posts can now be created normally via the website
The Facebook… I mean meta app "Instagram" is a popular platform for sharing photos and videos. Although it could previously also be accessed outside of the app for iOS and Android via a web browser, posts could not be written in this way. If you wanted to write and send posts for Instagram on a Mac with macOS, on a PC with Windows or on the Linux machine, you previously needed a third-party client. That time is now over, because photos and videos can now also be uploaded to Instagram via the website. There are details on this in one, among other things Articles from iFun.
The speed of digitization is perceived differently
"Digitization: Half of it is too slow, every 7th it is too fast", Was the headline of heise online about one Post . A survey is addressed that also concerns the future federal government. For example, it was asked to which possible government alliance the right steps towards a functioning digitization were ascribed. "[52 percent] is most likely to trust the most likely future government coalition made up of the SPD, Greens and FDP to take the necessary steps [...] ", it says. Further information and information on the requirement of a digital ministry can be found in the linked source.
Open letter against the use of autonomous weapon systems
Also at heise online this week I have the Note found on an open letter from 56 university lecturers, in which they speak out against autonomous weapons systems. This appeal also has to do with the future federal government to be expected. In the document that you in full read here can, it says among other things: "In view of the rapid development of artificial intelligence, the development and spread of modern armed drones is the breach of the dam for a global arms race towards autonomous warfare, which can and must now be stopped."
iPhone 13: No Apple Display? No Face ID!
Already with the first teardowns of the iPhone 13 and its various versions, a change compared to the previous models became clear: If the display is replaced and a third-party offer is used, the face recognition "Face ID" no longer works. Among other things, MacRumors goes in one Articles on the statements of the repair professionals at iFixit. They say that replacing the display was comparatively easy up to now, but that a microscope is now necessary to maintain the entire iPhone functionality. Independent workshops would have to invest an enormous amount of money here in order to continue offering display repairs. The entire iFixit post on the topic can be found here.
M1 Pro vs. M1 Max - MacRumors looks at the performance
MacRumors has meanwhile done its own experiment with the new MacBook Pro models. A MacBook Pro with a 14-inch display and an "M1 Pro" chip with an 8-core CPU, 14-core GPU, 16 GB of RAM and 512 SSD storage were compared to a MacBook Pro with a 16-inch display and " M1 Max "chip with 10-core CPU, 32-core GPU, 32 GB of RAM and 1 TB of SSD storage put into the race. They should do the same tasks so that in the end a comparison in performance and speed would be possible. In Final Cut Pro was z. B. output a six-minute 4K video, which took 2:55 minutes or 1:49 minutes. There are even more programs and times in this post as well as in the following video:
The iPhone and Apple Watch are designed to detect car accidents and make emergency calls
With reference to the Wall Street Journal, it says in another Articles from MacRumors that the iPhone and Apple Watch should recognize from 2022 whether you have just had a car accident. With the technology called "crash detection" it should then be possible for the appropriately equipped device to make an emergency call. According to MacRumors, the Wall Street Journal report, which is unfortunately hiding behind a paywall, states that Apple has been testing the feature for a year and is using data anonymously transmitted by iPhone and Apple Watch users. The function would not be new; it is strongly reminiscent of the detection of falls, which can also result in an emergency call.
Apple speaks out against sideloading (and contradicts itself)
At the "Web Summit 2021", which took place this week in Lisbon, Portugal, different tech and web topics were addressed. Among others, Craig Federighi from Apple was there to give a presentation. In this context, he again spoke out against sideloading under iOS (and iPadOS), i.e. against downloading apps from the web. Apple's point of view is that the App Store is much safer and protects users from cybercrime that can creep in via untested software. A Post plus there's 9to5Mac. I have one on the same page Articles found, which is about how Apple contradicts itself with the app policy under macOS - because sideloading works quite well there.
Catch up on Web Summit 2021: Official YouTube channel
New rumors about "homeOS", fueled by Apple itself
A new job advertisement brings that Rumor about a possible homeOS back to the media focus. The operating system could serve as a cross-device basis for smart home products from Apple. It remains to be seen whether it could replace tvOS and audioOS and, in addition to future products, also be used on the Apple TV and the HomePod mini. At least this week, the aforementioned job posting from Apple served as the lead in various tweets and articles - among other things here at MacRumors. If you are interested in the topic, you can find details on the linked source.
No nature wallpaper for macOS Monterey? No problem!
Over the past few years we've taken a look at Andrew Levitt's YouTube channel. Because there it was shown in videos how the YouTuber of the same name went on trips with his friends to recreate the various macOS wallpapers (desk backgrounds). Whether island or desert, they always succeeded somehow. But with macOS 12 Monterey, a Mac operating system came out that has a design wallpaper rather than a photo. And this alludes to an underwater ditch that would be too expensive to dive into. So the guys around Andrew Levitt decided to depict another iconic point in the Monterey region. You can even download the background as a single image and a dynamic version. All information about this in Video.
After graduating from high school, Johannes completed an apprenticeship as a business assistant specializing in foreign languages. But then he decided to research and write, which resulted in his independence. For several years he has been working for Sir Apfelot, among others. His articles include product introductions, news, manuals, video games, consoles, and more. He follows Apple keynotes live via stream.