As usual, you will get the latest Apple and tech news this Friday in the Sir Apfelot newsreel. This time I will show you which messages I noticed in calendar week 46 of the year 2022. In addition to renewed negative headlines on Twitter under Elon Musk, these reports are also included: Amazon is cutting five-digit jobs, refunds for Google Stadia users are being rolled out, Canon cameras should only be able to be used as 1080p webcams on a subscription basis , new website phishing scam and callback, M1 chip in a Nintendo Wii, and more.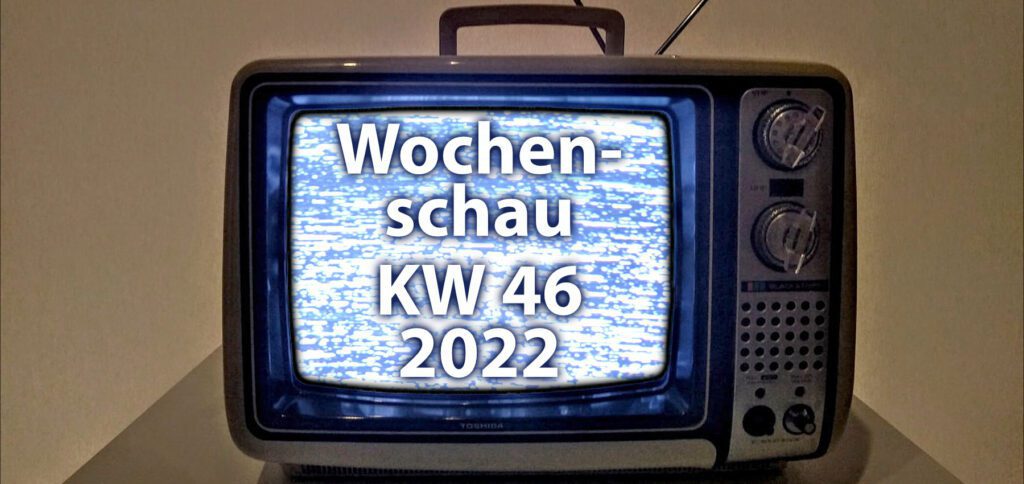 Twitter under Musk: A single disaster
Negative headlines have been pouring in since Elon Musk took over Twitter. I have already summarized some in this format in the last few weeks. New ones added this week. Because the employees at Twitter were given an ultimatum: by Thursday, November 17.11th, they should actively dedicate themselves to "hardcore" work on a Twitter 2.0 or quit. An incentive for everyone who didn't feel like working overtime for a Musk pipe dream was that after the ultimatum there was not only termination, but also three months' wages as severance pay. Of the approximately 7.500 employees before the takeover, fewer than 2.000 will probably remain after the new wave of layoffs. At the same time, advertising partners are turning their backs on Twitter. Sources: 1, 2
Around 10.000 jobs: Amazon cuts the workforce
After Twitter and Facebook, Amazon is now making a name for itself with a wave of layoffs. Sometimes you might hug the tech industry and ask if everything is okay. But then you see who runs the shops and you know where the problem actually lies. Be that as it may, according to a Entry from iFun represents about 3% of the workforce. The layoffs are to take place primarily in the "Devices" area, i.e. where the Alexa language assistant and the devices equipped with it are involved. According to the linked source, this department has been a negative business for years.
Refunds for Stadia users are starting
In another Entry by iFun was about the video game streaming from Google called "Stadia". The offer that started in 2019 will be discontinued, which will certainly not go down well with customers. Not only did they put money into the subscription and the hardware, but they also acquired digital content and scored games. As compensation, Google is now issuing repayments that are to be fully distributed by January 18, 2023. The servers will also be shut down on that day. "As part of the refunds that are now underway, Google wants to take into account all spending on games, add-on content and subscription fees made in the Stadia Store - only the fees for Stadia Pro are left out here' the source summarizes.
EOS Webcam Utility: More than 720p only by subscription
When the Covid-19 pandemic began, when there was not only a greater demand for online meetings, but also a concomitant shortage of webcams, you had to get a little creative. Accordingly, almost exactly two years ago I wrote the post "Use SLR and digital cameras as a webcam (Nikon, Canon, Sony and more)" released. Among other things, it dealt with the digital tool EOS Webcam Utility. Back then when Beta version issued, the software tool is now to be paid for in a full version. For the time being, however, this is limited to the USA and to the use of resolutions over 720p. Further details are available from heise online in a current issue Articles
New phishing scam: Fake websites and recall scams
This week I also noticed a report from the LKA Lower Saxony from November 9th. It warns against fraudsters who access user data via fake online banking websites. A day later they call the phone number given there to solve an alleged problem with the online banking. A TAN is transmitted to the victim's device, which is then to be passed on to the person calling. The scammers can then use this TAN to store the credit or debit card on their smartphone (via Google Pay or Apple Pay) and use it to pay in shops. Details and information on protection from the mesh Is there ... here.
Recommended reading: Children's trick - WhatsApp fraud with bank transfer or PIN
Class action lawsuit against Apple: Tracking without user consent
Over the past few years, Apple has created a great data protection image. The company itself does not know what people encrypt in their iCloud and related services; in addition, all devices can be connected and synchronized, but only under the eyes of the users. Critical processes are also executed on-device, so that no cloud security gaps can be used to steal data. And so on. Last but not least, the self-determined tracking in apps, which has brought a substantial drop in profits to Facebook, among others, played a part in the story. But now the iPhone manufacturer is being sued for tracking without consent. It also ignores VPN connections, according to one Entry at iTopNews. the indictment is available from Bloomberg Law.
Mark Gurman: Work on realityOS is being completed
Since 2017 there have been rumors about a "realityOS" or "rOS", which Apple is said to be working on internally under the alias "Oak". The operating system is to appear early next year on the iPhone manufacturer's mixed reality headset, which can be used for VR and AR applications. Mark Gurman addresses this in his current "Power On" newsletter. The work on the system for the device should therefore currently be completed. It is also already known that mixed reality versions of apps such as messages, FaceTime and maps will run on it. There is even more summarized information from the newsletter in one Post by MacRumors.
Mixed feelings: Mac mini in the housing of a Nintendo Wii
I'd like to end this issue of Sir Apfelot Newsreel with a video that caught my eye this week. In it, the technology hobbyist Luke Miani shows how he accommodates the hardware of a Mac mini with an M1 chip in the housing of a Nintendo Wii. The goal is not only to have a cooler case on the desk, but also to play old Wii and GameCube games on the device via the emulator. While this is a nice approach from an aesthetic point of view, on the whole I don't find many positives about such projects. Because like in Video shown, an unnecessarily large amount of material is wasted for 3D-printed prototypes of new housing parts as well as for new cables and fans. Why not just hide the Mac mini behind the TV/monitor and place the old Wii as decoration?
After graduating from high school, Johannes completed an apprenticeship as a business assistant specializing in foreign languages. But then he decided to research and write, which resulted in his independence. For several years he has been working for Sir Apfelot, among others. His articles include product introductions, news, manuals, video games, consoles, and more. He follows Apple keynotes live via stream.