Today is the first Friday in December, and the second Advent will be soon. But before we make the candles flicker again, let's see which Apple and tech news were conspicuous this week. A little warning: This edition of the Sir Apfelot Wochenschau is a little shorter than the previous one because it is Advent time and I therefore deal less with news from the Internet. In the new year it continues with long news summaries;) The topics today are first: space junk and private space stations, air travel with sustainable fuel, Swift Playgrounds 4, Apple's uncomfortable internals, and a bit more.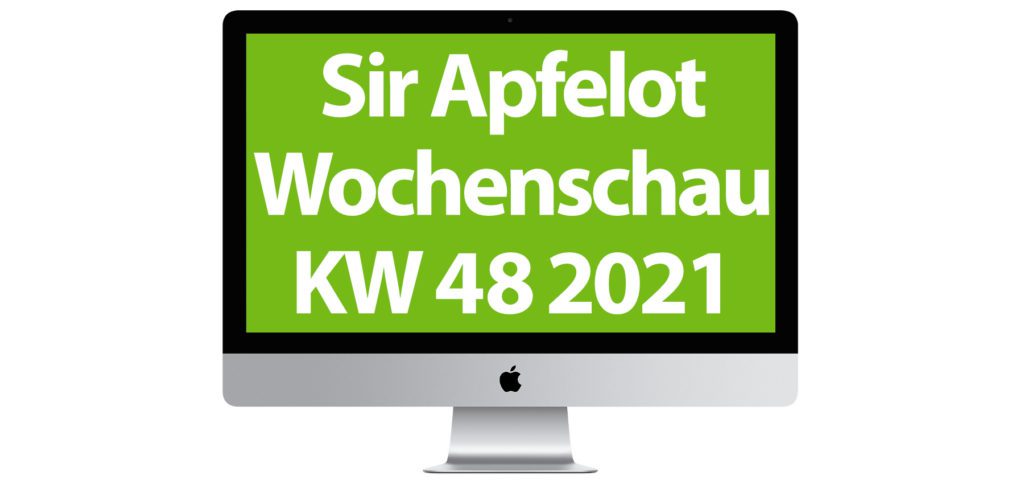 Space junk and private space stations
As already reported two weeks ago, Russia has shot down and destroyed its own satellite, which among other things led to the fact that a lot of small pieces of junk are now orbiting in the earth's orbit. These not only endanger the ISS, but also the other satellites at a similar altitude. That is why stricter space rules are now being demanded from several sides - including the USA. That berichtet t3n. At the same time it says in one Items from heise online that NASA supports private space stations financially. Even the Jeff Bezos company "Blue Origin" received funding, just as if it needed it.
Here is another arte documentary from 2018 on the subject of space junk and its increase:
Sustainable fuel for air travel
Again at t3n I have one News found, over which the following is titled: "First airline flies with 100 percent sustainable fuel"- the US company United Airlines flew this week with the first passenger plane that used completely sustainable fuel. This is nice to read at first, but will be exposed as a complete exception in the further course of the article, because so far only 50% admixture of SAF (Sustainable Aviation Fuel) is permitted. With a special permit, United Airlines did not make any real change here, but rather a PR stunt. Nevertheless: At least a high CO2 saving was shown and it was also shown that such a flight is possible; hopefully soon without special permits.
Nano-optics and algorithm: camera lens in grain of salt format
It's all about a mini camera lens in nano format that, thanks to digital help, can deliver comparatively good photos Items by Scinexx. The small lens, which is suitable for mass production, in combination with the specially developed image processing algorithm can deliver amazing results: "Its lens is just half a millimeter in size and still delivers photos that can compete with a classic lens camera", It says in the linked source, in which you can find further details, pictures of the lens and sample recordings.
Swift Playgrounds 4 is being tested
With "Swift Playgrounds", Apple offers interested children and adults the opportunity to get to know and use the Swift programming language. The fourth version is currently being worked on, which is apparently already being tested by some developers. "Apple announced the new version of Swift Playgrounds during its Worldwide Developers Conference in June. Now developers could test the new version before it was launched", It says together with some additional information in one Post from the Macer head.
Apple employment contracts: Keep silent about grievances
In einem Items From Apfelpage this week I found even more information on the difficult to toxic working atmosphere at Apple. The employment contracts are supposed to contain passages that prohibit employees from expressing themselves publicly about grievances in the company - also and especially when these lead to their departure. More information on this in the linked source.
Opened yesterday: Apple Store on Rosenthaler Strasse in Berlin
With an official press release Apple pointed out that the Apple Store was opened on Rosenthaler Strasse in Berlin. "We are very pleased to open our second store in Berlin - right in the heart of Mitte"Said Deirdre O'Brien, Apple's senior vice president of Retail + People. "By combining the outstanding technology from Apple with the creative passion of this community, we have the opportunity to create something really special for our customers in Germany."There's even more information and photos from the store in the PM.
After graduating from high school, Johannes completed an apprenticeship as a business assistant specializing in foreign languages. But then he decided to research and write, which resulted in his independence. For several years he has been working for Sir Apfelot, among others. His articles include product introductions, news, manuals, video games, consoles, and more. He follows Apple keynotes live via stream.