Welcome to the first Sir Apfelot newsreel in February. This time I'll show you which Apple and tech news I particularly noticed in calendar week 5 of 2022. Among other things, the following reports are included: Crash site for ISS is certain, Google AI is said to program better than (many) people, Raspberry Pi gets 64-bit OS, online offers for AirTags without loudspeakers are sighted, Apple takes action against "Apple-Man movie, Meta employees defecting to the competition, Liquid Retina XDR displays can't take the heat, and more.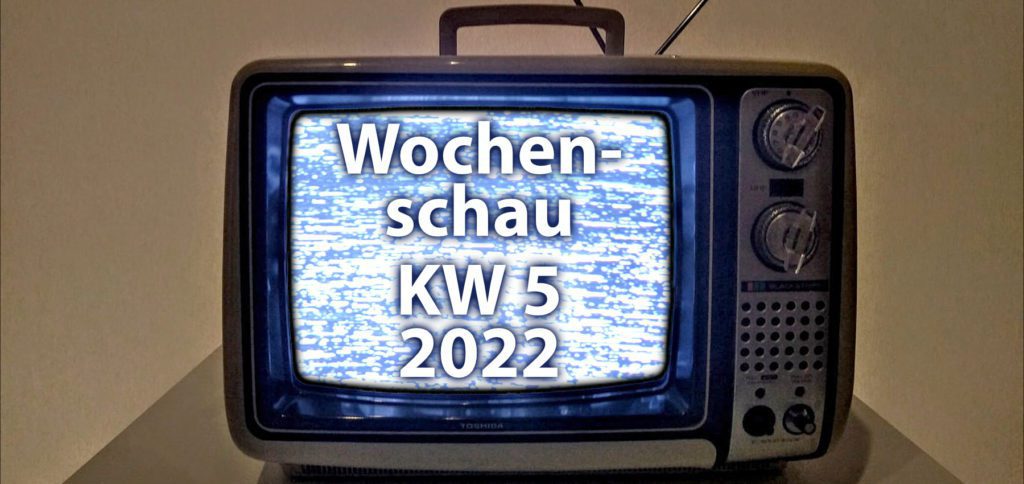 NASA announces location of ISS crash
"Point Nemo" or "Pacific Pole of Inaccessibility" is the name of the point in the Pacific that is furthest from the coasts of the mainland and the nearest islands. This point has been used as a spaceship graveyard for a long time, also because of its low density of sea creatures. The magazine t3n also goes on it in one Entry according to which NASA intends to use the tested location in the sea by 2030 for the complete crash of the ISS space station. After more than 30 years in space, the international space station will then give way to corporate-run hostels in orbit. In the future, NASA itself will rely more on cooperation with private companies.
Federal government finally gets in touch with Telegram
Telegram is a messenger that people not only use to stay in touch with friends and family. There are also many groups and channels there that spread false reports, disinformation, hate speech and death threats. Accordingly, communication between the developers of the messenger and the authorities is important so that such violations of the law can be punished. But that's difficult with Telegram, a fairly decentralized app. But now the German government is said to have succeeded in getting a direct line to the makers. Details are also given by t3n in one Entry.
AI for code - AlphaCode by Google's DeepMind team
"Google's AI coder beats human developers", is at heise online about a current Post titled. The AI ​​processes instructions in natural language and converts them into program code. "The AI [...] is trained to solve programming tasks, as they are often asked in competitions or recruitment tests for developers.' the linked source says. For machine learning, AlphaCode was fed with freely accessible codes from GitHub and then trained with tasks from programming competitions. In current tests with real tasks, AlphaCode is said to be better than almost half of human participants. You can also find details on the subject in the official DeepMind document on the subject.
Raspberry Pi gets official OS with 64-bit architecture
Also at heise online there was one this week Post to the official Raspberry Pi OS, which is finally available in 64-bit after a long beta phase. This should give the mini-computer, with which you can implement a wide variety of digital projects, additional functions. The use of larger main memory should now be easier and also possible for individual processes. These can now take up more than 3GB of RAM. If you use the 64-bit OS, you can also use the Raspberry Pi to "use some ARMv8-specific instructions that were previously idle [...]". If you have compatibility problems, for example with streaming, you can use a Port-Switch command between 32-bit and 64-bit mode.
Among other things, the iPhone ticker is up to date berichtetworking Apple AirTags with the speaker removed are being offered on eBay, Etsy and other platforms. The advantage for regular use is not immediately apparent. It's only when you look in the direction of illegal use that you see the "advantage". With the modified version, if you foist the tracking device on someone for stalking or similar purposes, you don't have to worry about audio playback being noticed. It is true that there is also an advantage if AirTags remain stationary on the stolen bike so that they can be tracked in peace. But that only people who want to repeat their stuff after the theft buy the modified AirTags sounds too good to be true.
App Store and sideloading efforts in South Korea and the US
Also in the iPhone ticker there was news again this week with regard to Apple's mobile App Store. Because the proprietary app market is still the only way to bring programs to the iPhone, iPad and iPod touch (without jailbreaking the device). Payment for purchases and subscriptions also runs through the platform. In the USA, there could now be a law that allows sideloading, i.e. downloading an app from the web ( ). In addition, the South Korean authorities are not satisfied with Apple's concept for payments from outside the App Store. The explanations are not specific enough ( ).
Apple sues Ukrainian filmmaker over 'Apple-Man' title
Vasyl Moskalenko's film "Apple-Man" is not about the iPhone and Mac manufacturer Cupertino. In fact, it is a parody of the superhero genre, in which the eponymous fruit is actually used. The protagonist has the superpower to levitate apples. That's why he's called Apple Man. The fact that this has nothing to do with computers and smartphones does not leave the offices in Cupertino unmoved. Nevertheless, attempts are being made to keep the name or the film itself from being published, such as 9to5Mac in a Post shows.
Meta struggles with AR/VR and ad revenue
Meta, formerly Facebook, is pushing further and further in the direction of augmented reality (AR) and virtual reality (VR), both with external representation and with internal company policy. So should, according to one Post at MacRumors, employees are encouraged to transfer to jobs in appropriate areas of the company. At the same time, some are leaving the company to work at Apple, for example. In another Entry MacRumors is about how Apple's privacy settings on Meta / Facebook caused a $10 billion drop in ad revenue. Nevertheless, the current figures indicate that record sums are still flowing.
Reduced brightness of Liquid Retina XDR displays when heat is generated
Let's close with one more Entry by MacRumors, but this time it's about Apple devices, so it might have a more practical use for you. Because it will be in the linked source to a new one Apple Support Document Noted that the Pro Display XDR and 2021 MacBook Pro display may lose brightness when exposed to heat. The problem is said to be temporary and can be solved by turning off HDR content, letting the display cool down or using the energy saving mode. There is a visual indication of the problem with symbols in the menu bar or in the control center. More details in the linked sources.
After graduating from high school, Johannes completed an apprenticeship as a business assistant specializing in foreign languages. But then he decided to research and write, which resulted in his independence. For several years he has been working for Sir Apfelot, among others. His articles include product introductions, news, manuals, video games, consoles, and more. He follows Apple keynotes live via stream.