Today is the Friday after Christmas and therefore the day with the last Sir Apfelot newsreel this year. Below you will find - this time in a slightly shorter form than usual - the Apple and tech news that caught my eye in calendar week 52 of 2019. Among other things: batteries from seawater, top search terms 2019, Apple's satellite technology, the most popular passwords of this year and a few more. Happy New Year at this point; the series of articles will then be continued in week 1, 2020;)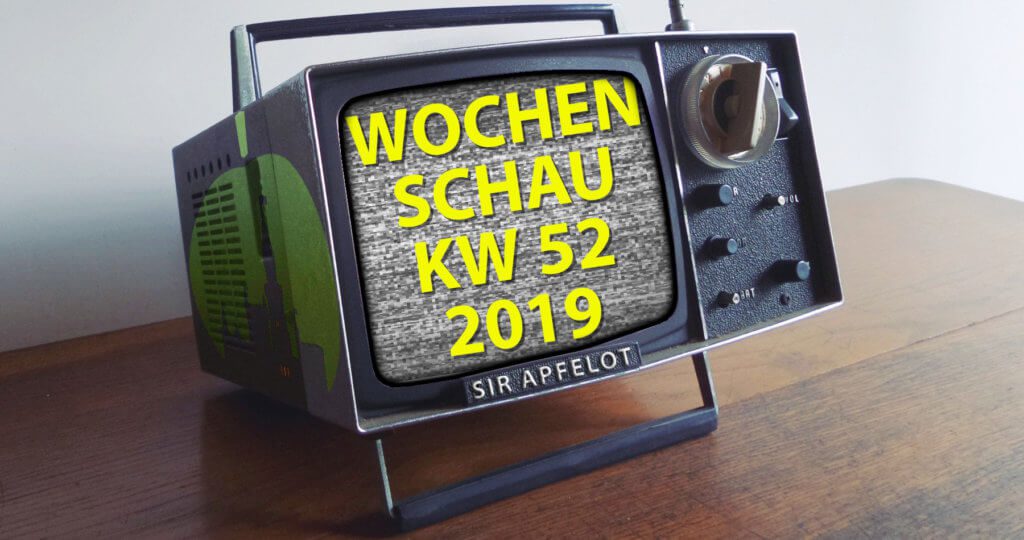 Sea water as a resource for batteries
"Charges faster and does not burn", headlines the star and describes in the corresponding article the new battery technology of the IBM Research Battery Lab. The rechargeable battery is to be created without toxic heavy metals, but with components from seawater. In addition to a low price and a good ecological balance, the new battery should also offer high performance.
All filling stations should also offer electricity
In the future, e-cars should be able to charge their batteries at all filling stations in Germany, berichtet Edison, among others. According to the specialist magazine, "the federal government wrote this into its charging infrastructure master plan". Of course, particularly fast charging stations should be used, which - if the corresponding electric car supports the speed of the charging technology - deliver enough juice for a range of 100 kilometers in three to four minutes.
The most common search terms on Google 2019
Among other things, Basic Thinking had the most frequent search terms in Germany on the search engine Google in 2019 listed. In summary, there are these (from 10th to 1st place): Greta Thunberg, Thomas Cook, 30 years since the fall of the Berlin Wall, Women's World Cup, European elections, Julen, Karl Lagerfeld, Handball World Cup, Notre Dame, Rebecca Reusch. Information and background information on the individual terms and persons are given in the linked source.
The most popular passwords in Germany in 2019
This year, too, it is frightening what simple passwords many people use to "protect" their personal data. Again with Basic Thinking I have a corresponding one Auflistung found. There are classics like 123456789, 12345678 or 1234567. Then there is the good, old one passwort or the English variant Password. A guide to good passwords can be found with this link.
Apple in orbit: is Apple working on satellite technology?
Like Golem, for example shows, Apple is supposed to work on satellite technology. It's not that far-fetched, as the technology giant from Cupertino still has financial reserves of 205,9 billion US dollars. These can hardly be used up completely by buying up small competitors and producing tv + content. With reference to Bloomberg ( here) around a dozen engineers are said to be working on the project. Since this is still in an early stage, it could also be canceled.
NVIDIA and Ray Tracing: Brighter Light in Video Games
Among other things, according to Caschy's blog ( here) the graphics card manufacturer NVIDIA has confirmed the "ray tracing" technology for some games. The technology for more natural light and better reflections in video games and other digital 3D worlds ensures a more realistic appearance of the virtual environments. Next Minecraft are also titles like Bright Memory Infinite, Ring of Eylsium, Convallaria, Boundary, FIST, Xuan Yuan Sword VII and Project X (announced for 2021). You can find sample videos with the new lighting technology in the linked post.
Jens has been running the blog since 2012. He appears as Sir Apfelot for his readers and helps them with problems of a technical nature. In his free time he drives electric unicycles, takes photos (preferably with his iPhone, of course), climbs around in the Hessian mountains or hikes with the family. His articles deal with Apple products, news from the world of drones or solutions for current bugs.