Walk in to the first Sir Apfelot newsreel in March 2022. Today I will show you which Apple and tech news I particularly noticed in calendar week 9. Among other things, the following reports are included: Hardware and software providers react to the Ukraine war, smartphone battery charged to 150% in 5 minutes with a 50 W charger, new AusweisApp2 available, OneDrive and Dropbox optimized for M1 chips, iPad-MacBook foldable combo speculation, and more.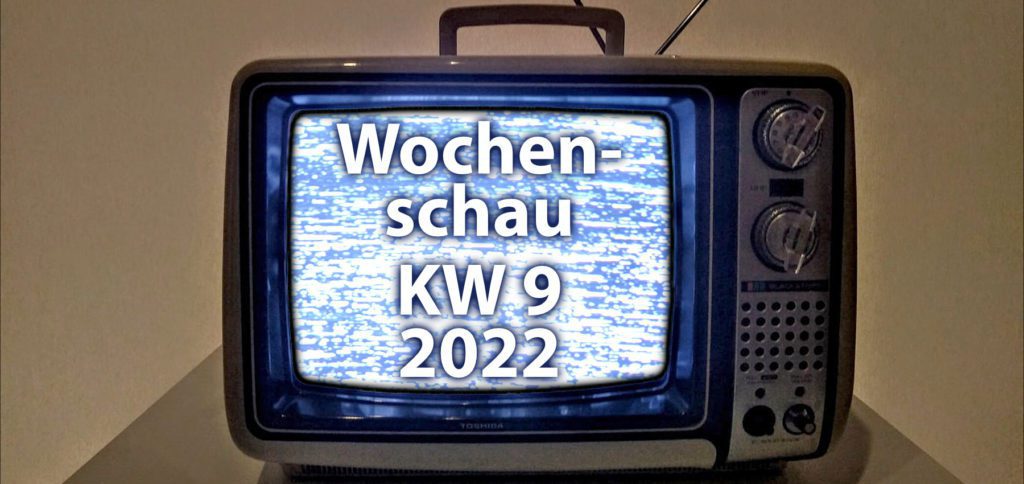 Hardware and software disappearing from the Russian market
Not only politicians and aid organizations are reacting to the Russian invasion of Ukraine, but also private companies. In addition to game developers, who donate part of their income, there are also Apple and app providers. Furthermore, in addition to withdrawing its hardware offerings, Apple has banned sources of disinformation from the App Store, such as RT (Russia Today) and Sputnik News. This points z. B. 9to5Mac in one Entry there. Like the iPhone ticker shows, the possibility of using Readdle apps for Russian users was also discontinued. Farther berichtet heise online that Airbnb is closing its business in Russia and Belarus.
Note: I reserve the right to delete unqualified comments on the topic that do not do justice to the seriousness of the situation.
BR research: is the smartphone listening or not?
With regard to social media, Google and Co. as well as the advertising displayed by their websites and apps, the suspicion arises again and again that smartphones are listening in on the conversations of their users. So if Facebook, Instagram, Google applications or similar are installed on the iPhone or Android smartphone, do they access the microphone and analyze nearby conversations for advertising purposes? Heise online responds to a corresponding research by the Bavarian Broadcasting Corporation at this point a. The summary reads: "The BR experiments show that it is technically quite possible for smartphone apps to eavesdrop on conversations under certain conditions - even secretly. That the internet giants actually make use of it [...] however, is still unproven."
Here is the BR research in the video:
Oppo SuperVOOC - 150W and 240W smartphone chargers
The smartphone and accessories manufacturer Oppo has presented new charging technologies for smartphones. Thanks to these, batteries of conventional capacity should be able to be half or even fully charged within a few minutes. The "SuperVOOC" charging technology, for example, uses 150-watt chargers to ensure that a battery is 5% charged in 50 minutes and 15% charged in 100 minutes. With a 240 watt charger, 100% charging can even be achieved in 9 minutes. In a Entry The iPhone ticker says: "[...] Oppo also pointed out that the new technology does not have a negative effect on the battery life, but on the contrary significantly extends it to up to twice the number of possible charging cycles."
AusweisApp2 is available
I also have the iPhone ticker Readthat the AusweisApp2 is now available. In addition to the app for iOS and Android, there is also a new website that statements of the makers with a "new, user-friendly and modern design" to convince. The app and the website should make it easier to use the online functions of the ID card. You can find details on the topic in the linked sources and on the already mentioned website, which you with this link reached.
Growth of open source use in enterprises
In just two years, open source solutions for digital tasks in companies should be able to catch up with proprietary offers in terms of their distribution and importance. I have that in one Articles read by heise online. This refers to a survey by Red Hat, which you can find in the original via these links: Infographic blog post / complete evaluation. Proprietary solutions are currently said to be 45% and business open source software 29% widespread in companies. In two years, according to the forecast, these numbers will shrink to 37% or grow to 34%. The survey took place not only in the US, but worldwide. It should be a "Survey of 1296 IT decision makers" traded.
Disney+ – Price reduction thanks to advertising?
Let's talk about media streaming. The first Entry comes from 9to5Mac and oracles that (at least in the USA) the provider Disney+ could soon offer subscriptions at lower prices. However, these would then contain advertising, which on the one hand would compensate for the lower price, but would certainly not appeal to users (from a certain quantity). The whole thing could go hand in hand with a price increase for the standard subscription, so that not only new customers but also existing users have to decide whether they want to use a more expensive offer without advertising or a cheaper subscription with advertising. How would you go about it? Please leave a comment on the topic.
Netflix and Games: Purchase of a studio and new interactive show
Netflix isn't currently making headlines with price hikes or advertising between streams. Rather, current reports are moving back towards video games. Because like Netflix shows himself, the Finnish game studio "Next Games" is bought. This is intended to promote the development of our own games. Next Games already has a "Stranger Things" title in its portfolio. "Trivia Quest", an interactive quiz series, is launched for all those who do not use the mobile games offered but want to play on the computer, television or beamer. She reminds her a bit Jackbox party pack games. Official information about the series starting on April 1, 2022 Is there ... here.
Apple Silicon: Adjusted OneDrive and Dropbox
If you Microsoft OneDrive and / or Dropbox as cloud solutions on the Apple Mac, then there is good news this week. Because if you use one of the current Apple computers with an M1 chip, the apps and their processes now run natively and no longer as an Intel version via the Rosetta-Emulation. I have information about OneDrive with M1 support in a Entry found by MacRumors. One is about Dropbox with M1 support Articles by 9to5Mac.
"MacBook Folio" and other rumors about the Apple folding laptop
Patents from technology manufacturers, and especially the sketches in them, always stimulate reporting to wild rumors and speculation. It's no different at the moment, if you look at the "MacBook Folio" example. In "three or four years" A MacBook with a keyboard display should be ready for the market at the earliest, it says in one Post by iFun. It refers to the Bloomberg author Mark Gurman, who notes that Apple would experiment in the direction of a MacBook-iPad combination. As an example of the application, the use of a music program (GarageBand / Logic Pro) performed with the display of a keyboard. Other virtual input instruments can also be displayed on the keyboard display.
After graduating from high school, Johannes completed an apprenticeship as a business assistant specializing in foreign languages. But then he decided to research and write, which resulted in his independence. For several years he has been working for Sir Apfelot, among others. His articles include product introductions, news, manuals, video games, consoles, and more. He follows Apple keynotes live via stream.